After Matthew Poon grabbed the spotlight with a four-timer at Sha Tin on Sunday, Zac Purton and Joao Moreira are looking to resume normal service at Happy Valley on Wednesday, 10 June.
Purton's weekend work saw him draw a blank for the first time since 9 May, while Moreira squeaked one win to end an untimely cold snap of 25 races without success. That puts the premiership score at 128 to 124 in the Australian's favour with 10 meetings left this term.
The competition is well and truly on and both men know a haul like Poon's at this late stage could swing the race in their favour. Last season, Moreira took 13 wins from the final 10 meetings, while Purton sealed the title with 24 wins including an epic six-timer – Moreira managed a pair of trebles in that spell.
"It would make it easier," Purton said. "But there are a lot of tired horses out there, now that we're at the tail-end of the season and results can be a little mixed; I hope I'm on the right side of it."
Moreira too takes the view that wins can be difficult to accrue in the final weeks of a Hong Kong campaign.
"It's going to be even harder now to see someone riding four or five winners in a day," Moreira acknowledged.
"At this time of the year it's the wet season so the surface can become a lottery. You might have decent rides but at least half of them won't handle the surface so it becomes difficult – you get high dividend horses winning, as we've seen lately."
The two leading jockeys usually book many of their rides well in advance of any race meeting, long before the Hong Kong Observatory can issue a meaningful weather forecast.
"When you have a wet track like last weekend you're always going to get surprises. We can only hope we get good tracks between now and the end of the season," Purton said.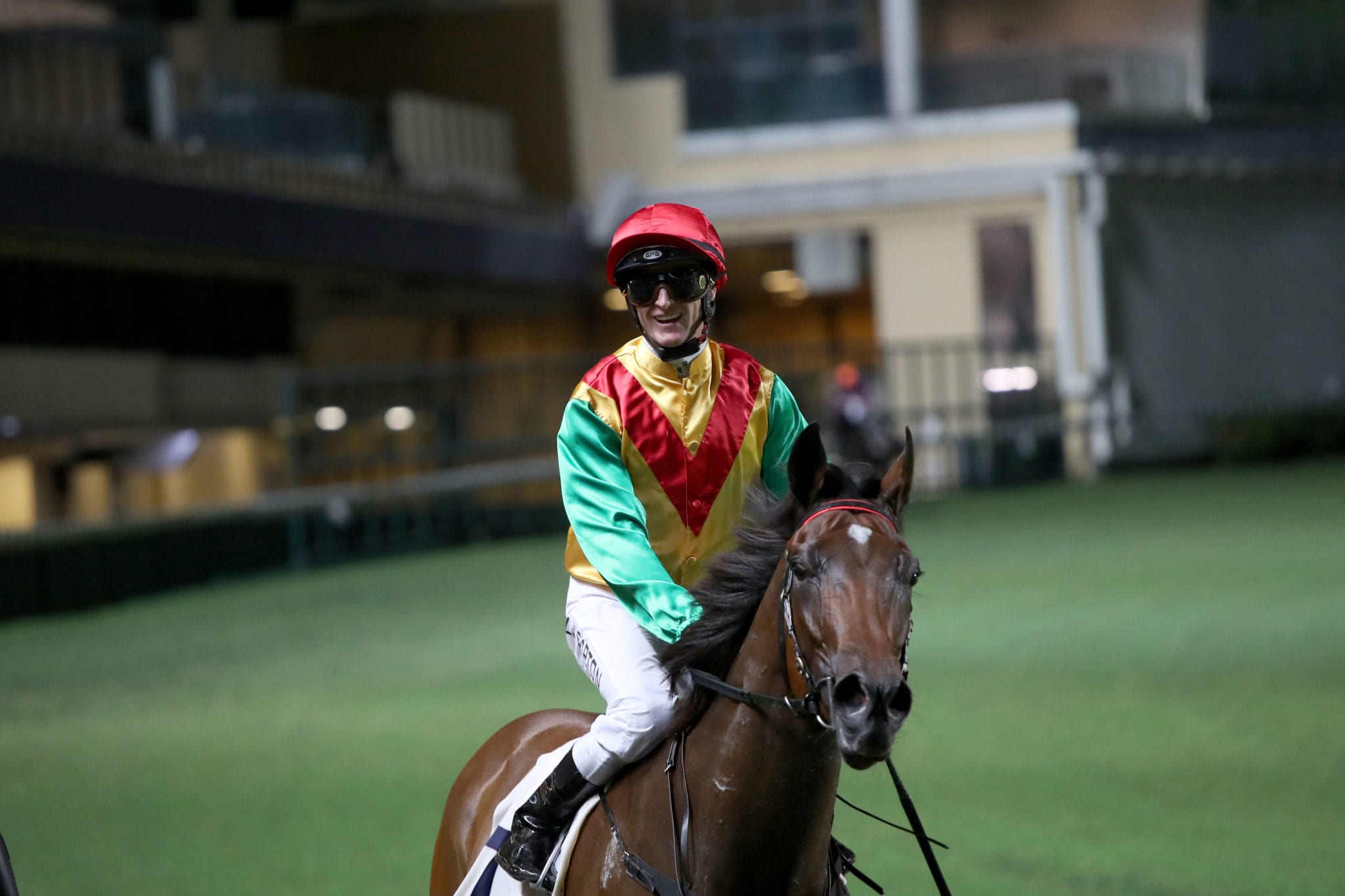 Purton's broad base
The championship protagonists head to the city track buoyed by full books – nine rides apiece. Each will side with some of their biggest backers: Purton's rides are for seven trainers who between them have provided him with 64 wins from 259 mounts this term at a 24.7% strike rate; Moreira has the support of six handlers who have pushed 294 rides his way for 57 wins and a 19.4% strike rate.
Seven of Purton's nine rides will be aboard gallopers conditioned by homegrown Chinese trainers. It was the 'local' cohort back in the three-time champion's early days in Hong Kong that provided the platform from which he could spring to the top.
Purton wasn't making too much of those old alliances at trackwork yesterday morning (Tuesday, 9 June).
"It's just the way it's worked out with the rides, I'm trying to get a nice ride wherever I can and this time it's just the way it's happened," he said before acknowledging, "but they've always been good supporters of mine and they've continued to be – hopefully they can just give me a little bit of a nudge. These things come into play, for sure."
Of this Wednesday night's backers, the Australian ace has a 31% win strike rate this season for Dennis Yip and a 26% strike rate for Jimmy Ting; it's 25% for Benno Yung, John Moore and Paul O'Sullivan, and 23% for Danny Shum.
Purton, though, will be looking to improve his 16% strike rate for the in-form Manfred Man, for whom he has two rides, notably the hat-trick seeking Compassion Spirit (122lb) in the Class 3 Hereford Handicap (1200m). He was in the plate for the three-year-old's two previous scores at the course and distance.
"Compassion Spirit was up in weight for that last start and he's an improving horse so hopefully he can keep going on with it," the rider said.
"He's very unassuming in the morning, he looks after himself, and due to the storm last week he missed a gallop, but he's well, he feels as good as he did going into his last couple of runs."
Purton has stated several times in recent months that he has lacked the extra impetus of just one of his main patrons providing a solid stream of wins.
"Normally you have one stable that kicks on and you feed off it but this season it hasn't happened that way," he noted. "But, on the flip side, it shows how broad my support base is that I'm still able to get by without that – it just means you've got to work harder."
The picture is somewhat similar for both riders. Purton's main supporters in terms of number of rides have been Frankie Lor (68 rides), Caspar Fownes (64 rides) and John Moore (59 rides). Of those 191 mounts, he has had 35 wins at a strike rate of 18%, which is below his overall season's rate of 21%.
Moreira has put most of his eggs in the John Size basket – naturally, given the 11-time champion trainer's firm backing in recent seasons – but Size's stable has been quiet this term meaning the 'Magic Man' has picked up only 30 wins from 181 rides for the yard at a rate of 16.5%, more than two points below his overall strike rate.
Purton has had 616 rides this campaign to Moreira's 638 – as a matter of trivia, Moreira has had 107 second-place finishes to Purton's 89.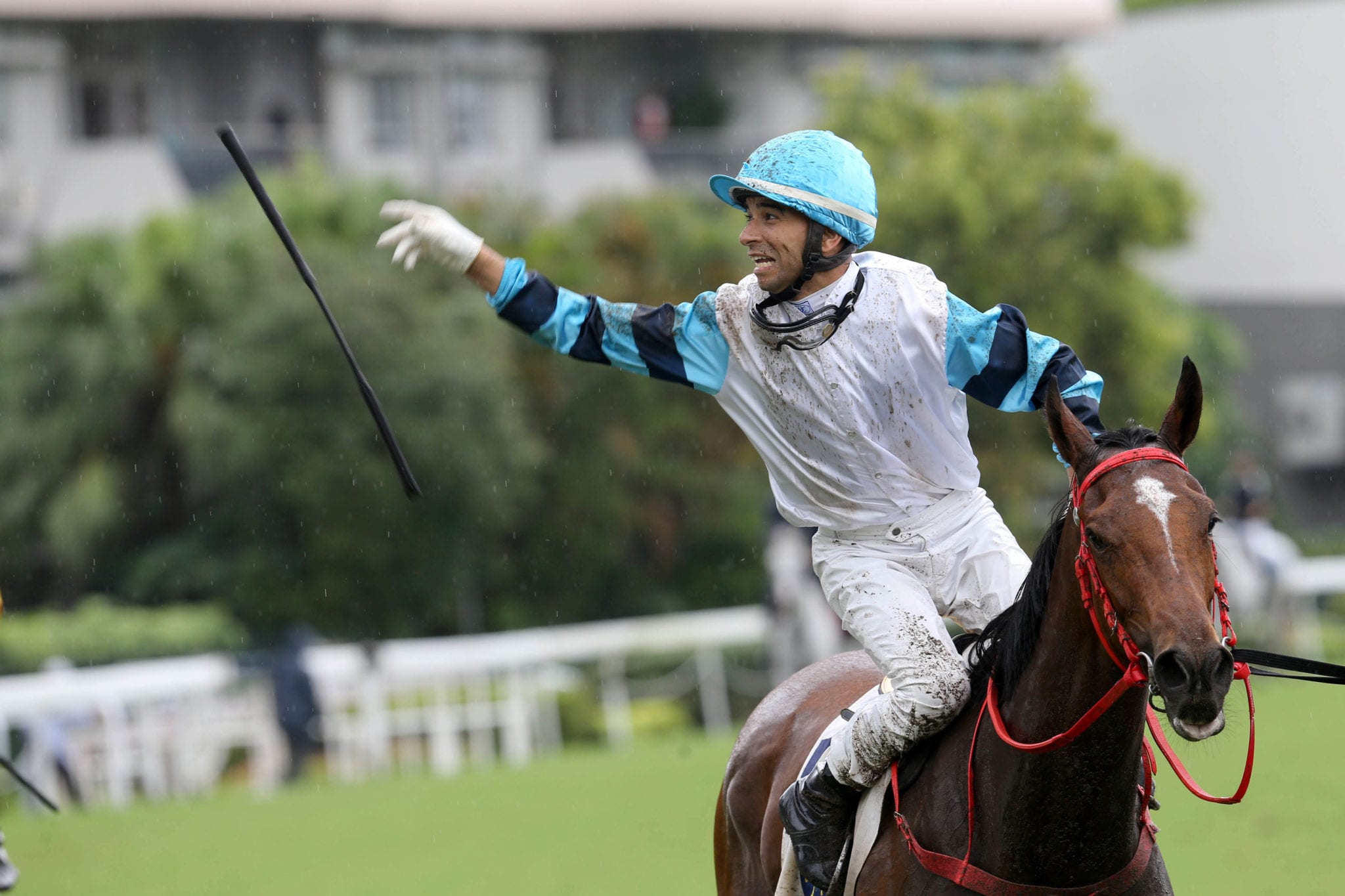 Moreira and Fownes connect
Moreira partners Hong Kong Win for Size in the Class 2 Alnwick Handicap (1000m), having been aboard four times this term for three wins.
"I'm happy with him, I think we still haven't seen the best of him quite yet. He's improving quite a lot, that's why he's won that many races. He's good and there's more rating in there for us to see," he said.
"What he's done so far gives us confidence that he is capable to go even higher in class. He's won races leading and coming from behind, he's very versatile, so that gives us plenty of opportunity to do whatever we want when it comes to the day."
While the numbers for his main backer are generally below previous seasons, Moreira is happy with the all-round support he has received. He has a better than 20% strike rate for four of the other five trainers he will ride for on the night: Francis Lui (35%), Ricky Yiu (25%), Fownes (23%) and Ferraris (21%). His winning percentage for the Man stable comes in at 9%.
Fownes is a particularly interesting case. The trainer has backed both jockeys this term and Moreira has a tally of 11 wins from 47 rides. The Brazilian has been in excellent form for the stable since the start of April, bagging six wins at a 35% strike rate – Purton is riding at 33% for Fownes over the same period – and on Wednesday he rides three Fownes-trained gallopers: Green Aeon, Sky Darci and Green Luck.
"It could be a factor," Moreira said. "Caspar has been good to me and I appreciate that but I can't be relying just on that."
The rider is looking forward to climbing aboard Fownes' Hong Kong debutant Green Aeon – a two-time winner from three starts in Australia – in the Class 3 Durham Handicap (1000m).
"He's been a very straightforward type of horse – it's no surprise Caspar's sent him to Happy Valley because he's indicated he'll handle the track very well. He's a very nice horse and he seems to be ready to go to the races and do something very good."
Moreira is pleased with the backing he is receiving but believes that other factors falling into place will be the difference between winning a fourth premiership and finishing second for the third consecutive season.
"The support is there, I just need a bit of luck with regard to gates – that makes a big difference at Happy Valley, so I just need a little bit of luck with that," he said.
And, on the subject of ending his recent winless run at the weekend, he added: "Winning is what motivates us and it's good to go back into the races with a winner behind me."
Wednesday night's sport starts at 6.45pm with the third section of Class 4 Renfrew Handicap (1200m), in which Moreira rides the Size-trained top-weight Amazing Knight (133lb) and Purton gets the leg-up on the O'Sullivan-trained Harrier Jet (127lb).