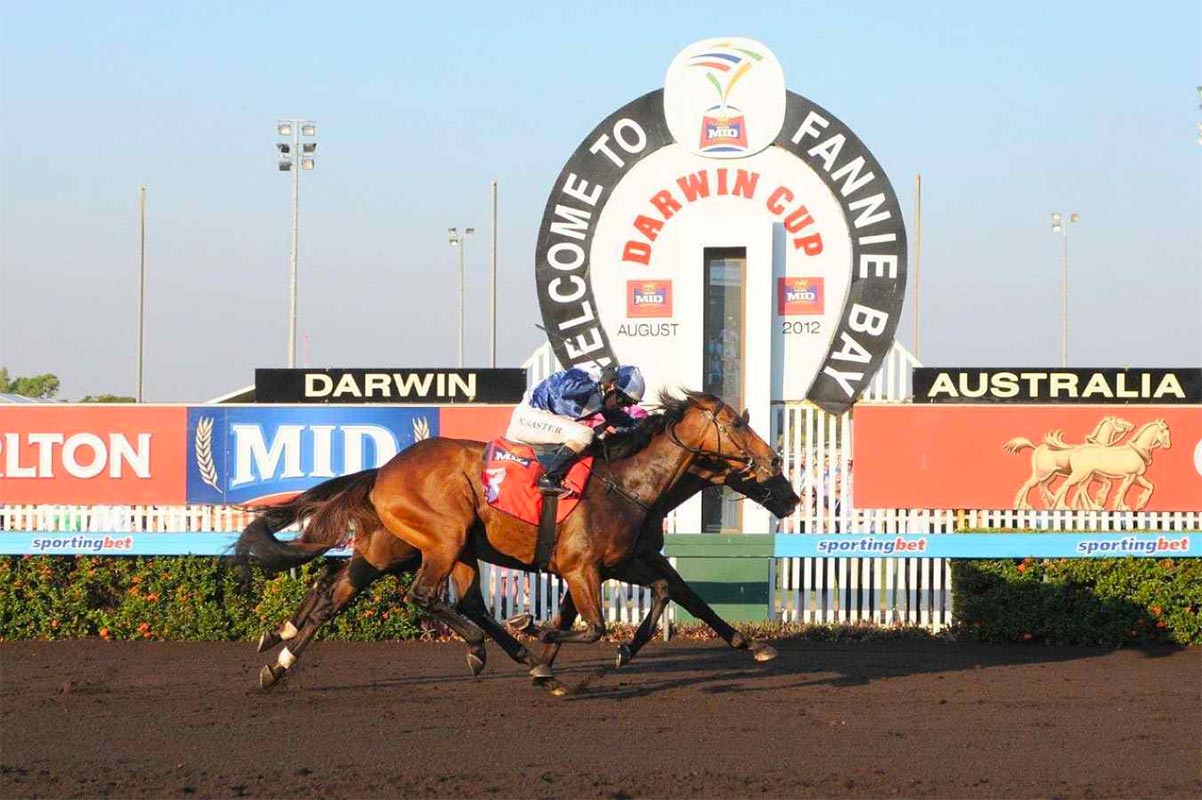 There have been a many interstate raiders over the years who have made a serious impact during the Darwin Cup Carnival.
You could mount a case that Hawks Bay was arguably the best.
During a four year stretch from 2009-2012, the imposing Black Hawk gelding from Victoria basically owned Fannie Bay.
That includes success in feature events and the Darwin Cup (2000m), which takes place annually on the first Monday in August, as well as races leading up to the carnival.
It has been 10 years since Hawks Bay won his second Darwin Cup.
In those four years in the Top End, Hawks Bay had 17 starts for Kyneton trainer Neil Dyer for eight wins, three seconds, a third, two fourths, a fifth and two sixths.
He won from 1000m-2000m and was virtually untouchable over 1600m and beyond.
After finishing second in the 2009 and 2010 Darwin Cups, Hawks Bay bounced back to win the biggest race in the Northern Territory in 2011 and 2012.
In 2013, the rising seven-year-old at the time had just one start during the Darwin Cup Carnival for a seventh in the Metric Mile (1600m) – a race he won in 2011.
"It's gone quick," Dyer, who is preparing for yet another Darwin Cup Carnival campaign, said.
"I wish I had him now to tell you the truth.
"We ran Hawks Bay in the South Australian Guineas in 2009, he ran second beaten a long neck, and from then on it sort of started unfolding that we were going to take him to Darwin for the Guineas and the Derby.
"He won them both and then ran second in the Cup to Activation.
"That was the start of it.
"When he went so good that year, well, we just kept on going back."
No surprise that Dyer has a high opinion of Hawks Bay, but is he the best horse he has ever trained?
He couldn't split Hawks Bay and Mrs Bently, a star for the stable before and after the turn of the century.
"She was a very good horse for me as well," Dyer said.
"You'll be surprised how consistent and good she was at Moonee Valley."
Recommended!
The last local horse to win the Kyneton Cup in 2002, Mrs Bently won six races at Moonee Valley in 32 appearances and was also placed on 11 occasions.
She had 13 wins in 85 career starts, which included 30 minor placings.
Dyer made his first trip to Darwin in 2008, so venturing to the NT on a seemingly annual basis has become routine.
With clients linked to his horses based in Darwin, Dyer is happy to make the trip north to renew friendships and support the Cup Carnival that basically put his name in the spotlight.
"When we won a race with Palmyra Boy the first year, I thought we've ticked that box," he said.
"I never thought that I would be ever going back.
"It's a very good product.
"Everyone enjoys themselves and it always seems to be a successful event.
"The weather is fantastic at that time of the year when we're so cold down here in Victoria.
"It's an oasis in the middle of the winter, a nice place to be.
"The friends I've met and friends I've met who have become owners – we'll be friends for life.
"That's one of the massive things and probably my main attraction now to go back."
Dyer won the 2017 Darwin Cup with Royal Request, and last year his charger Kaonic finished fourth in the race which is now a test over 2050m.
Despite the success of the stable in Darwin over the years, Dyer has endured tragedy as well.
In 2017, Mornington-based jockey Roger Booth suffered a heart attack in the Fannie Bay enclosure after riding one of the trainer's horses and passed away upon arriving at hospital.
It therefore made Royal Request's Cup win a highly emotional experience for Dyer.
Along with his son and future stable foreman James, Dyer is looking to leave for Darwin in mid June.
"Kaonic will be going back to have another go at the Cup this year," he said.
"We've got a three-year-old called Royal Court – a Lonhro gelding who was with Chris Waller.
"He has had three starts ranging from 1600m to 1900m, and he ran second and third at good provincial meetings at Newcastle and Gosford getting back and running on.
"Although the Guineas might be a little bit slick for him, the Derby should be right up his ally."
Dyer's training facility at Kyneton has endured many changes in the recent times, and after many years in the training caper he shows no signs of slowing down.
"I've still got the fire in the belly, 100 per cent," he said.
"We've put in a concrete horse swimming pool that's been going for a couple of years.
"We've built 10 brand new stables and we've also added a modified treadmill."