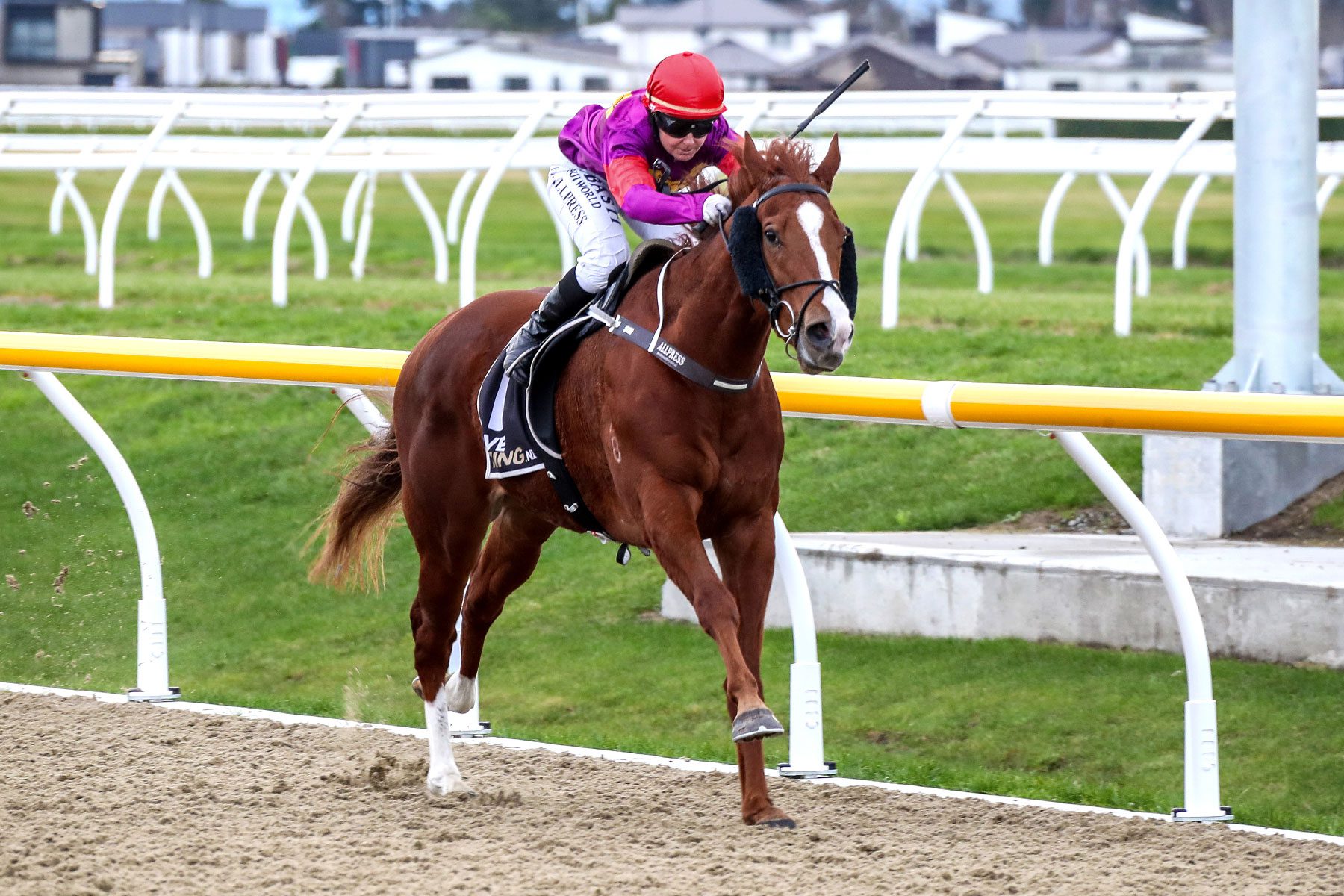 A fitter Choisia Prince will spearhead a trio of Riccarton all-weather track runners for New Zealand trainer Fraser Auret on Thursday as the trainer continues to broaden his knowledge of polytrack racing.
Choisia Prince couldn't have been any more impressive when he cleared maiden grade by 6.5 lengths over 1400m on the polytrack at Riccarton earlier this month.
However, the John Bromley-bred and raced Choisir three-year-old gelding showed he was far from the polished article as he overraced early and had to be hauled off the heels of the runner in front of him before rider Lisa Allpress had no choice but to hook him out and take him to the lead.
"I thought the horse was going to jump the one in front for a second there," Auret quipped.
"With all the travelling, we did have him a touch on the fresh side heading down so I would expect a natural improvement and a bit more maturity from him tomorrow. He was certainly impressive. He stretched out beautifully."
Auret left Choisia Prince in Christchurch after that race under the supervision of Riccarton trainer Meg Cunneen and was buoyed by her reports of his improvement since that run leading into Thursday's Riccarton Park Function Centre 1600.
"He's trained on nicely. He was very fresh going into that race so I don't think the step up to 1600m with be any issue and he should race in a bit more of a relaxed manner," Auret said.
"He's a lovely horse who's still learning his craft. I'm sure it won't be a spectacular win like the last one but we do expect him to run well.
"He was injured in his only two-year-old start and had a fair bit of time on the sidelines and that's just meant he came into work at the wrong time of the year but he won't do much more past tomorrow's race. He's a gorgeous, big, imposing horse we've always liked."
Auret will also produce Porotene Dundee in the 2000m maiden, the former Trudy Keegan-trained Smart Missile filly having her first start for the stable, and Ocean Park four-year-old Perfectionist second-up in the NZB Insurance Pearl Series Race (1400m).
On Perfectionist, who finished fifth on the Cambridge polytrack when she was trained by Lance O'Sullivan and Andrew Scott earlier in her career, Auret said: "I was happy with her run first-up on a deep track at Hawera. I did notice before we got her, she ran quite a nice run on the Cambridge all-weather so from the one draw, I'm hoping she goes really well.
"Porotene Dundee is having her first raceday start for us. She's done well since she ran second at the trials. We're still learning about her but she's nice and fit for this. She's just been finding the tracks a bit wet up home so it's a matter of trying something else."
Auret, who also produced White Lightning on the Cambridge polytrack on Wednesday, was keen to learn more about which horses best suited all-weather track racing ahead of the opening of the Awapuni polytrack next year.
"The Central Districts all-weather is the last one to go in so we're basically trying to put the right horses on the right surfaces. It's a bit of a learning curve.
"These tracks are an extra pool. Some horses will like it, some won't. It certainly beats flogging around all winter in the mud. I'm always happy to travel horses if they are placed to advantage."
Meanwhile, Auret has welcomed Group 2 Auckland Cup (3200m) winner Uareastar back into his stable.
"She has been back in four weeks. We're slowly but surely ramping up with hopefully a big spring in mind," Auret said.
"Her first proper target will be the 2000m race (Group 1 Livamol Classic) at Hastings (on October 15) and then it will be on to the New Zealand Cup (3200m, Group 3, at Riccarton on November 12).
"There's been a fair few sold from our stable this season so we've got a lot of young horses in the team at the moment but they are a lovely bunch of young horses we've got around us."
More New Zealand horse racing news