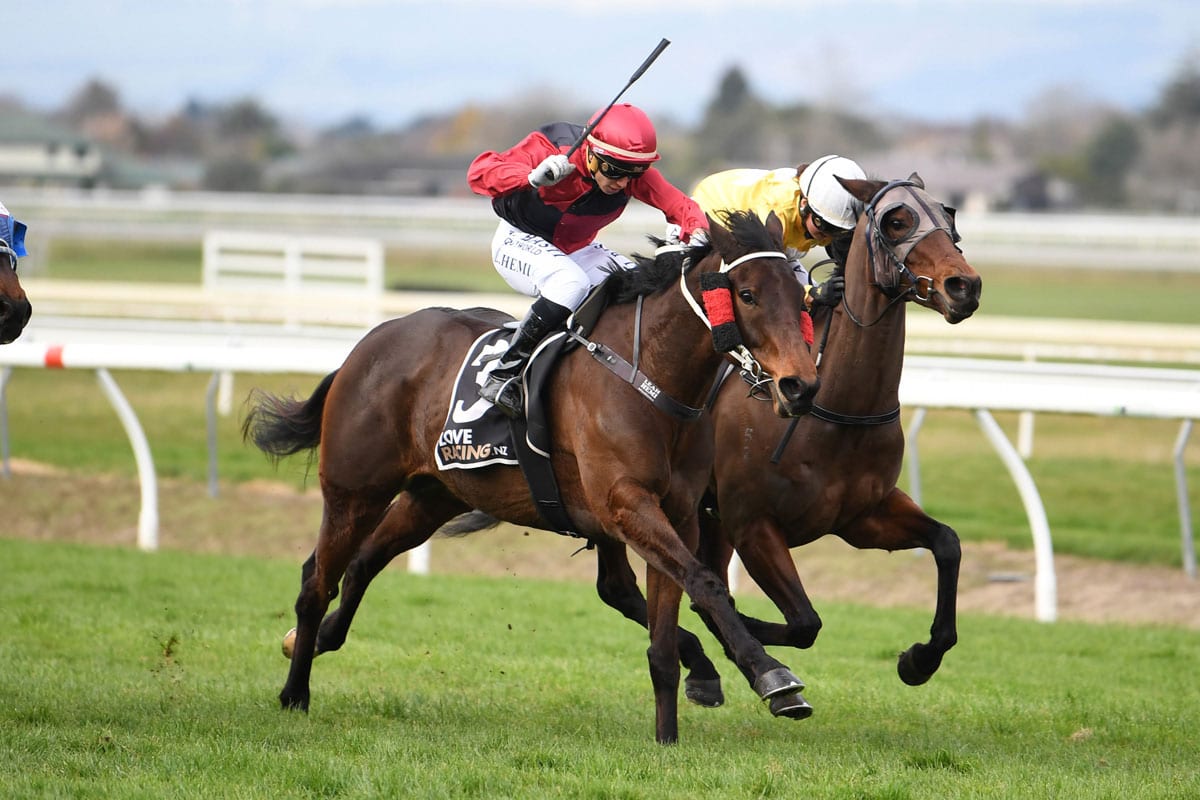 Estimated Reading Time: <1 minutes
A more measured campaign is poised to pay dividends for Wairarapa galloper Charlie Horse in the coming weeks.
That's the prediction from New Zealand trainer Stacey Dougan as she goes about putting the finishing polish on the Zacinto seven-year-old gelding ahead of Saturday's IPL Marketing/Nelson Pine Industries 1600 at Awapuni.
"COVID stuffed me up with him last year. I rushed him into getting a few runs while the tracks were still wet and that might have flattened him," Dougan said.
"This year, we've taken our time a bit with him and it seems to be suiting him a lot better. He's pretty well. Everything seems to be right on track with him."
Despite the rushed preparation last winter, Charlie Horse was still able to win the Whyte Handicap (1600m) at Awapuni and finish second in the Foxton Cup (2040m) at Wanganui.
A winner of seven of his 35 starts, Charlie Horse ran third in the Egmont Cup (2100m) at Hawera and second in the Listed Stephanos Classic (1950m) at Rotorua in his previous preparation, so has proven himself in the best winter company.
He resumed with a fourth placing at Trentham in last month's North Island Challenge Stakes (1400m), a run that greatly pleased Dougan.
"It was a really good run, especially as he really needed it. He had a fair blow afterwards and it has brought him on nicely," Dougan said.
"He has taken a bit longer to get into trim now he's another year older. But he keeps himself pretty fit and he works himself pretty hard on the track – the way he pulls hard in trackwork.
"But he's always the same horse. Nothing has ever really changed with him and that's what has made him such a hard horse to read. He just always eats up and works exactly the same way."
Despite not giving much away, Charlie Horse had given Dougan no signs that he wouldn't be making good improvement into his second-up run on Saturday.
"I expect him to go close. He could win it if he turned up the Charlie of old," Dougan said.
Charlie Horse was among this week's early entries for the Group 3 Winning Edge Presentations Winter Cup (1600m) at Riccarton on August 7, a race Dougan was keen to target, though wary her charge would quickly be looking for middle distance racing.
"I'll just have to be careful with him because he's more of a staying horse and the next couple of runs will tell me more about that," she said.
"He's won three of four at a mile. A mile to 2000m has been his main go."
Charlie Horse has been a special project for Dougan, who is training a small team of four.
He was bred and is raced by her mum Sue Oomen, who has had her share of health issues over the past few years.
"It's been great for Mum. The horse has perked her up on several occasions and it's been great that we've been able to share this together too."