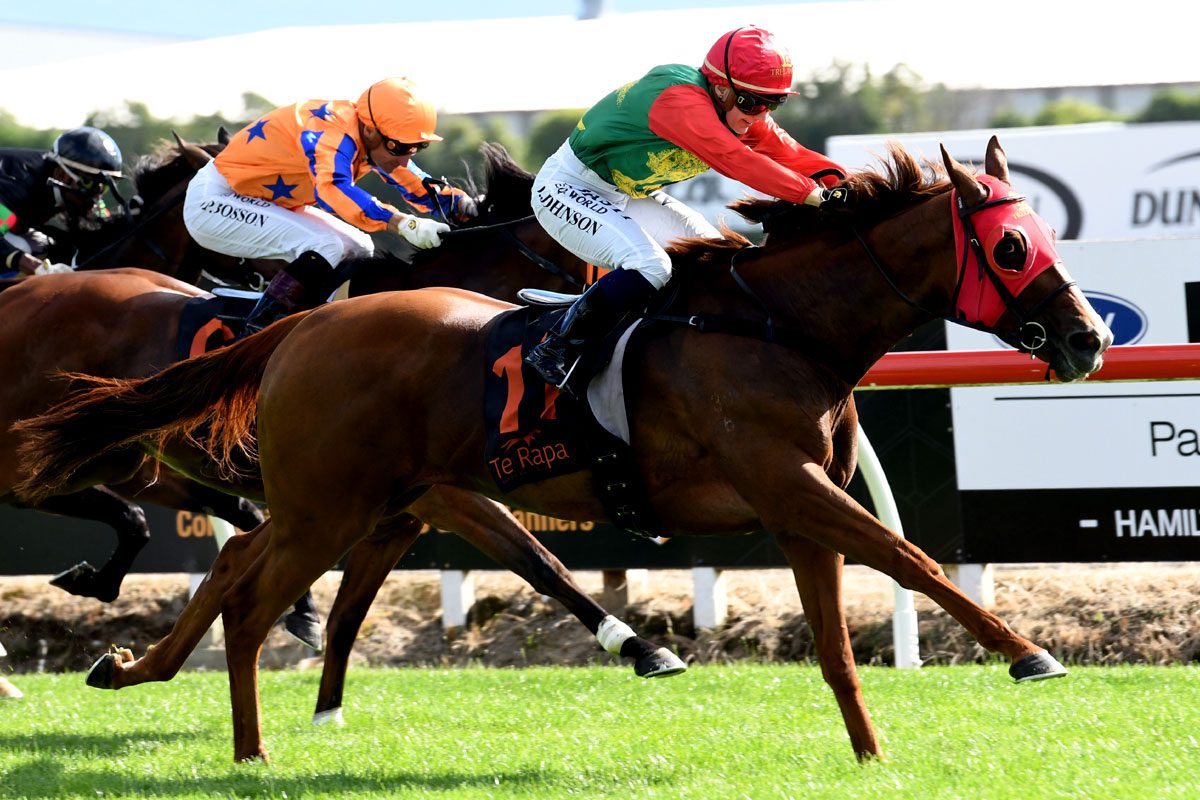 Having raised the bat for a century, New Zealand trainers Roger James and Robert Wellwood are looking to build their innings further in black type races in the next two weeks.
The Cambridge training partnership are aiming class mare Two Illicit at Saturday's Group 1 Fiber Fresh New Zealand Thoroughbred Breeders' Stakes (1600m) at Te Rapa, improving gelding Dionysus at the Listed Power Farming Hawke's Bay Cup (2200m) on Saturday, and their talented three-year-olds Pinarello and Achieve at the Group 2 Trelawney Stud Championship Stakes (2100m) on April 23.
These targets come after James and Wellwood reached a major milestone on Sunday in what is their fourth season training together when Urban Myth won a maiden at Pukekohe in stylish fashion.
"That was the 100th win yesterday for us since Robert joined us in partnership," James said.
"It's been a good season for us. We've won a lot of nice races, which is good for the owners, and it's good for the fillies to be winning black type races."
James and Wellwood have won 26 races so far in 2021-22, and their prizemoney haul is the best that James has earned in New Zealand in a career stretching back to the early 1980s.
The victories include seven black type races in New Zealand, one below James' previous best domestic total, and he has the chance of adding more this weekend.
Two of those have come from Two Illicit, who scored her first top-level victory in the Group 1 Captain Cook Stakes (1600m) at Te Rapa in December. She will attempt to add to that record in the Breeders' Stakes, though she appears likely to face top-class horses such as Levante and Coventina Bay.
"Two Illicit is really well, though it could be her last run for the season," James said.
"It's going to be a good field undoubtedly on Saturday, but at her best she's up to it. A mile will suit her really well."
Dionysus, owned by long-time James clients Ron and Fran Dixon, has won three of his nine starts this season, the most notable being the Dunstan Feeds Stayers' Championship Final (2400m) at Ellerslie on New Year's Day, and improved from a 51 to a 74 rating in the meantime.
At his most recent start he was a close third, later promoted to second, to Withallmyheart in an open 2100m handicap at Avondale last week.
"He probably should have won because the horse that interfered with us (runner-up Super Sid, who pushed him wider off a straight line) stopped us from winning it," James said.
"We know the distance is no concern, and you'd think he might even improve a bit since last time because it had been a month since he had last run.
"He's a nice emerging stayer, extremely late maturing, and he'll be better at five than four."
Pinarello and Achieve had an exhibition gallop together recently and will be seeking to score black type success in the Trelawney Stud Classic that they've been close to accomplishing this season.
Both finished fifth in Classic targets at their last starts: Pinarello in the Group 1 New Zealand Derby (2400m) on March 5 and Achieve in the Group 1 New Zealand Oaks (2400m) on March 19.
Pinarello was subsequently taken to Awapuni for the Group 3 Manawatu Classic (2000m) on April 2 but was withdrawn on veterinarian's advice after blood was seen around his mouth, which was frustrating for James.
"He had a tooth hanging by a thread and by the time he got back to the birdcage there was no problem," James said.
"He's still doing well and is ready to run a nice race."
Achieve's Oaks fifth came after four black type races in which she never finished further back than fifth without quite achieving a victory.
"Achieve just kept giving and giving in the Oaks. It was a nice run and she's come through the race well," James said.
"Both horses are still six to 12 months away from their best but should still be ready to run well at Pukekohe."
Among the other top runners from the stable, Concert Hall has been retired after finishing second in the Group 2 Auckland Cup (3200m) following a season in which she scored a brace of Group 2 victories, while Cheaperthandivorce, whose victories this season included the Group 3 Thompson Handicap (1600m) and the Group 3 Waikato Cup (2400m), is having a break and will return in spring.
"She came in briefly in late summer but she probably wasn't ready for an overseas trip and we couldn't see a worthy target here. Her programme will depend on the handicapper a little bit."
Meanwhile, James said Urban Myth, who brought up the century for him and Wellwood after being taken to the lead mid-race by jockey Opie Bosson, was a horse he had some time for.
"He's had three runs and he's drawn wide on three occasion, which hasn't helped, but Opie took the bull by the horns and rode him like the best horse in the field," James said.
"He goes to the paddock now, but I think he's a really handy horse, a late maturing horse who's well above average."
More New Zealand horse racing news