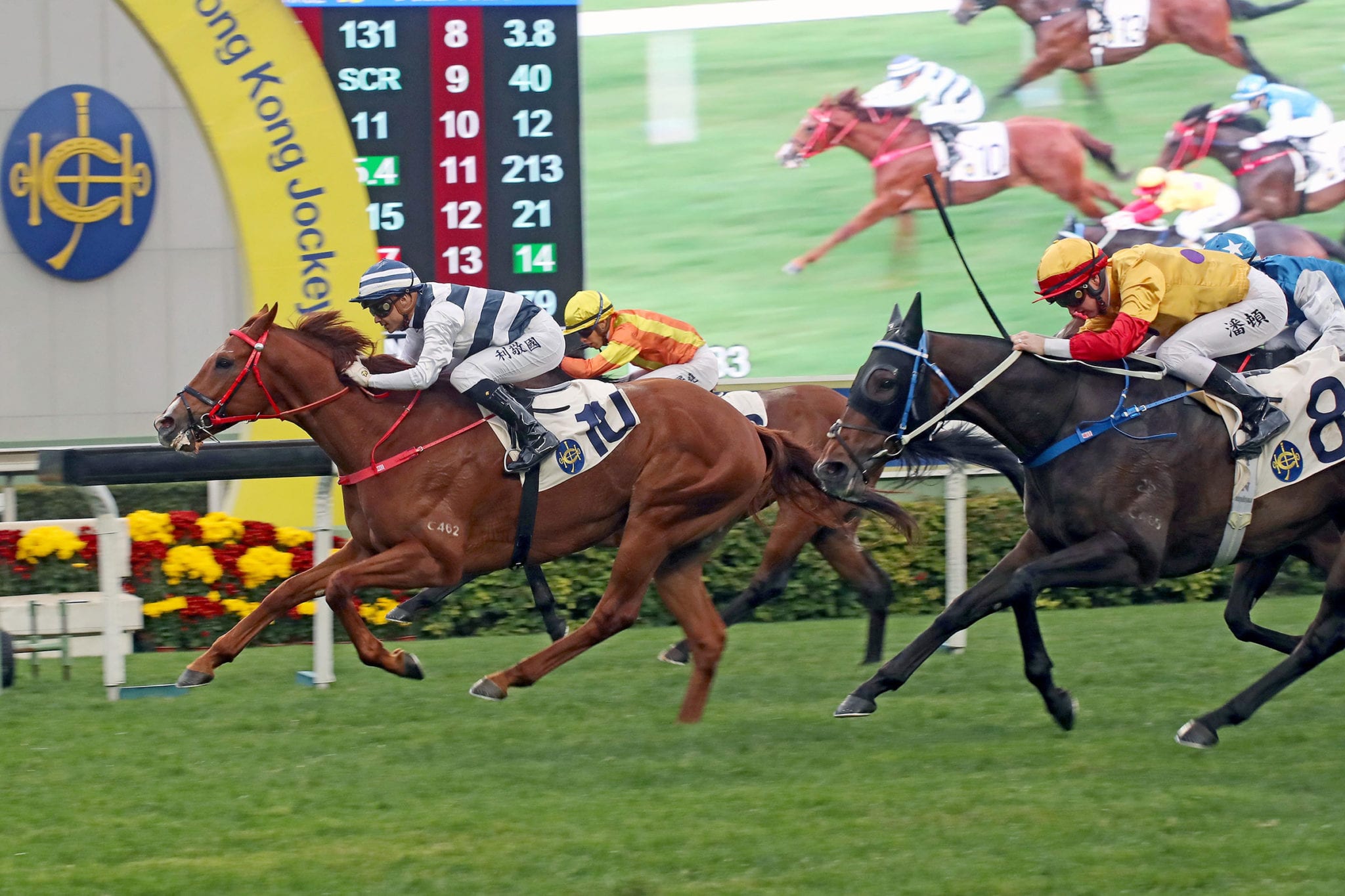 South American imports haven't had the impact in Hong Kong that arrivals from Australasia and Europe have had, but this Sunday (22 March) at Sha Tin, the Danny Shum-trained Butterfield will attempt to raise the profile with victory in the HK$20 million BMW Hong Kong Derby (2000m).
A total of 61 South American imports have raced in Hong Kong since the trailblazing Motivation in 1991, and 30 of those horses have combined for 67 wins, while the other 31 arrivals have gone winless. Shum currently has three South American-breds in training, Harmony Victory who was eighth in last year's Derby, the unraced Hongkong Great – the only Chilean horse to enter Hong Kong – and Butterfield a Group 1-winning star in Brazil.
Shum's three are among only seven South Americans currently in Hong Kong, and that's out of a horse population of about 1,300 horses in training at Sha Tin and Conghua. Butterfield will be the continent's sole representative in Sunday's final leg of the Four-Year-Old Classic Series.
If the Shum-trained chestnut is to succeed and become the first South American-bred Hong Kong Derby winner, he will have to do so from barrier 12 in the 14-strong field, which also features the impressive Golden Sixty, winner of the Hong Kong Classic Mile (1600m) and Hong Kong Classic Cup (1800m).
"I don't think there's a lot of pace in the race, so I hope I'm right and that we can sit somewhere positive from that gate – I'll leave it to Grant (Van Niekerk) but at least the horse has handled 2000 (metres) before," Shum said.
Butterfield got off the mark in Hong Kong at his fifth start, a Class 2 contest over 1800m, and as a winner over 2400m, he is one of the few guaranteed stayers in the race.
"He pulled up really well out of that run, he's doing everything right and every time Grant has galloped him he has been happy with him," Shum said.
Van Niekerk has ridden the gelding twice, for his two best results, including his last-start victory in February. "He's going pretty well, he's had the perfect prep going into the race, he's fresh, he's feeling really good – I think Danny's (Shum) got him spot on," Van Niekerk said. "He's a horse that relishes extra ground, I'm semi-confident on him – the draw is a slight concern but if I can get him into a decent position then I'm sure he'll have a nice finish."
Van Niekerk is enjoying a good season with 32 wins next to his name as well as the Group 3 Bauhinia Sprint Trophy (1000m) in the bank. But victory in Sunday's race would be far and away his biggest so far in Hong Kong.
"You hear about the International Races but there's just something about the Derby, I think it's probably Hong Kong's best race – it'd mean the world to me but it all comes down to the horse at the end of the day," Van Niekerk said
Butterfield kicked off his Hong Kong career with a lacklustre 11th over 1400m, before the decision to geld him, which is now beginning to reap rewards for Shum, who hopes his charge can showcase his top-class Brazilian form.
"There is nothing special about the South American horses really, just that they don't geld them over there, so if they come here they almost always have to be gelded!" the trainer added.
Known as Halston in Brazil, Butterfield arrived on a mark of 86 as a two-time Group 1 winner. His first came in the Group 1 Grande Premio Ipiranga (1600m) at Cidade Jardim in Sao Paulo, and he followed with victory in the Group 1 Derby Paulista (2400m) also at Cidade Jardim. Between times, he rolled to victory in the Group 1 Jockey Club de Sao Paulo (2000m), but was subsequently disqualified.
Hong Kong legend John Moore has trained 1,707 winners across his career but this figure includes only one horse from South America, Motivation, who contributed six wins to Moore's staggering tally. His one other from that part of world, Super Way, also from Argentina, was winless across four starts before being retired.
"I was working with John Foote at the time and he recommended we go to South America because John was buying quite a contingent of Argentinian horses to race in South Australia and he suggested going together and we bought an Egg Toss horse called Motivation," Moore said.
Motivation is the third highest earner from the continent, sitting only behind the Tony Millard-trained Sirocco and Danny Shum's Harmony Victory but his route to Hong Kong was not straightforward.
"At that time, the horse couldn't come directly to Hong Kong, he had to go to England to qualify and then come here, he was already a Group winner before that but they said he couldn't come here directly," Moore said.
"It was Tony Cruz who qualified him, on a bog track, in England for owner Hui Sai Fan in Hong Kong!"
And he was worth qualifying too, the gelding won the December 1993 Hong Kong International Cup (1800m), the fore-runner to the Group 1 Hong Kong Cup (2000m), with John Marshall aboard.
"He was my first International Cup winner, I'll always remember him – I have a photograph on my wall of him," Moore said.
The only other South American to win a Hong Kong major is the David Hayes-trained Resfa, who won the 2000 Stewards' Cup (1600m).
Of the 61 arrivals from South America since 1991, Tony Millard can lay claim to having the most, 16 in fact, including two stand-out performers, one being the highest earner, Sirocco.
"Sirocco I bought as a PPG (Privately Purchased Griffin) and he was a very good horse, I went to the farm and bought him there and he was as good as you can get from here," Millard said.
That he was. The Literario Tom gelding arrived in October 2000 and retired in 2007 with seven wins next to his name and HK$8.05 million in the bank.
"They're tough horses – if you get one of those they'll run through a brick wall for you if you get the right one," Millard said.
The other stand-out, Citizen Kane, who raced 15 times for Millard, netted two wins and a game third in the 2001 Hong Kong Classic Mile at 51/1. He also won the Group 2 Sha Tin Mile Trophy in 2003 for the Cruz stable and pocketed a cool HK$7.4 million across his Hong Kong career.
"Citizen Kane I bought as a PP (Previously raced), but on a whole though the South American PP's form struggles to translate here," Millard said.
Sunday though, will see Butterfield get his opportunity to prove his merit and fly the flag for the South American imports. If he wins, he will become by far the continent's highest prize money earner to race in Hong Kong.