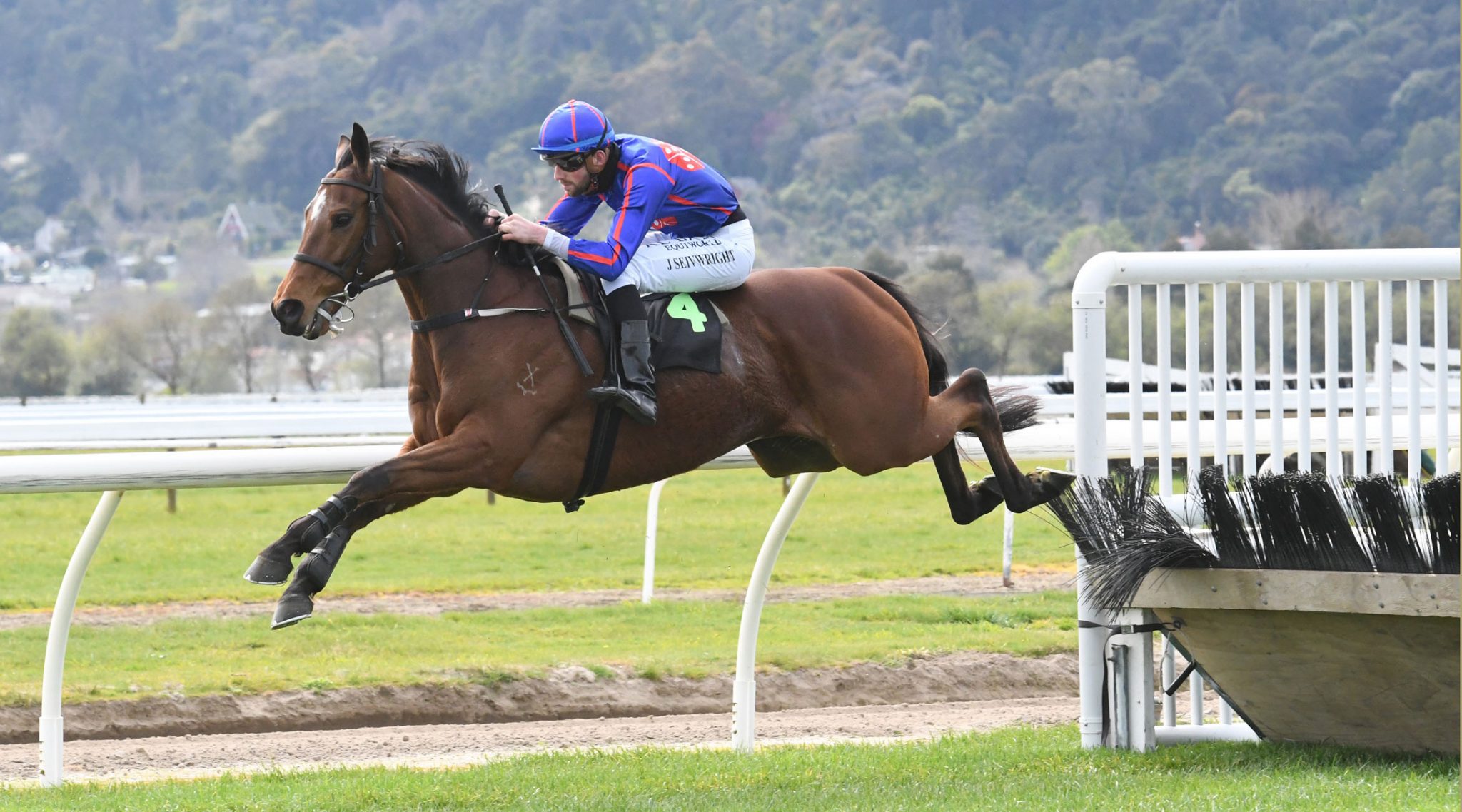 English Gambler may have been as green as the grass he was running on in the early stages of the Te Aroha Jockey Club Hurdle (3100m) on Sunday, but he showed he has spades of potential in the manner he won his debut jumping assignment.
Making his customary good beginning out of the gates, English Gambler appeared to shy at the first hurdle from his wide position and shifted in onto Tweedledee, hampering Master Painton and Amazing Az.
He continued to race greenly over the second hurdle, but rider James Seivwright was able to settle his charge and the seven-year-old gelding was able to go on to record an 8.5 length victory.
Trainer Lauren Brennan put English Gambler's early indiscretion down to a lack of experience meeting hurdles out of the barrier after 28 starts on the flat.
"He didn't start off too flash, he probably got a shock that he had to jump," Brennan said.
"He has only had two jumps trials and they don't go out of the gates, and in his flat races he usually takes the lead and goes quite hard.
"Yesterday all of a sudden a fence came up and he was in a bit of shock."
The Cambridge trainer was pleased with how he recovered and jumped for the remainder of the 3100m journey and believes he has a bright future instore if he continues on the same trajectory.
"He jumped them really well, James was really happy with him and said he was eyeing them up six strides out," Brennan said.
Brennan is now weighing up whether to give English Gambler a prestige hurdle target or set him aside for next year.
"We might mix it up with a few flat staying races with him," she said. "There are only three possible jumps races left for him until next year.
"Whether we throw him in the deep end and have a crack at the Pakuranga Hunt Hurdle and then put him out, or wait until next season, I am not too sure.
"It looks like he is going to have a bright future over the jumps if he continues like that."
A trip across the Tasman could be on the cards into the future, with English Gambler's ownership group including Victorian syndicator Roll The Dice Racing.
"They would be keen to get him over there to race in one of the (jumping) carnivals," Brennan said. "That is definitely on the cards if he continues in the way he has started."
Meanwhile, Brennan is looking forward to lining up open-class gallopers Vigor Winner and Packing Rockstar at the Taupo trials on Wednesday.
"Vigor Winner will go to the Group trials at Taupo on Wednesday and will probably start off in an Open Sprint, whether that be Te Rapa or Hastings.
"He will probably run in the Red Badge (Group 3, 1400m) on the last day of the Hastings carnival.
"Packing Rockstar is having his first trial on Wednesday as well. Depending on the ground he could head to Ellerslie on the 19th (of September), or if it is going to be too wet, we will split the two horses on the second day (of the Hasting Spring Carnival, October 2), one will go to Hastings and the other to Te Rapa.
"He prefers on top of the ground, he is not that versatile on the softer tracks. We could probably get away with a Dead5 and after that he struggles a bit in the ground."