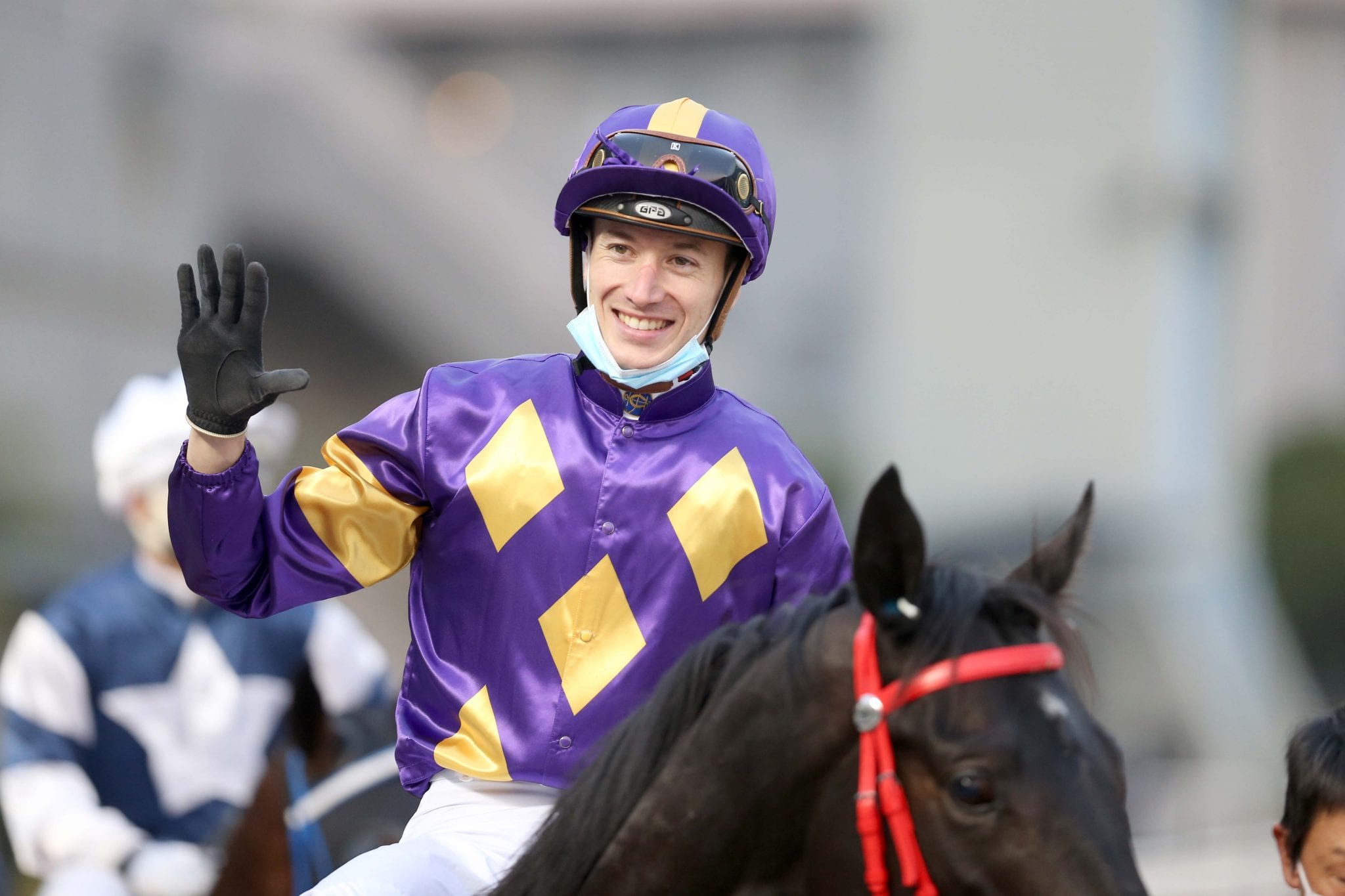 Frenchman Antoine Hamelin banished the frustrations of a recent barren streak to produce the first quintet of his career to steal the show at Sha Tin on Sunday (17 January).
Hamelin erased the frustrations of a 51-ride losing streak with a stunning five-timer – Golden Link, Family Folks, Ping Hai Bravo, Hongkong Great and Tempest Express – to lift his seasonal tally to 13, ending a drought stretching back to mid-December at Happy Valley.
"It's a crazy day, amazing, I'm very happy," he said. "It's been a little quiet, but today I'm jockey of the day.
"To win five races, it's amazing – last season was very good for me (17 winners), this season has been a little bit quiet.
"But you never give up. You focus, stay strong in the head and you have to keep going. Hong Kong is a very tough place."
Separated from his family because of COVID-19 restrictions, Hamelin said: "My life is perfect – I'm happy in Hong Kong, I love the life, the city and I have a lot of time for my favourite hobby of climbing."
Hamelin's previous best harvest was a quartet.
"The other time was a long time ago in France (at Fontainbleau)," he said.
"I never thought I would do this today with five winners."
Hamelin's impressive reign started with Ricky Yiu's Golden Link in the Class 4 Snipe Handicap (1400m), the victory was the jockey's first in eight meetings – and it would only get better.
He struck again with Michael Chang's Family Folks in the second section of the Class 4 Sea Eagle Handicap (1200m), a triumph of clear significance to the trainer, who had previously prepared only one other winner for the season.
"Of course, it feels good. I think this is a nice horse," Chang said.
Chang's runners had repeatedly gone close to winning this season, with 11 runners-up finishes and 10 third placings.
But he lamented the overall quality of his yard – with the obvious exception of Family Folks.
"The horses are not good enough, too many old horses – I'm waiting for some new horses," he said.
John Size's Ping Hai Bravo gave Hamelin his first treble in Hong Kong after the accomplished European nervelessly piloted the gelding to victory in the Class 3 Heron Handicap (1000m).
Moreira emerged with a double after Beauty Applause claimed the Class 2 Flamingo Handicap (1000m) to eclipse hot favourite Wellington, who finished a close second.
Hamelin then reimposed his dominance aboard Tempest Express in the Class 3 Kestrel Handicap (1400m) in the last race of the day, securing a treble for trainer John Size who on the day, had six runners across the 10-race fixture.