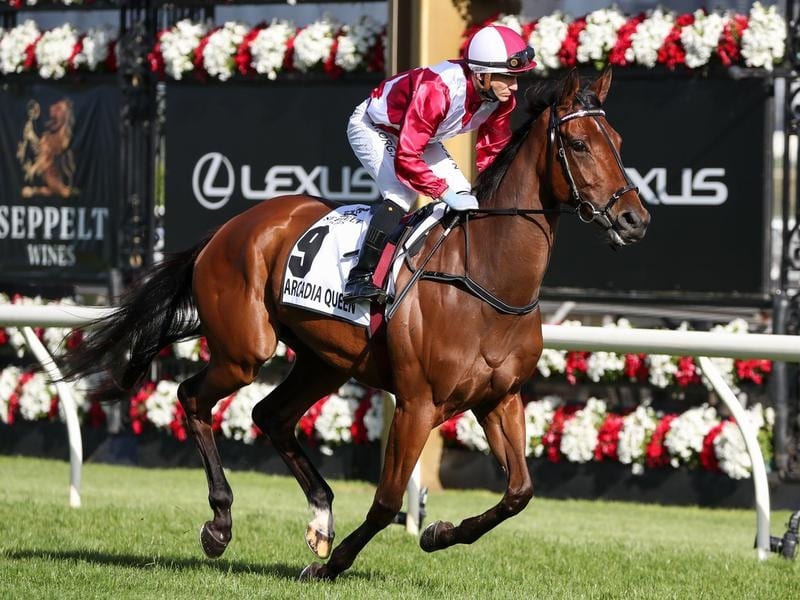 All Star Mile favourite Arcadia Queen and fellow Group 1 winning mare Shout The Bar will need further veterinary inspections before being declared fit to start in the $5 million race at The Valley.
Both mares presented with lameness following compulsory Racing Victoria veterinary checks to assess the suitability of all runners to line up on Saturday.
Shout The Bar presented with 'two-out-of-five' lameness while Arcadia Queen was 'one-out-of-five' after she had shifted a plate.
Arcadia Queen has subsequently been reshod and both mares will be re-examined by vets on Friday.
Should they be forced out, their places will be taken by Lindsay Park-trained gallopers, first emergency Fifty Stars and second emergency, So Si Bon.
Tom Dabernig, who trains the pair in partnership with Ben Hayes, said the horses had been prepared for Saturday's race as if they were starting.
Fifty Stars ran tenth to Homesman in last week's Group 1 Australian Cup (2000m) while So Si Bon was successful in the Listed March Stakes (1400m).
Dabernig said Fifty Stars was a good 'back-up' horse, but whether he could do it three weeks in a row was debatable.
Fifty Stars had finished second in the Blamey Stakes (1600m) at Flemington a week before the Australian Cup.
"He did some 14 seconds to the furlong this morning, otherwise he's had an easy week," Dabernig said.
"The easy thing with backing up is you don't have to do much during the week and he's a horse that does run well off a back-up, but can he do it three weeks in a row as well as come back in distance.
"For $5 million we'll find out."
Dabernig said if So Si Bon gains a start, he'll acquit himself well.
"He likes The Valley and doesn't mind it soft."