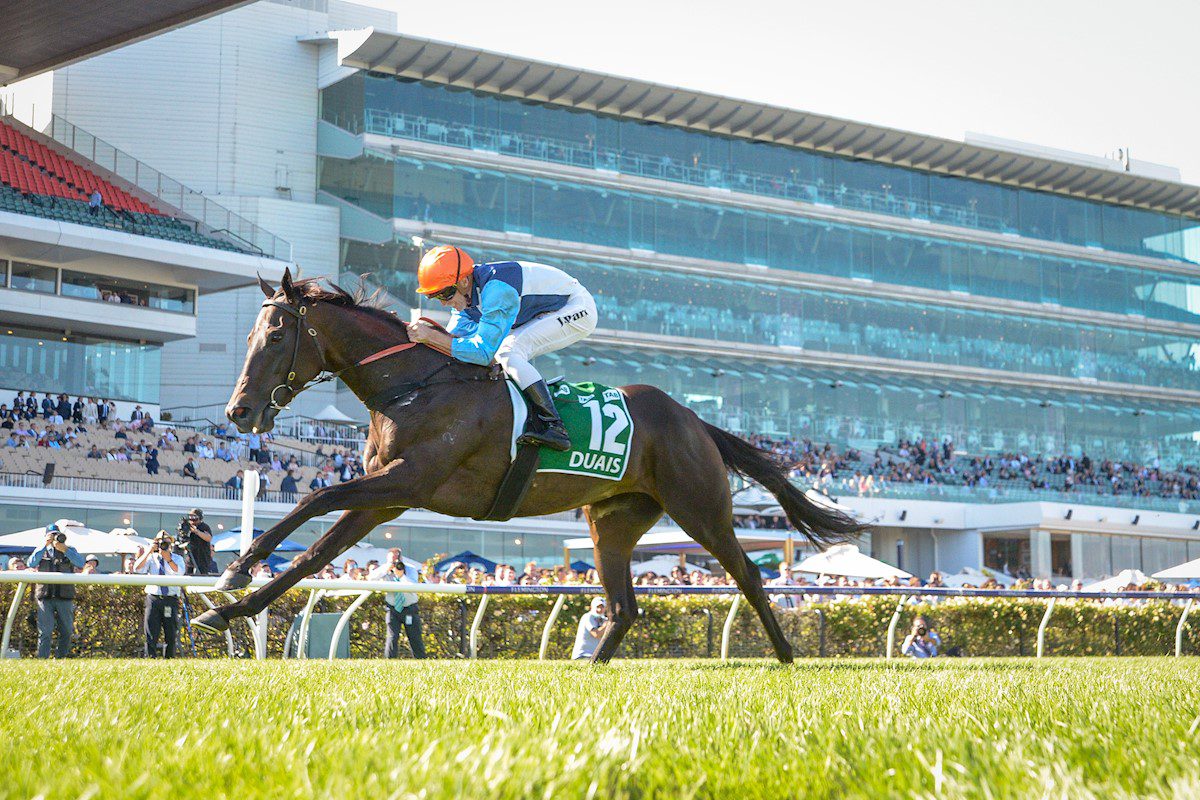 After watching Duais' stunning 3.5-length win in the $1.5 million Kia Tancred Stakes (2400m) at Newcastle (New South Wales, Australia) on Monday, Hawkesbury trainer Ed Cummings said "the world is her oyster".
He is spot on.
She can go anywhere from here after witnessing his $2.50 favourite with online racing betting sites leave Joe Pride's Stockman 3.5 lengths behind at the finishing post.
But at the 1000m mark, when his star four-year-old mare was languishing at the back of the pack, that was the last thing on his mind.
"I must admit, getting to the 1000m mark I thought Josh was just starting to get her to niggle along," Cummings told Sky Racing.
"She sort of switched off a little too well. But even as Stockman started moving up three and four wide I was (saying) 'C'mon Joshy what are you doing mate? It's time to get going'.
"Anyway, she's a very special filly. If she would've run a mile and a half in the Australian Cup (winning the 2000m feature by two lengths at Flemington on March 12) it would have been a gap job as you just saw."
After Monday's outstanding performance, Duais has narrowed with Ladbrokes to $4 to win the $2 million Sydney Cup (3200m), and $6 for the $4 million Queen Elizabeth Stakes (2000m), both at Randwick on April 9.
We can't wait to see exciting mare Duais at #RoyalRandwick for The Championships Day 2 – @Longines Queen Elizabeth Stakes Day on April 9.

Will it be in the @Longines Queen Elizabeth Stakes or the @SchweppesAus Sydney Cup? pic.twitter.com/eSoTiZVQZ2— Australian Turf Club (@aus_turf_club) March 28, 2022
"The world's her oyster at the moment. What we do next is still up in the air, but after the ease of that win you'd have to say she's got at least one more in her," Cummings said.
Can she be competitive over two miles in the Sydney Cup?
"It's definitely a consideration. On the strength of that win she'd run it out, no dramas," Cummings said.
And what about going back to 2000m?
"Easily. We haven't changed much of her work and she's just a natural athlete. You can do whatever you want with her," the three-time Group 1 winning trainer – all with Duais – said.
"And then she could just take her pick in the spring."
Unlike Cummings, there was never a shadow of doubt which crossed Parr's mind when his filly was last at the 1000m mark.
"I was very aware going into today to pay respects to a couple of those hard-headed geldings and the stallion not to give them too much of a start. We swung down there by the 1000 and moves started to happen," Parr said.
"The race really lit up and she just assured me that we were okay. I could sit there and be patient, and when I let her go she put paid to them really quickly.
"It was similar to what she did (to her Australian Cup win with Parr aboard) at Flemington."
Because Duais is the best horse Parr has ridden, he would happily get down in weight from 56.5kg and put 51kg on her back for the Sydney Cup, if that's where Cummings decides to go with her.
"As light as I need to go. We'll talk about that (Sydney Cup)," Parr said.
"No doubt about it, she's the most talented horse I've sat upon.
"She's remarkable. You guys have seen her plenty of times now. The power her stride has is incredible."
2022 Tancred Stakes