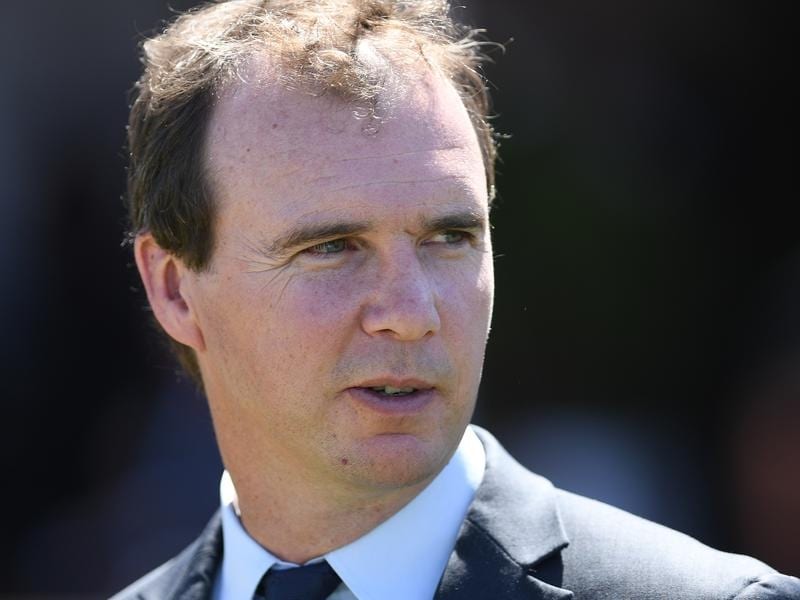 Trainer Aaron Purcell is in two minds whether to run Zebulon in a stakes race at Caulfield.
Purcell says he will accept with the gelding in Saturday's Group Three Victoria Handicap (1400m) and assess the field before committing to a start.
Zebulon is enjoying life at Warrnambool under Purcell's care stringing together four runs.
In a 14-start career that began with Peter Morgan, it is the most number of starts Zebulon has been able to piece together because of various injuries.
Tendon problems have restricted Zebulon's career and he was sidelined for more than 18 months before joining Purcell.
While winless, Zebulon has not let Purcell down finishing a last-start eighth in the Golden Mile at Bendigo at on March 30.
"I think the mile is OK but he's probably better at 1400 metres," Purcell said.
"The faster tempo over the shorter trip is better for him.
"Last time from the wide draw there were too many horses wanting to be in the same spot.
"It made the job hard but he still ran OK. If he'd drawn better he could have been ridden handier and maybe had a chance of winning."
Purcell said Zebulon had not had a sore day since joining him with his work mixed with visits to the track, the beach and the treadmill.
"There's a lot of scar tissue and things like that we have to manage," Purcell said.
"He's good horse to deal with. He is happy to be in work and hopefully we can win a race with him."
If Zebulon does not run on Saturday Purcell said the gelding could join his team for the three-day Warrnambool carnival and contest the main sprint race, the Wangoom Handicap.
"I've got four jumpers, three for the maiden hurdles and a steeplechaser and a mix of other runners through the maidens and benchmark races," Purcell said.
"If I don't run Zebulon on Saturday I could run him in the Wangoom instead as it will be five or six weeks between runs so it could be an option."
He said this year's carnival would have a different feel after the domination of now disqualified trainer Darren Weir in recent years.
"There'll be 25 different trainers trying to win a race this year rather than seven," he said.