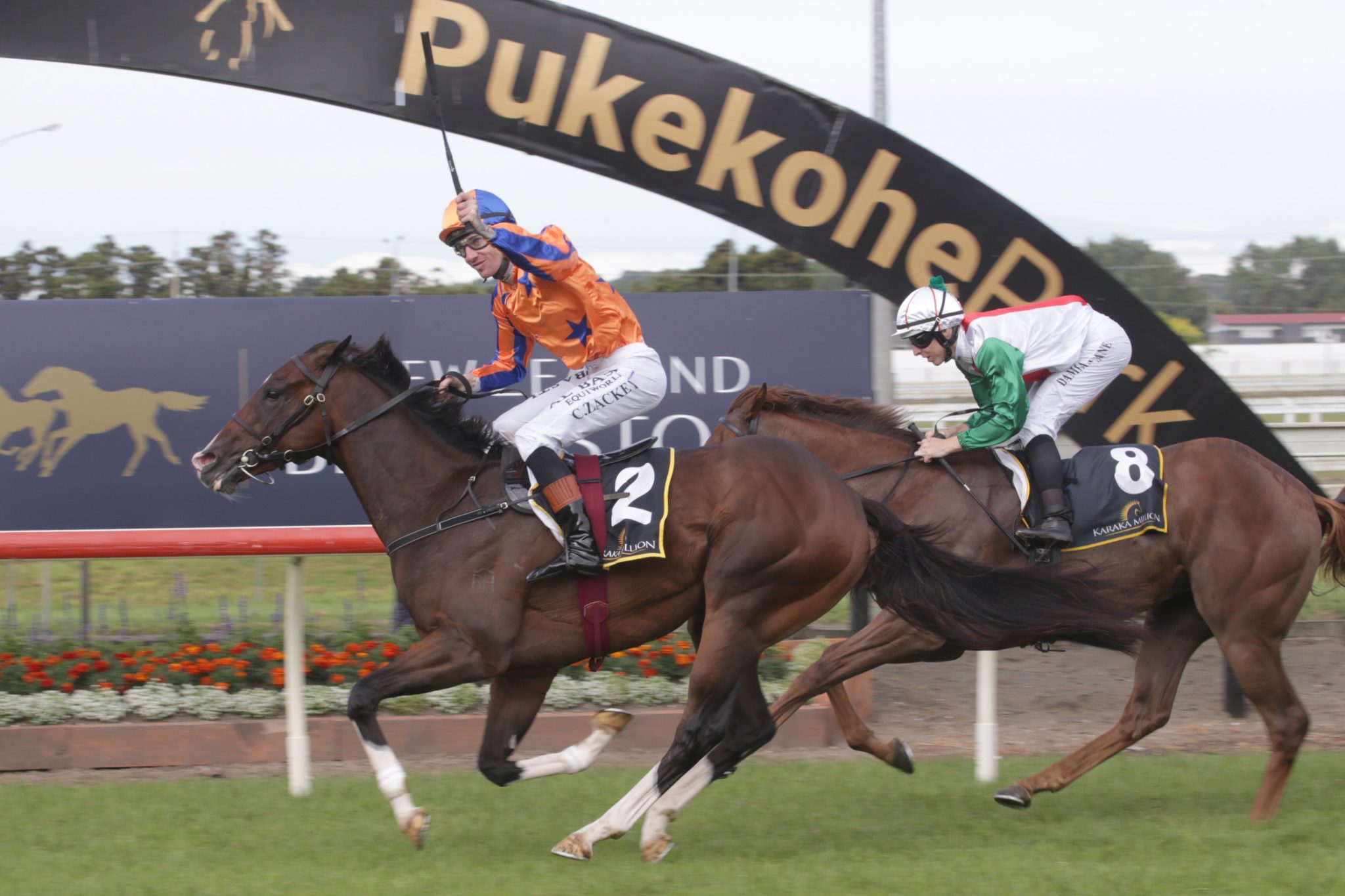 Craig Zackey has regrettably called time on his brief and highly successful riding stint in New Zealand that included a memorable victory in the Karaka Million 2YO (1200m) aboard undefeated youngster Tokyo Tycoon.
The South African jockey proved a valuable addition to the northern domestic ranks during his three-month stay with his talent quickly recognised and supported by leading Waikato trainers.
Zackey has ridden 20 winners, including five at Group or Listed level, since his arrival and will sign off after Saturday's meeting at Matamata to return next week to South Africa with fiancée Sasha and daughter Sierra.
"It's just happened so quickly and there's a lot of personal and family issues back home and that's played a big role in our mental states," Zackey said.
"It's unfortunate because New Zealand is absolutely amazing and we have nothing bad to say about it, we loved everything.
"We had a good sit down and it's definitely a place we would like to make home, but at the moment we have to go back.
"Sasha has a degree in marketing and only had a year and a-half left on her teaching degree, which she would have loved to finish and this will also give her the chance to do that.
"We would probably set our sights to come back and have big ambitions for the future."
In November, he answered the call of Byerley Park Director Daniel Nakhle to try his luck in New Zealand along with fellow South African jockey Warren Kennedy, who has also made a major impact.
Zackey came well-qualified as a former South African Champion Apprentice and an impressive tally of 10 Group One winners, nine at Group Two level and 11 Group Three winners.
"I'm lost for words really, but New Zealand racing has been so good to me, the people and the whole racing fraternity and the horses," he said.
"I could not have imagined the amount of success I have enjoyed over such a short period of time. I didn't plan on going so soon because I have built some really good relationships with trainers and owners and people in general.
"At the moment, it's healthier for the both of us to make this call now and try and sort things out and definitely a goal to come back here.
"We have learned a lot and know what it takes, the racing has been very good so it's sad, but we are very appreciative of everything I have learned and hopefully we will be back soon."
The 27-year-old's final day in action on Saturday will feature the ride aboard Tokyo Tycoon in the Group 3 Matamata Slipper (1200m) for trainer Mark Walker.
"The Karaka Million was certainly a highlight and definitely something I will cherish forever," Zackey said.
"I am so thrilled to be riding him again on Saturday and I told Te Akau what the situation is and would fully understand if they found somebody else because he will be going for big races.
"I'm so grateful for them keeping me on him for this race. I think he is a superstar and the horse who has made the most impact on me and I am going to keep following him wherever I am, he has a very good future."
Zackey will also combine with John Bary's Lowe Flying in the Group 2 Matamata Breeders' Stakes (1200m) and the Peter and Dawn Williams-trained Saint Alice in the Listed Kaimai Stakes (2000m).
His book is completed by Insatiable in the Rich Hill Stud Handicap (1200m), Puketiro in the Ancroft Stud Handicap (1400m) and Navalha in the Westbury Stud Handicap (1400m) for Walker and Chris Wood's Jack The Lass in the Jason & Kelly Price Racing Handicap (1600m).
Zackey has been recently troubled by a back issue, but will be fit and ready to make the utmost of his final day.
"I had a fall a few weeks back at trackwork and ignored it and kept pushing forward, but it caught up with me," he said.
"I've been doing the necessary physio and seem to be almost as good as new again. It was a sprained lumbar and I've also had swollen glands, which gave me a bit of a fever earlier in the week.
"You take the good with the bad and I have a really nice book. I'm very competitive and will try and go out with a bang. With a little bit of luck in the running it could be a really good day."
The Karaka Million aside, Zackey also enjoyed feature race success with Demonetization in the Group 2 Tauranga Stakes (1600m) and the Group 3 Eagle Technology Stakes (1600m) aboard Tokyo Tycoon's stablemate Prise De Fer.