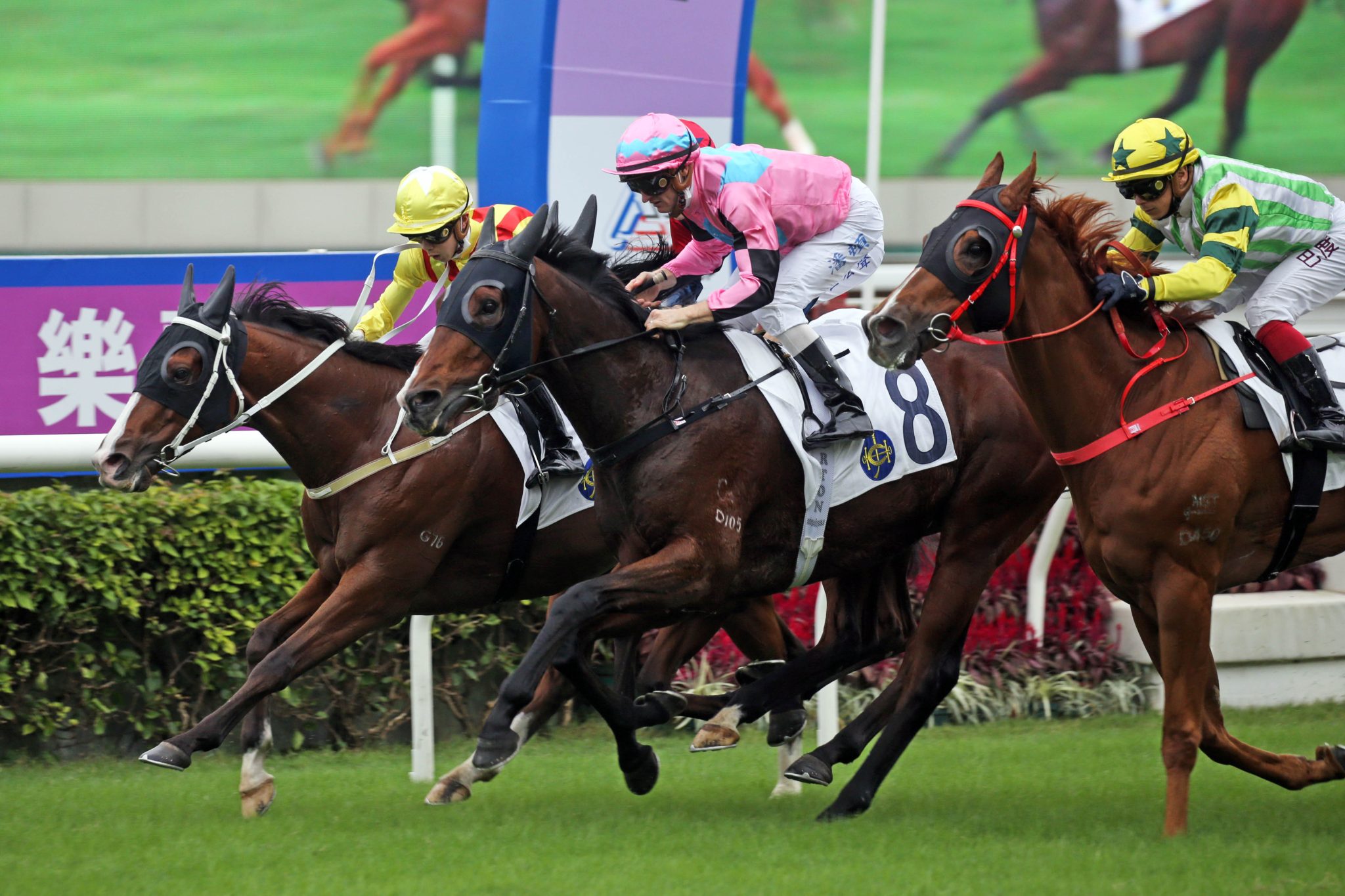 Building an impregnable lead in the 2022/23 Hong Kong jockeys' championship as he pursues a sixth title, Zac Purton surged to 40 wins for the season as Beluga reached the high point of his career with Class 1 Panasonic Cup Handicap (1400m) victory at Sha Tin on Saturday (November 12).
Extending his lead over second-placed Vincent Ho (16) to 24 wins in the championship, Purton reprised vintage form to give David Hall his first Panasonic Cup success, rallying a seemingly beaten Beluga (119lb) to deny Blaze Warrior (124lb) by a neck with Circuit Stellar (106lb) a further short head away in third place.
Registering his first win in Class 1, Beluga was rated 90 in the handicap before the Panasonic Cup after five previous victories spread from Class 4 to Class 2.
"It's the highest he's ever been in the (handicap) ratings, so it was never going to be easy for him but he got in with a light weight and a good draw (barrier one) and the way the race was run certainly helped him as well," Purton said.
"But he showed a lot of heart. He wasn't changing his leg and not really concentrating on what he was doing until the other horse (Blaze Warrior) got in front of him and then he decided to have another go on the line and he ended up getting it done.
"It's been a good day, hopefully I can have a few more of them."
Hall, who bought Beluga from the 2018 New Zealand Bloodstock Ready to Run Sale, is likely to next aim the Tavistock gelding at the Class 1 Chevalier Cup Handicap (1600m) at Sha Tin on 27 November.
"Zac did a good job. He's a very honest, consistent horse and barrier one certainly helps the job along as well. With the handicap conditions, it was a really nice race for him today and we were able to dig deep and pull it off," Hall said.
"He's been a great advertisement for the stable, I bought him out of the Ready to Run Sale myself. To see him get to this level and be able to pull that race off today, it was a very good win for the stable."
Beluga crowned Purton's treble after the Australian earlier produced a magnificent ride on Superb Daddy in the Class 5 Panasonic Futon Dryer Handicap (2000m) for Me Tsui. Purton also teamed with Marado won the Class 4 Panasonic IH Warm Jar Handicap (1400m) to give Pierre Ng the first leg of a stable brace.
Ng closed the meeting in triumph, combining with Silvestre de Sousa to snare the Class 3 Panasonic Nanoe X Thermo Ventilator Handicap (1400m). In stunning form, De Sousa also piloted Michael Chang's veteran Righteous Doctrine to success in the Class 4 Panasonic Japan Made System Kitchen Handicap (1650m, dirt).
Matthew Poon slotted his 200th Hong Kong victory after Danny Shum-trained Ka Ying Spirit produced sustained speed to land the Class 3 Panasonic Lighting Handicap (1000m).
"To be honest, anybody getting 200 winners in Hong Kong would be very happy because it's very competitive and you are under lots of pressure," Poon, 29, said. "I feel grateful that I can get 200 wins and hopefully I can get 300, 400 winners.
"I can't be happier but hopefully I can get 300 winners in the future."
Poon has been riding in Hong Kong since 2017, having successfully gained experience in Australia where he was crowned South Australia Champion Apprentice in 2015/16.
Angus Chung slotted a double when Frankie Lor's True Legend demolished the opposition with a five-length win in the Class 3 Panasonic Mini Ice Food Freezer Handicap (1650m, dirt) after partnering Superb Capitalist (117lb) in an eye-catching debut for Tony Cruz in a runaway victory in the Class 4 Panashop Handicap (1200m).
The Capitalist three-year-old swept to a four and a half lengths margin, clocking 1m 08.42s – only marginally slower than Master Eight's Class 4 record of 1m 08.40s.
"He's got ability. He's a young and improving horse and I'm very keen to run him at this course and distance. I think with the 10-pound claim really helped him run the time he did today," Cruz said.
Douglas Whyte was similarly upbeat after heavily-backed Dragon's Luck surged to victory in the Class 4 Panasonic Ziaino Air Treatment Handicap (1200m) under Lyle Hewitson. The Sooboog gelding was secured from Australia after trialling at Murray Bridge for trainer Michael Hickmott.
"He's really done everything right at home. He's had the three trials and he's progressively improved every time. He's a thorough professional. Today we had a bit of an ordinary gate but he seemed to overcome that. Good horses can do that," Whyte said.
"He's very immature, I've taken my time with him. He's very aware of everything around him, but the good thing he digests it and he's able to accept it. I like horses with a bit of fiery attitude in them, that's what makes a champion."
Chung was denied a treble when Alexis Badel drove Dennis Yip's talented Phoenix Light through a narrow gap to clinch the Class 3 Panasonic IH Cooker Handicap (1200m).
Hong Kong racing continues at Happy Valley on Wednesday night (November 16).
More Hong Kong horse racing news