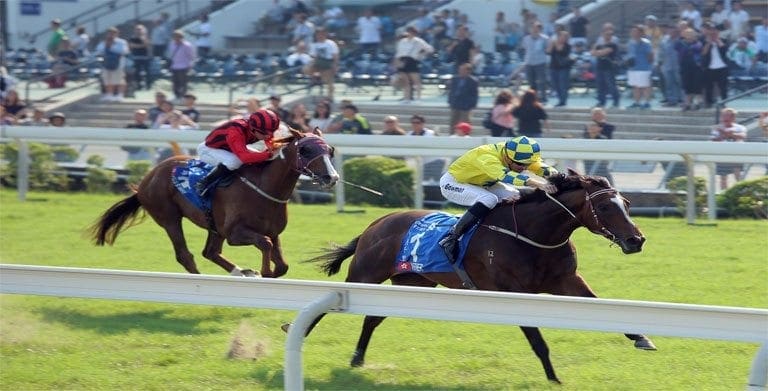 PUNTERS were casting doubt in whether Horse of the Year Werther could return to its best form, but it proved any doubters wrong on Sunday when winning the Group 1 Champions & Chater Cup in emphatic fashion.
The John Moore-trained thoroughbred received a great ride from Australian jockey Hugh Bowman, who produced the multiple group one winner at the top of the straight before accelerating much quicker than its rivals, which included hot-favourite and 2016 Queensland Derby winner Eagle Way.
Moore said a great run in transit and the removal of blinkers was enough to see a return to form.
"He's back to his best! That was a fair test and he's put them away quite easily in the end," Moore said.
"That was all class. The race was run to suit everybody and Hugh was able to get the horse into a nice rhythm.
"The key factor, too, was taking the blinkers off. When Hugh spoke to me a few weeks back he said, 'Would you consider taking the blinkers off?' and I said, 'Done'. I didn't even think about it, the blinkers just came off."
The son of Tavistock was stalking the lead of Basic Trilogy and two-time Champions & Chater Cup winner Blazing Speed, which gallantly held on for second over the fast-finishing Eagle Way.

Bowman had concerns about Werther getting the 2400m distance, as were punters which could have secured $3 at Ladbrokes.com.au when they jumped.
"Although my gut feeling was that 2400 (metres) was probably beyond his premium distance, I think he proved today that he's got no drama with it, as long as he can relax within himself, and he was able to do it this afternoon with the blinkers off," Bowman said.
"He was aided today by a horse that went a nice, even gallop in front – something that he didn't receive last start in the QEII, it was a very slowly run race that day and he was inclined to over-race with me."
Options have opened up for Werther and it will be nominated for multiple races on International Day in December.
"That's opened up options," Moore said. "We'll look at giving him an entry in the Hong Kong Cup (2000m) and the Hong Kong Vase (2400m) at the international meeting in December.
"We'll see what the fields are like, the competition, and how the horse is, fitness-wise, leading into those races."
Blazing Speed and Neil Callan ran a terrific race again for second, with Callan stating that his runner might be getting older, but it still fights like a champion.
"He ran a courageous race, but I didn't expect anything different. Every time I ride him, he gives me everything," Callan said.
"I knew last start though, I pulled up beside Werther at the finish of the QEII and he'd run a monstrous race because he was coughing his head off. For a horse to run that well and not be 100 percent, I was sure he would come here in tip-top shape.
"I think it's just that my fella is getting a little bit older," the Irishman continued. "The other horses are coming through, but one thing's for sure – he always goes down fighting like a champion."
Joao Moreira commented about Eagle Way which hit the line well for third, only narrowly missing out on second place.
"It was a good run, he was brave, but he was just beaten by better horses," Moreira said.