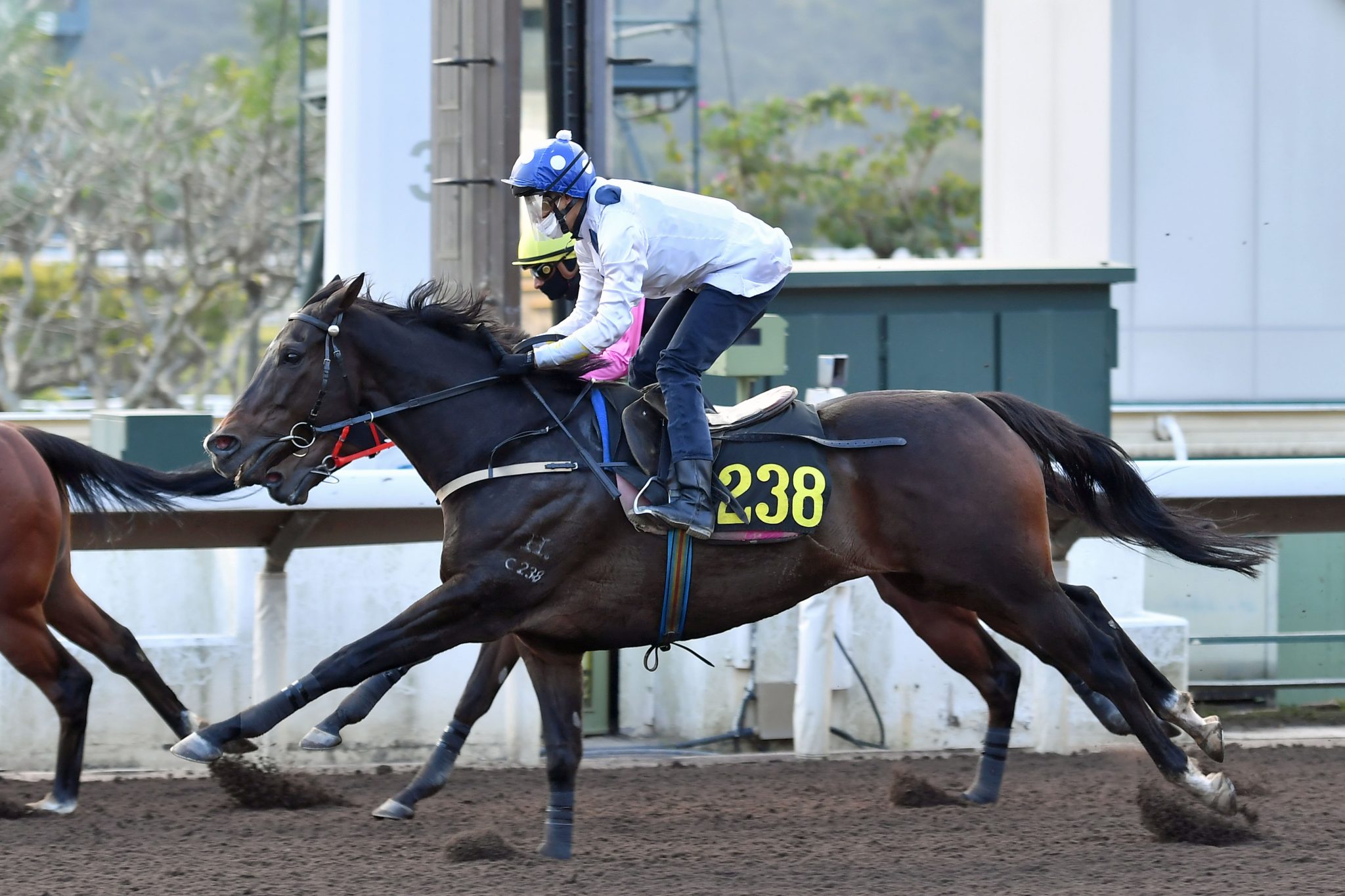 Vincent Ho is holding firm in his belief Golden Sixty will be able to bounce back in Sunday week's HK$12 million Group 1 Stewards' Cup (1600m) when Hong Kong's champion lines up against both Romantic Warrior and California Spangle.
Entries for the Stewards' Cup indicate the race will be a blockbuster renewal, supported by the likes of Waikuku – last year's winner – as well as Beauty Joy, Panfield and Russian Emperor, rounding out a tight group of seven expected to go to post at Sha Tin.
Both Romantic Warrior and California Spangle take their places following a pair of Group 1 wins at the 2022 Hong Kong International Races, while Golden Sixty – now a seven-year-old – heads into the contest following defeat and potentially as the race's underdog.
"They're five and they're young, they should be at their prime those two horses, but we're mentally more mature and we have all of the experience and physically he has still got it there, I believe we can do it," Ho said.
Both Golden Sixty and California Spangle stepped out for a barrier trial at Sha Tin on Tuesday morning over 1200m on dirt, with California Spangle leading his older rival home in similar fashion to his 2022 Group 1 Hong Kong Mile (1600m) victory.
"I'm looking forward to it, two young and upcoming very good horses and against the more mature guy, so I'm very much looking forward to it," Ho said.
The time of the gallop set by California Spangle – who made all – was 1m 09.85s with Beauty Tycoon crossing the line between the star pair in third position.
"He (Golden Sixty) trialled very well, he had only been doing light work and cruising all of the time after last month, so this trial got him to work a little bit for the big race," Ho said. "He jumped very well, I feel (his) confidence in the straight and he picked up very well, I'm very happy with him."
The two-time Hong Kong Horse of the Year (2020/21 & 2021/22) has only suffered three defeats across his last 22 runs, failing to reel in California Spangle last time after overhauling his younger adversary in a jaw-dropping 2022 Group 2 Private Wealth Jockey Club Mile (1600m) – the race prior.
Trainer Francis Lui was equally pleased following this morning's effort.
"It was a nice trial, he looks better compared to his last barrier trial. Last time he threw a shoe when he jumped out of the gates – he needed this one, especially with Romantic Warrior and California Spangle in the upcoming race," Lui said.
Lui remains wary of Romantic Warrior as he steps back in distance to contend the Stewards' Cup following his devastating win in the 2022 Group 1 Hong Kong Cup (2000m).
"Romantic Warrior is also a good horse, I tell you, I think he's a champion," Lui said.
"It's a good race, I think California Spangle will do the same and Romantic Warrior comes back from 2000 metres to 1600 metres – it's a small field, I think my horse will do the same as before, jump out and relax him. It's not necessary for us to change anything," he added.
Lui is keeping his options open following the Stewards' Cup: "We have to see how he runs (before we decide where to go next), we also have to think about the overseas races. We still have many choices but we will see how he runs this time."
Ho expects Golden Sixty to have one more grass gallop ahead of the big clash.
"I think so (to still being like the Golden Sixty of old), he's still got it and of course in a trial, you're lucky if he gives you 80 percent, but he's still willing to give me a little bit at the trials so I still think he's definitely got it.
"Might give him one more grass gallop, just because he loves to be on the grass. When they have fun they improve their form as well, so we'll probably give him one more but just easy and let him cruise a bit, bring his form to be there for the Group 1," Ho said.
Tony Cruz feels that California Spangle has had a solid preparation ahead of his Stewards' Cup tilt as he looks to level the score at two-two with Golden Sixty after three previous meetings.
"I'm very happy with the trial and Zac (Purton) is very happy with the trial. He was very good in the gates, he jumped out fast and he is much more patient now – he waits a bit longer for the jockey to ask him for an effort.
"It's a long wait between races, seven weeks apart, so he's had two trials leading up to this race and I'm very happy with him. We're in with a good chance," Cruz said.
Purton has six wins aboard California Spangle and is bidding for consecutive triumphs in the Stewards' Cup after partnering Waikuku to victory in last year's edition.
"It was the same as every trial – he jumps, he rolls along and he does what he needs to do. He's going well," Purton said.
The Australian – who leads the title race this season with 76 wins – would have much preferred a capacity field come Sunday week.
"I think it plays into the strengths of the other horses really. They can be closer, it gives them less opposition to get around and allows them to be within striking distance. I'd prefer 14 runners and them to be stuck in traffic midfield and back, but it is what it is and it's going to be a good race," he said.
Later this morning Purton partnered the Francis Lui-trained Packing Treadmill to a rousing third place in batch two at Sha Tin in a time of 1m 09.65s – also over 1200m.
"He just does everything he needs to do. He's very kind in the mornings and he's kind on race day and in the trials.
"He just stands in the gates so quietly, he begins very well, he puts himself in the right spot, he relaxes, he does everything you want a horse to do and then he just waits for his signal. He's never been the flashiest horse on the dirt in the trials and I thought his trial was probably as good as he has done on the surface so he's going well," Purton said.
Packing Treadmill will next contest the HK$12 million Hong Kong Classic Mile (1600m) – also run on January 29 at Sha Tin – the first leg of the Four-Year-Old Classic Series.