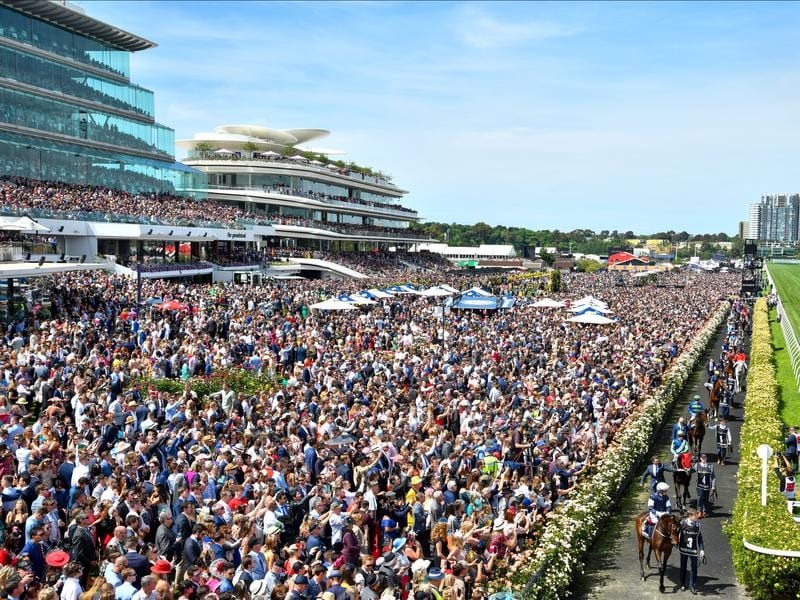 Up to 30,000 racing fans will be allowed into Flemington for the 2021 Melbourne Cup Carnival as Victoria prepares to further ease COVID-19 restrictions.
On Sunday, Victorian Premier Daniel Andrews announced that 10,000 fully vaccinated patrons will be able to attend the races on the first Tuesday in November.
Andrews also stated that the same number of patrons will be allowed in on Oaks Day and Stakes Day if the state's target of having 80 per cent of citizens fully vaccinated is met.
"The Vaccinated Economy trials will allow more people to safely attend venues and events when all patrons are fully vaccinated," the Premier said.
"The venues will test event setting attached to the 80 per cent double-vaccination mark on Victoria's Roadmap to Deliver the National Plan – a threshold due to be achieved on or before 5 November.
"The final two days of the Melbourne Cup Carnival – Oaks Day and Stakes Day – will also welcome up to 10,000 patrons if the 80 per cent double-jab threshold has been passed.
"Racing fans will be spread across a number of zones at Flemington in allocated seats, and will be required to wear masks and be fully vaccinated or holding a valid exemption."
The decision would leave the famous VRC Derby Day as the only race meeting throughout the week to be without spectators.
While the decision on who the 10,000 patrons will be and how they are to be selected is yet to be decided, Racing Minister Martin Pakula expects that Victoria Racing Club members will be the first served.
"They'll have a process, I suspect, where they'll probably give some members an opportunity on Cup Day, some an opportunity on Oaks Day, some an opportunity on Stakes Day," Pakula said.
"This is not particularly different to the situation of Boxing Day last year where there was a 30,000 limit.
"That meant that not all MCC members were able to get in on day one; they gave some an opportunity to go day two, day three and thereafter.
"It's one of the consequences of being in a pandemic."
While there are some fears that the large number of spectators on-course over the three days could cause harm to the racing itself, the VRC will be ensuring the safety of racing participants to ensure that racing continues like it has through the entire pandemic.
"There's going to be a pretty hard zone between patrons and participants and that's really important for the security of the industry," the Racing Minister said.
"We don't want to see any of the participants catching this thing because it can put the rest of the carnival at risk."
The Melbourne Cup field is beginning to take shape and will continue to do so after the running of this Saturday's Caulfield Cup, which offers ballot exemption to the winner.