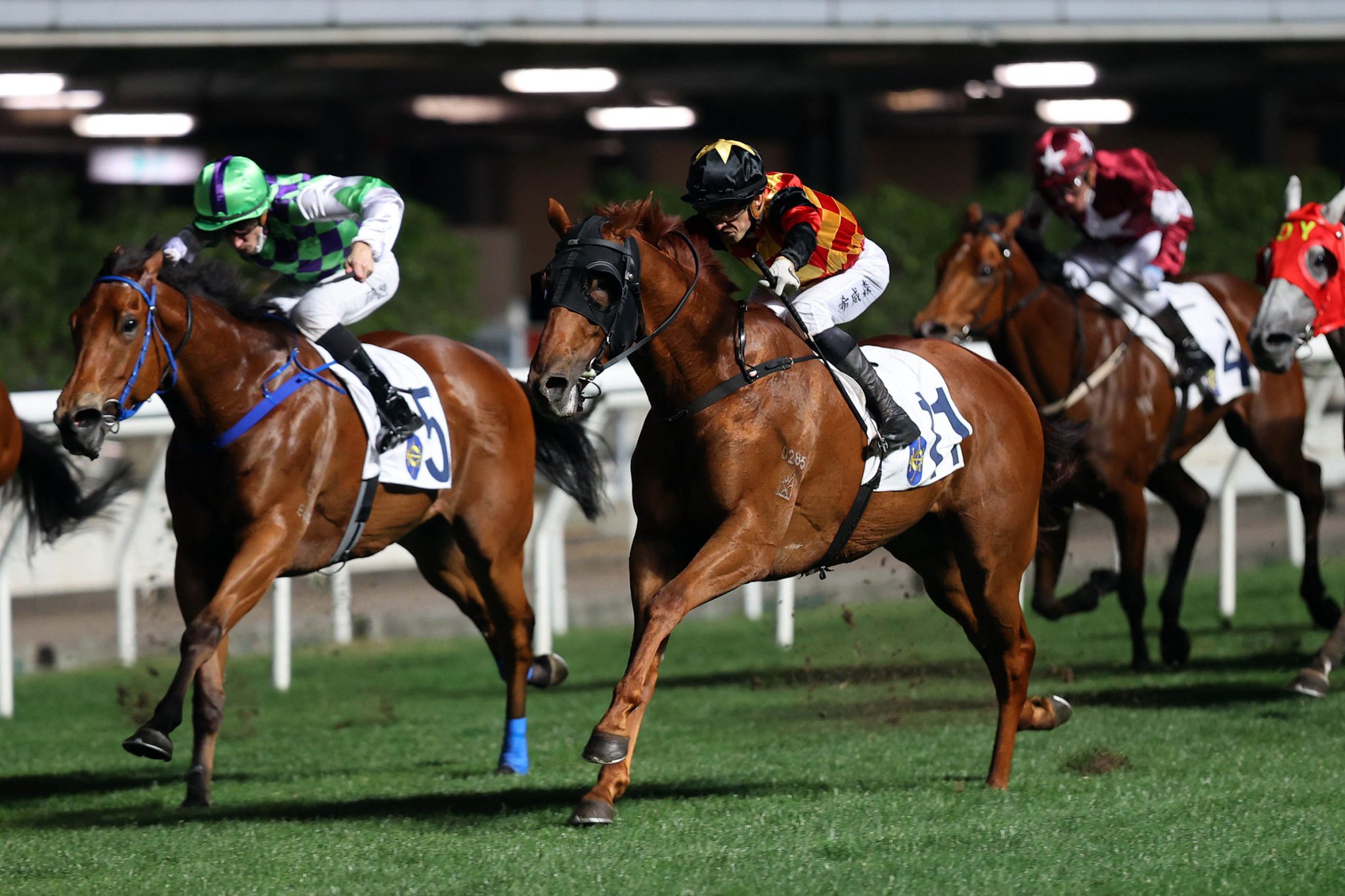 Spurred on by Valiant Elegance's indomitable run of form, Lyle Hewitson is remaining buoyant the chestnut has got what it takes to join a select band of gallopers with victory in the first section of the HKD$1.57 million Class 3 Calla Lily Handicap (1200m) at Happy Valley this evening (June 8).
Only four other horses have won four straight races this season: Fa Fa, Flying Ace and Galaxy Witness, while Romantic Warrior won five straight – an elite club which Valiant Elegance is out to enter tonight with a fourth consecutive course and distance win and fifth success overall this term.
"Last time it was a surprise that he could step up to Class 3 and win straight away, he has been a horse that is slowly improving and getting more confidence," Hewitson said. "It will be a little bit of surprise again if he were to win but just the vein of form that he's in, I just hope he runs another cracker for us."
Trained by Douglas Whyte, the 68-rater displayed a new-found versatility last start to strike from midfield at odds of +1000 after capturing the first two wins of his hat-trick from out in front under Hewitson.
"He's drawn awkward in gate nine – over 1200 metres that it is a bit of an awkward draw but at least we know that he can lead and he enjoys it when he breaks well enough to get out in front but if they're going hell for leather we've seen also that he's able to settle in just behind the speed and produce a finish, so it gives us a little bit more tactical versatility," Hewitson said.
Valiant Elegance (121lb) steps away from gate nine with Hewitson engaged against 11 others including Drops Of God (133lb), Namjong Sings (126lb), Smart Idea (125lb), You'remyeverything (125lb) and Classic Posh (122lb).
"It was a surprise that he stepped up to Class 3 and did it so well and then the way the race panned out, he was off the bridle just behind the pace and actually he probably put up one of his most impressive wins.
"He's done us super proud, so anything else is a bonus," Hewitson said.
Hewitson takes eight rides this evening as he returns from suspension including Xponential in the second section of the Class 3 Calla Lily Handicap (1200m).
"He's been awfully consistent, he's a very straightforward horse in terms of his racing style and consistency. Last time it was very unfortunate that he got tipped off late but it was a great run.
"Like Valiant Elegance, he has an awkward barrier but with a little bit of luck I don't think we're going to see him put a blip in the form book," Hewitson said.
Tuesday morning (June 7) at Sha Tin, Hewitson put Stronger through his paces as he gears up for a tilt on Sunday week's (June 19) HKD$3.7 million Group 3 Premier Cup Handicap (1400m) at Sha Tin.
"It was the first time I've sat on him and I was very impressed, he's a very easy horse, very versatile and he did everything nicely in the trial.
"He picked up under his own steam and ran through the line, so I think it's as positive as you can get from a trial perspective," Hewitson said.
Hewitson will partner the chestnut on race day, positive the HKD$16.2 million earner will enjoy getting up to 1400m for the first time.
"1200 metres is definitely a pet trip for him but it looks like 1400 will do the job for him as well, so there's no concern over that, especially when Douglas (Whyte) is confident over the track and trip, then you know he's ticking the right boxes," Hewitson said.
Stronger clocked 1m 11.08s (25.0, 22.6, 23.4), while later on, Master Eight logged 1m 01.83s (16.3, 23.0, 22.5s) under Joao Moreira to cross in first place over 1050m on dirt.
More Hong Kong horse racing news