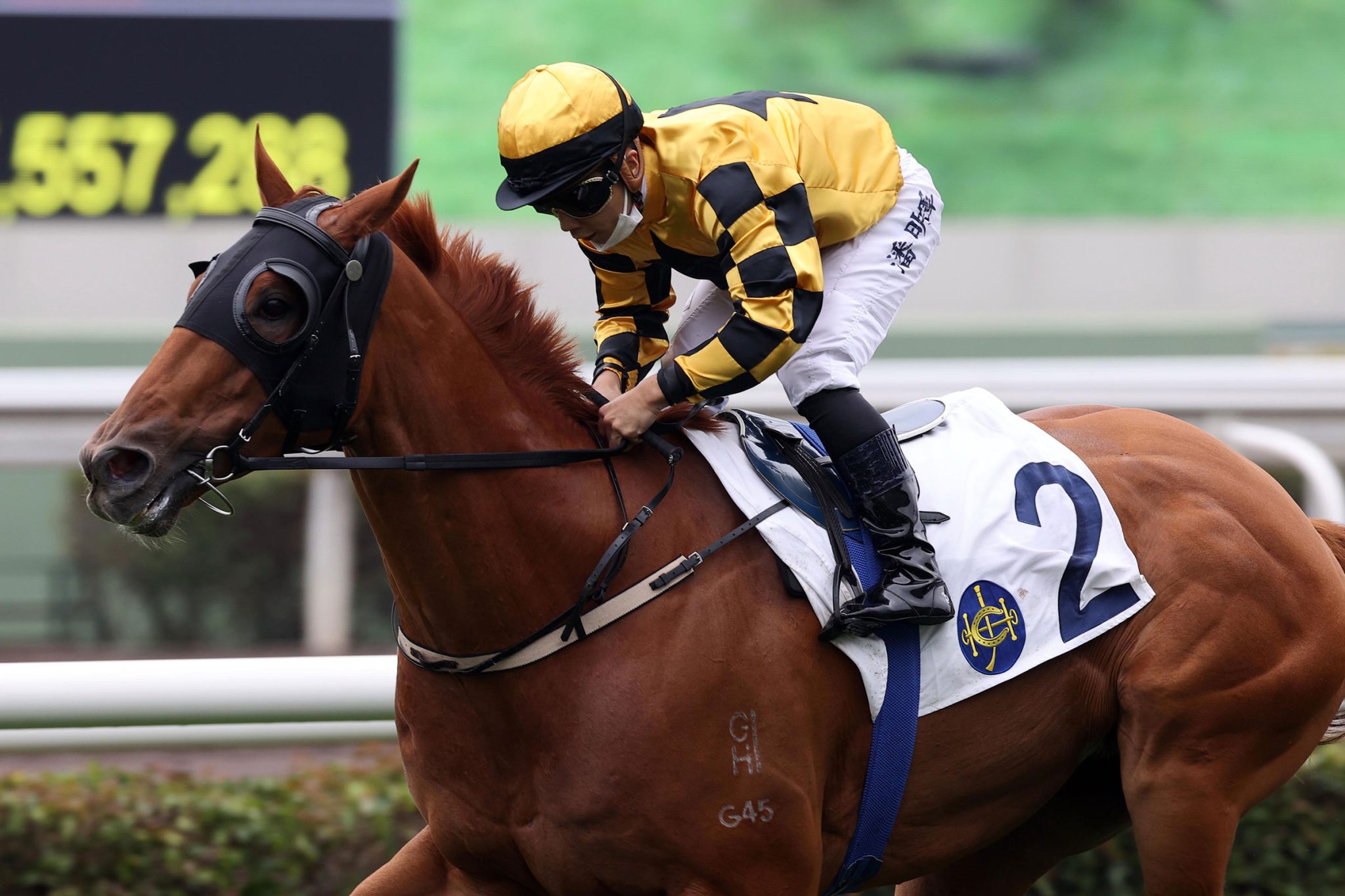 Flying Ace has enjoyed a swift ascent and on Wednesday night (October 19) at Happy Valley the Swiss Ace speedster will attempt to complete a five-timer and seal a berth in Class 2 when he contests the first section of the Class 3 Speedy Handicap (1200m).
Matthew Poon has been aboard for all four of his wins and tomorrow night the 28-year-old is in the plate again for trainer David Hall as the incredibly professional chestnut looks to maintain his unblemished record.
"He has a good heart, he's very strong and he has the will to win. He's not a small horse, he's almost 1,200 pounds, so top weight is not too much of a worry – it's just about what level his race fitness is at," Poon said.
Flying Ace returns for the first time in seven months after having bone fragments removed from his right front knee. He'll carry 135lb tomorrow night against 11 others including Drops Of God (133lb), Smart Idea (131lb), Yo Beauty (126lb), Gallant Waking (121lb) and Copartner Fionn (118lb).
"He trialled good but we need to see in a race whether he is the same, because it's been a long time since he raced and I'm not sure of his race fitness," Poon said.
Last start, the five-year-old nailed an almighty win for Poon after surging from last-to-first at Sha Tin in March.
The 78-rater boasts a pair of wins in both Class 4 and Class 3. He returns following two trials in preparation, firstly on the turf and secondly on the dirt when he crossed the line in second position under his own steam as Faulds was pushed to pass him.
"He was fresh, he jumped quite fast and in both trials he's trialled pretty good," Poon said.
Poon is enjoying a strong start to this season with six wins. His mounts have earned HKD$8.95 million so far; tomorrow night the rider takes six rides as he looks to increase both figures and chase a goal of securing a spot in the 2022 LONGINES International Jockeys' Championship (IJC) on December 7 at Happy Valley.
"Hopefully it (good form) can continue, I'm trying to get more winners before the IJC, so that hopefully I can get in again, that's my short-term target and it seems like I have a chance," Poon said.
Poon previously competed in the 2018 LONGINES IJC and currently has 198 Hong Kong wins across his career.
Happy Soul was unlucky last start and Poon is aiming for a first win aboard the Shooting To Win gelding in the first section of the Class 4 Swifty Handicap (1200m) for trainer Danny Shum.
Poon and Shum combined last Sunday (October 16) with Regency Master and pair again with the impressive Victor The Winner this Sunday (October 23) at Sha Tin.
"Victor The Winner will run this Sunday, hopefully he can run well again and I think he can keep improving," Poon said.
Victor The Winner devastated rivals on debut by over three lengths and rises to Class 3 for the first time this weekend.
"He's a four-year-old, so let's see if he can get a higher rating and target the Classic Series, it's a long way to go but I'm hoping – he's young and he has potential," Poon said.
Sunday's fixture also sees the running of the HKD$5 million Group 2 Premier Bowl Handicap (1200m) where Lucky Sweynesse is looking to pass muster for trainer Manfred Man.
Ultimately chasing a start in December's HKD$24 million Group 1 Hong Kong Sprint (1200m), Lucky Sweynesse – last year crowned Hong Kong Champion Griffin – faces the might of Wellington for the first time as well as Stronger and Courier Wonder having already defeated Sky Field, Lucky Patch and Duke Wai first-up this season.
"His form has kept very well, he's good at home. We're facing the top horses but I do think he still has a chance," Man said.
Lucky Sweynesse returned five wins last season including two at Class 2 level.
"At this moment, he's a very nice horse and he's not difficult to train – he's easy and quite honest," Man said.
More Hong Kong horse racing news