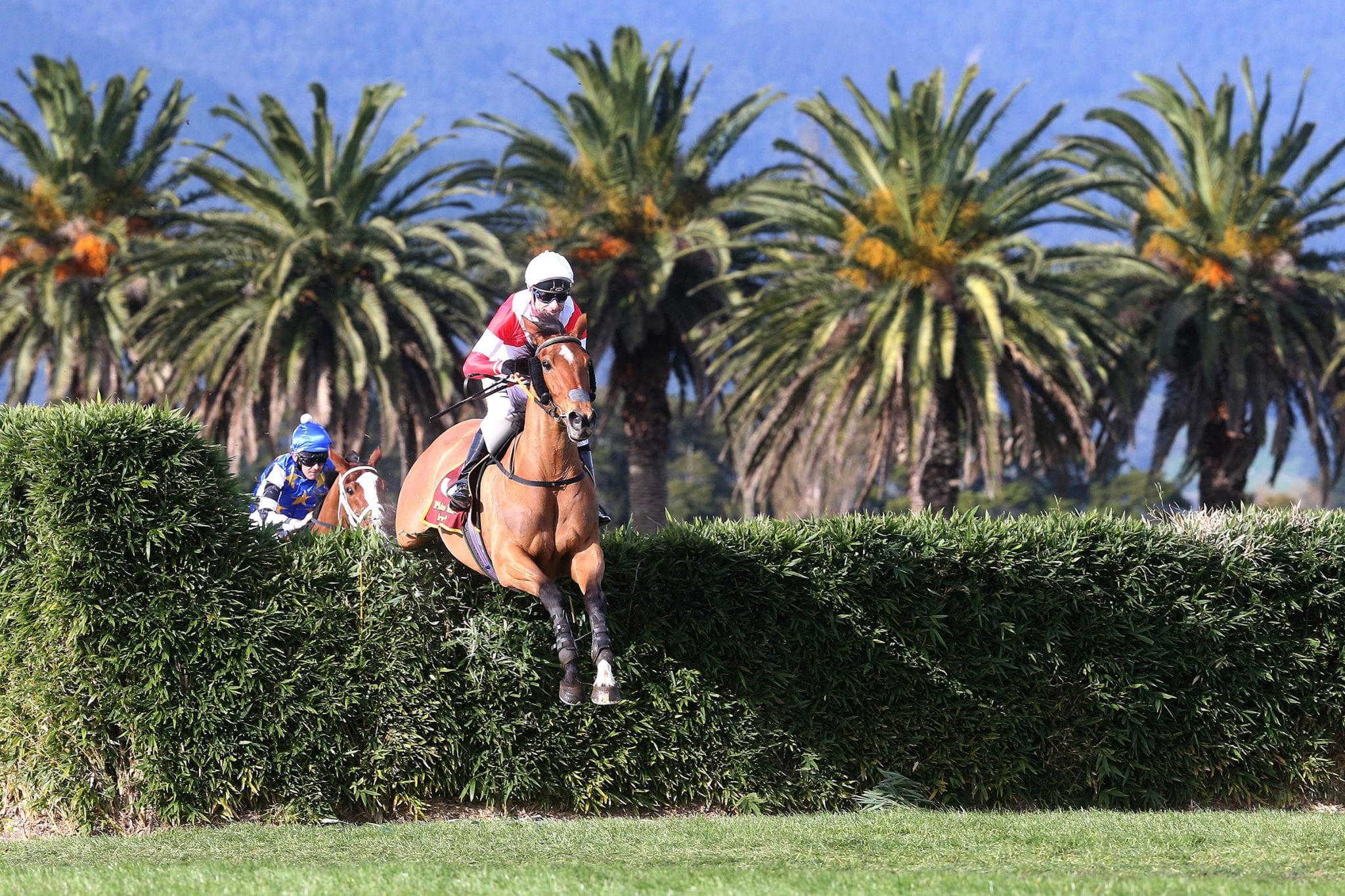 Estimated Reading Time: <1 minutes
Former top New Zealand jumps jockey Craig Thornton turned back the years as he produced an impeccably judged ride aboard hardy jumper Lacustre to take out the feature race at Te Aroha on Sunday, the Frank & Annie Matijasevich Memorial Steeplechase (3500m).
Thornton, who shares in the ownership of the nine-year-old Postponed gelding, had retired from race riding after piloting Amanood Lad to win the 2014 Great Northern Steeplechase (6400m) at Ellerslie.
Thornton, who has won races around the world in a storied riding career over fences that began nearly forty years ago, returned to the riding ranks in May with the aim of trying to win the Great Northern with the Samantha Logan-trained Lacustre, who had been off the scene for over a year due to a tendon injury.
Logan has nursed her charge back to race fitness with Thornton expecting a bold performance after Lacustre finished close up in fourth behind Eion in a similar event last month.
Thornton had Lacustre in touch with the pace throughout and took command in front with a lap of the Te Aroha circuit to run. Lacustre jumped boldly throughout and pulled away in the run home to win by seven lengths from Itiswhatitis with Eion five lengths further back in third.
"He is a very good stayer and the 3500m today was well short of his best distance," Thornton said.
"He has taken a while to get back to full fitness after such a long time away from the track, but I thought he was a good chance today as he had taken a lot of benefit from his latest runs.
"I tried to put the pressure on and turn it into a staying test and he was very strong in the last part of the race."
Thornton admitted he felt more relief than anything else after registering his first riding victory in just under seven years.
"I think I felt mostly relief that we had got the job done when we crossed the finish line," he said.
"Samantha has done a lot of work to get him back to racing, so she deserves so much credit, while I'm also thrilled for his other owners as they are a really good bunch and will get a hell of a thrill out of this.
"I guess we will be taking it race by race from here as the goal is to have him at peak for the Northern in September, which is coming around pretty fast.
"He ran fourth in his first go at the race back in 2019, so we'd like to go back and go a few places better this time."
Thornton doesn't have any plans for his riding over the winter months as he holds down a full-time role with the Te Akau Racing operation.
"I work full-time at Te Akau and really enjoy it," he said.
"I generally spend a fair bit of time away with members of the team when they are campaigning overseas although not so much of that lately.
"I ride work and gallops as the body is still in pretty good shape, so I will just take it a day at a time with my race riding and concentrate on Lacustre at the moment."