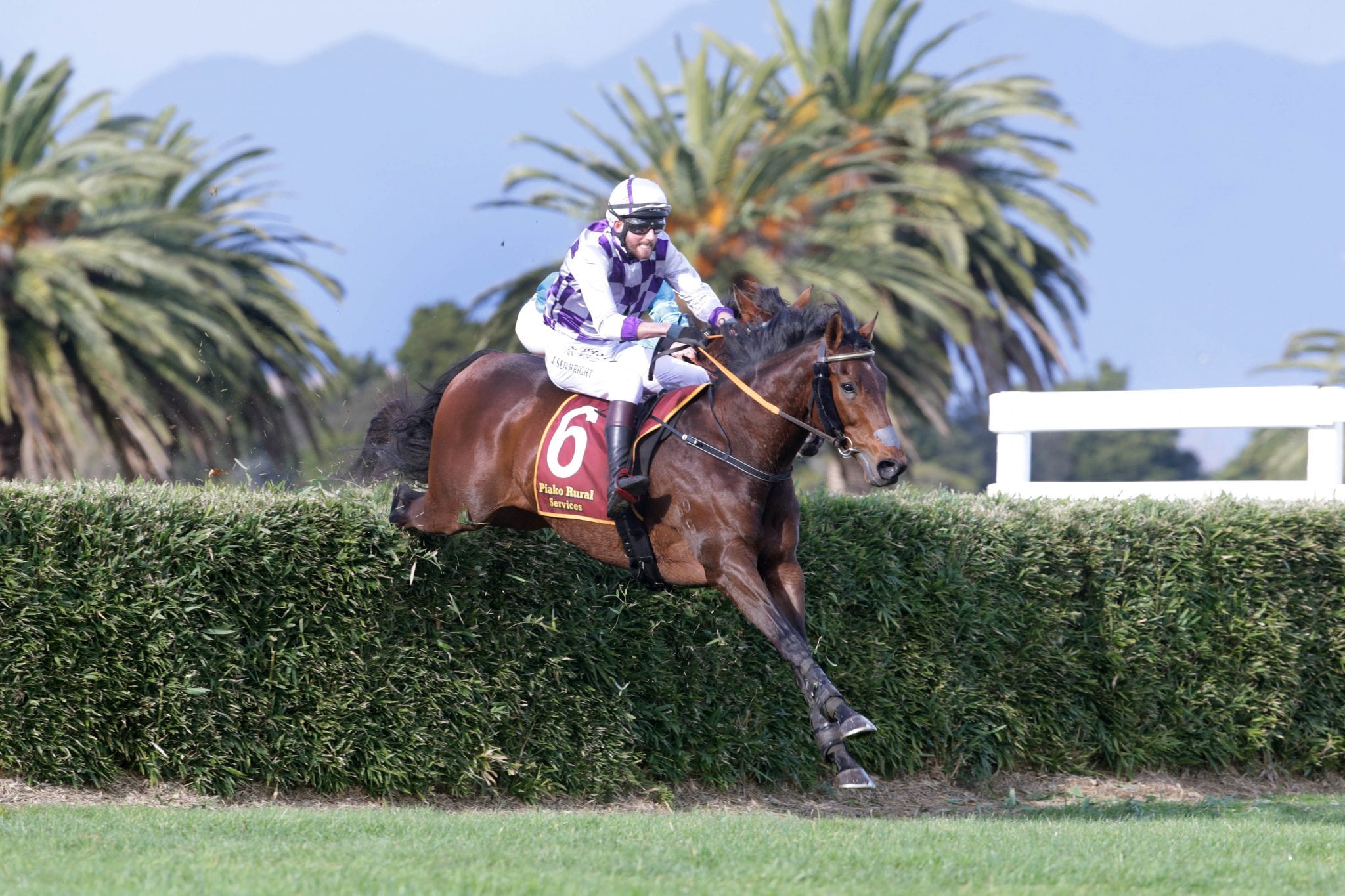 Te Aroha racecourse has become a happy stomping ground for trainer Samantha Logan. The Cambridge horsewoman picked up her second career double at the Waikato track on Sunday with Zamora and Henry Tudor in the two steeplechase events. "I have only had one other double and that was at Te Aroha as well, so it's a been a pretty good course for me," she said.
Logan recently changed tack with Henry Tudor, placing him over the steeples for the first time on raceday on Sunday after he failed to fire in two previous hurdles races this season. Jockey James Seivwright kept the nine-year-old gelding out of trouble at the head of the pack and that is where he remained, winning The Spray Rig Maiden Steeplechase (3500m) by a nose over Georgethefifth. "He is a very consistent horse, I was glad he was up front and out of trouble on Sunday," Logan said. "It was very eventful (the race) and he just kept his rhythm up in the front with Georgethefifth and those two seemed to stay out of trouble."
Logan said the idea to put the son of Royal Gem over the bigger fences was to try and enhance his confidence levels. "He won a maiden hurdle at the end of his campaign last year. He had only fair runs in open company this year, but he has done plenty of steeplechase schooling, so we were confident he would get over the big fences well. "We thought we would give him a run back in a maiden chase to get his confidence back and it paid off." While he showed his potential over the bigger fences on Sunday, Logan believes he is versatile enough to compete in both hurdles and steeplechase company over winter, which could culminate with a tilt at the Great Northern Hurdles (4200m), a race he finished eighth in last year.
"I think he is definitely versatile enough to do both (hurdles and steeplechase)," she said. "He's not a slow horse and he's not just confined to the steeples now that we have switched him. "We will just take him slowly after this race and we will try and find a place where he can keep his confidence high. "He couldn't quite stay the distance in the Northern Hurdles last year. He was still a maiden hurdler at that stage, so it was a pretty creditable effort. "It is definitely not out of the question to switch him back to hurdles for that type of race. He can go the distance if he gets the right run."
Stablemate Zamora gave Logan a clean sweep of the steeplechase events on Sunday when winning the Knottingly Farm Open Steeplechase (3500m) by 3-3/4 lengths. The seven-year-old gelding was fresh-up on Sunday and Logan gave owner Barry Beatson a lot of credit for the result. "Barry Beatson is the owner and he hunts a lot down in Dannevirke," she said. "He has got a big farm down there with a lot of hills, so he pre-trains his horses and puts a lot of miles into them on the hills down there and then sends them up here to finish them off. "It was a joint effort and it really paid off."
Logan believes Zamora has matured a lot since he last stepped out onto the track in September last year and she is looking forward to lining him up in some of the better Steeplechase contests over winter. "We thought he may have needed the run, but he was further ahead than we thought, so it was a really good bonus," she said. "We thought he was a horse that preferred the better going, but he has shown that he can get through the heavy tracks. "It caught him out a bit in the Pakuranga Hunt Cup (4200m) last year and the ground was just a bit testing for him at that stage of his campaign. "He has come back a stronger horse this year and that was quite a tidy field he put away on Sunday. Hopefully the strength he has got and the maturity he has now, he will be quite competitive in some nice races."
Logan has a solid winter team and said she is looking forward to next season with some exciting two- year-olds. "We have got 12 in work here in Cambridge. It keeps us busy and we have got a few nice two-year- olds coming through that we are looking forward to. It's going well at the moment."