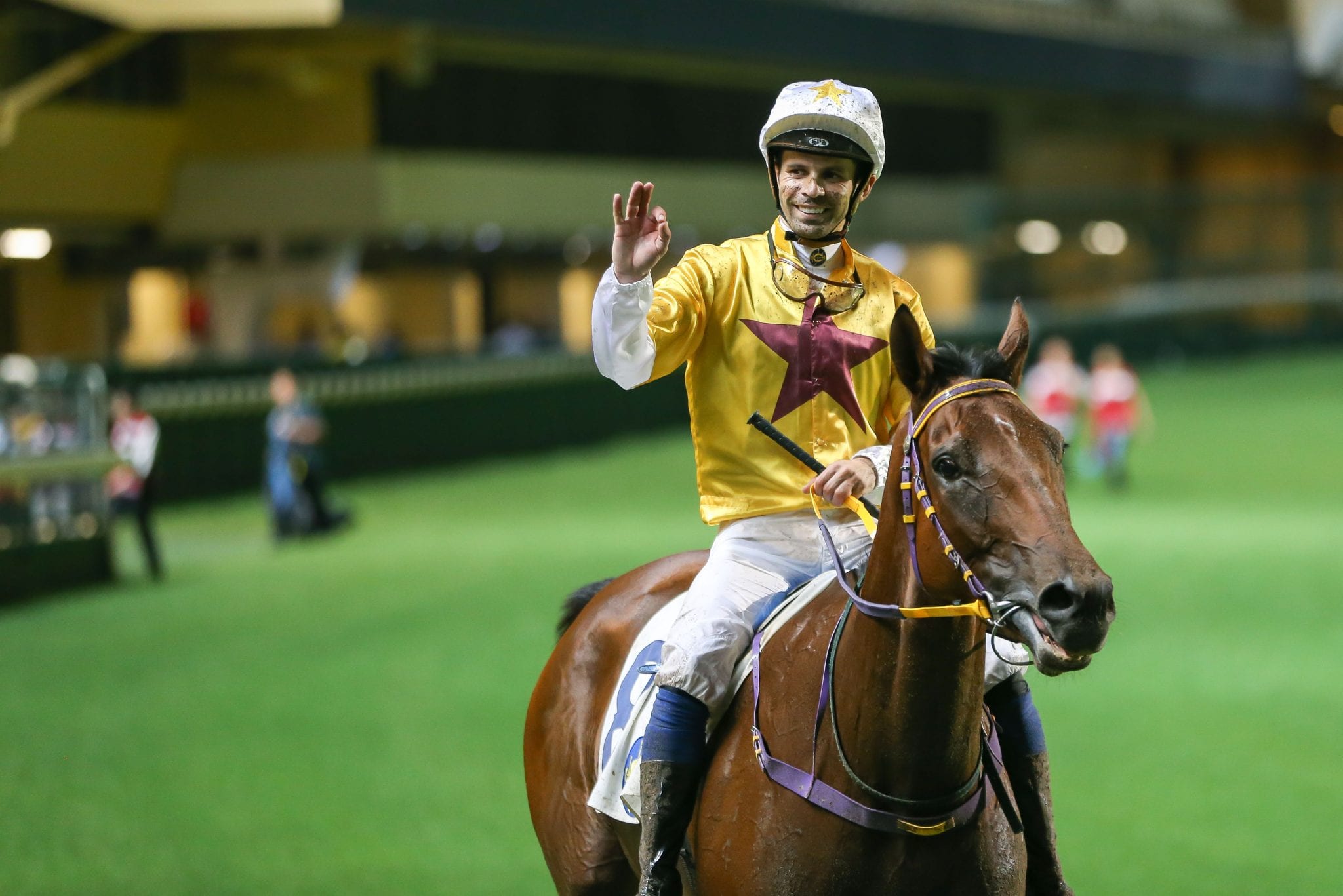 Aldo Domeyer has made a rapid advance since arriving in Hong Kong at the start of May and he annexed his first Hong Kong treble when the promising Not Usual Talent took the finale at Happy Valley, Wednesday, 3 July.
"I thought I had a pretty fair card and could go well but I didn't expect it would go as well as it did. From five rides I had three winners and two places, so it all went accordingly," the South African rider said.
Domeyer's treble on a rain-affected track followed a double at Sha Tin on Sunday – his third brace since his arrival – and took his running tally to 13 from 92 rides.
"I thought I'd take my chances the way the going was today: horses with bad draws, just sit them in, and horses with good draws, just hold my position. Things worked out quite nicely, I just timed my runs and here we are!" he said after Not Usual Talent had capped earlier wins on Showing Character and Sparkling Dragon.
"You can't expect things to have gone as well as they have but it's just started clicking. The more time I've spent here, the more comfortable things have become and the more I've started to understand the tracks and the pace of things.
"If you do the right things, often the results start improving," he continued. "I've watched Joao (Moreira) and I've watched Zac (Purton) and they often trust their instincts on these tracks – I think it's vital that you do"
Domeyer's victory on Not Usual Talent (125lb) came in the night's quality contest, the Class 2 Hoi Ha Handicap (1650m). The Benno Yung-trained four-year-old took his Hong Kong record to three wins from 10 starts with a deep-closing half-length verdict over Mr So And So (126lb).
"He went up nine pounds for his win last time but I still thought it was a handy galloping weight because he was quite fluent in his last win. He's a big horse so I thought he'd carry the weight, especially on this going, which I thought he'd enjoy more than any other horse," he said.
"He was a bit clumsy amongst horses but once I gave him daylight he was fluent, he actually quickened for a big horse, which is quite nice. When they're relaxed like that and quicken with such a long stride, I think they've always got a chance. Something about him makes me think he'll be better next season."
Domeyer tapped into his South African network for his other two wins. He set the ball rolling in the opener, the Class 5 Yung Shue O Handicap (1000m), atop Showing Character (127lb), trained by compatriot David Ferraris – a cheeky head victory over the closing Exponents (126lb) ridden by new boy Vagner Borges.
And another South African, Tony Millard, provided Sparkling Dragon in the Class 3 Lai Chi Chong Handicap (1200m). Domeyer delivered the charging gelding late to give Millard his first win since 5 May.
"The horse has unfortunately lost his early speed but you've got to hand it to Aldo today, he didn't panic – he waited and then he came," Millard said.
"He's settling in nicely and he's getting a nice spread of rides, not just from me, he's getting a lot of support. He's very strong, he's in that same mould as Felix Coetzee – they are tough and they are strong."