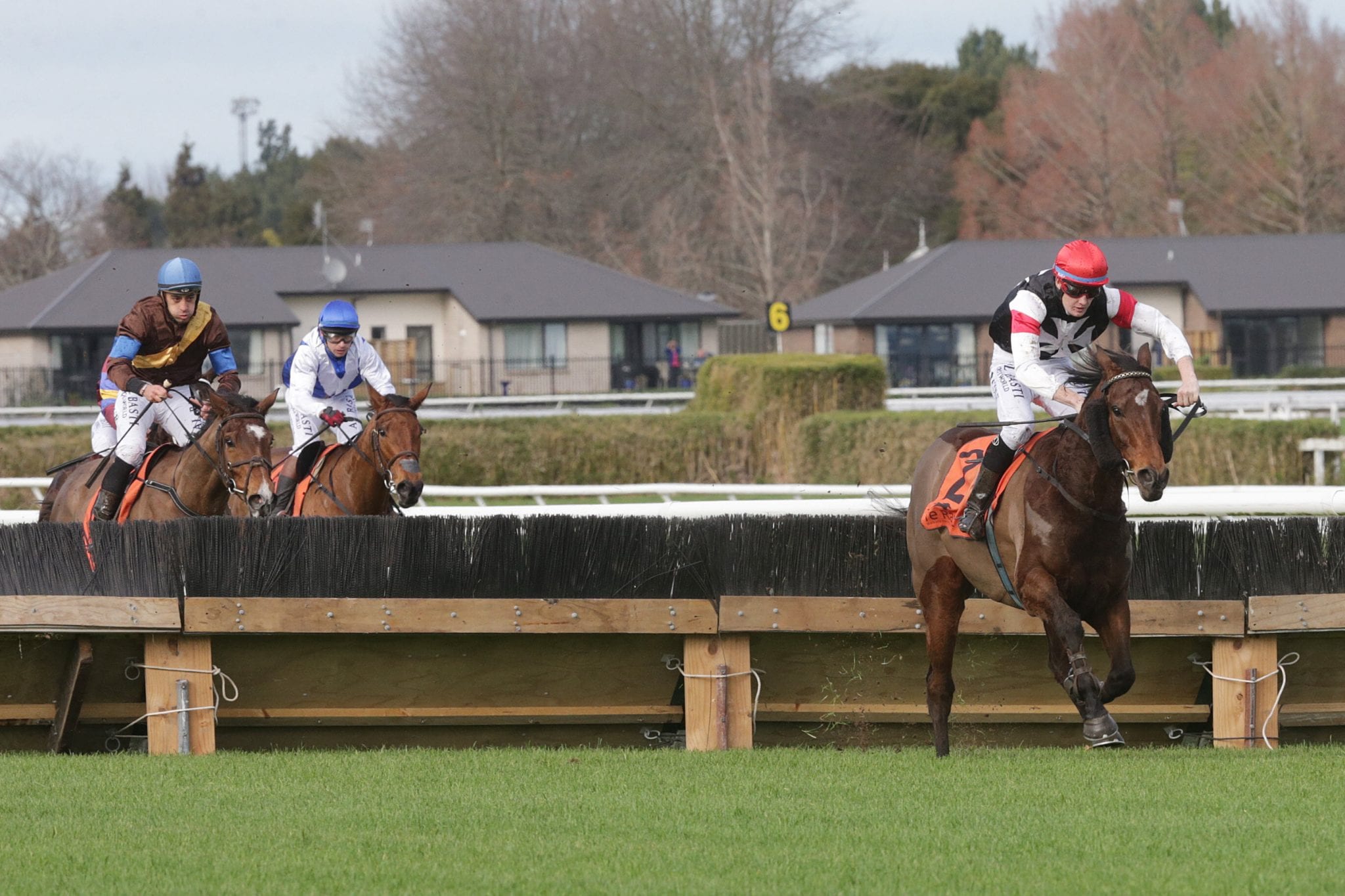 Talented galloper Ali Baba is a more motivated horse this preparation and turned in an impressive performance to win the Fiber Fresh Stables BBQ Hurdle (2800m) at Te Rapa on Saturday. The Michael Moroney and Pam Gerard-trained seven-year-old won a 2000m flat race earlier in the month and broke his hurdling duck with a comfortable six-length win.
A winner of five races on the flat, Ali Baba footed it with the best of his generation at three, finishing fourth in the Group 2 James & Annie Sarten Memorial (1400m) while also competing in races like the Group 1 New Zealand 2000 Guineas (1600m). "The next step is the Waikato Hurdles (3200m, August 8)," Gerard said. "I have always had a high opinion of his jumping ability. "He was probably a little bit unlucky last year and should have won his first hurdle start at Hastings but I wasn't too worried. It always takes a couple of years to make a jumper.
"He just had a potter around last year and wasn't suited later in the year by the heavy tracks, so to have him ready to go early at Te Rapa on a better track was always the plan. "He likes Te Rapa and copes with the Slow9 there really well and he has always stood out from day one in terms of jumping ability."
Gerard has noticed a renewed zest for racing from the temperamental gelding who has become a pet project. "He had a long break over Christmas and came back a totally different animal," she said. "He wants to be there and he has finally matured and is probably a little bit more robust than most jumpers would be. "He has done enough to keep his foot in the stable somehow. "During lockdown one of my trackwork riders took him home and worked him around a big dairy farm, just for something to do and it probably was the changing of him."
Given his ability on the flat, Ali Baba looks a jumper that would handle the quicker tempo of jumps racing in Australia but Gerard has resisted the temptation to transfer the horse to Moroney's Flemington stable. "I am sure he is capable of mixing it in Australia but he hasn't put his hand up enough just yet and you'd be a bit worried that he wasn't going to be genuine."
Gerard, whose partner is former top jumps jockey Tommy Hazlett, has prepared a Waikato Hurdle winner previously with top jumper Narousa, but despite her affinity for jumpers she said preparing horses for the discipline didn't naturally fit into the Ballymore brief. "We are busy enough trying to find those young horses coming through and I have found it quite challenging trying to train jumpers from the track at Matamata," Gerard said.
"It is not quite the right environment. "But he is a bit special and we go out of our way to do different things with him. "It works well mentally for us as well as we get away if we take him to the beach or do something different. "It is not generally a Ballymore thing, but that is not to say that Mike hasn't trained some pretty big winners in the jumps either."
Gerard is excited by the quality of youngsters coming through the stable and equally gets a kick out of seeing horses developed at the Matamata stable perform with aplomb across the Tasman. "Mike buys a lot of horses each year at Karaka and he starts them all here and we sift through them and try and find the ones that we think will be better suited to Australia," Gerard said. "We have got some nice ones. We always do. I don't have to look too far in the stables to get excited."
Quality gallopers Harlech and Snapper have recently joined the operation's Flemington stable following a well-worn path to success. "They get the same feed and go from one stable to the next," Gerard said. "That is why it has worked so well and is so successful for Mike. "His owners can see the benefits of having his horses started over here and trialling right-handed, as well as turning them out in paddocks when they're younger.
"It is just a recipe that has been proven. Horses like Tofane, Nerve Not Verve and Anything But have all come through the New Zealand stable and it is not like they're two separate stables. The staff here get a huge kick from seeing the horses run well in Australia."
Looking ahead to the new season, Gerard is pleased with a number of the two-year-olds rising three. "I'm still taken by Targhee, who showed up early and things didn't quite go to plan going into the Karaka Million. "Tokorangi is back and we have a nice filly in Dragon Queen, as well as a smart Darci Brahma filly called Bubalina that has trialled well. There are some nice colts that are yet to be named that are just about ready to kick off. It is really exciting. There is lots there plus the older horses like Pinmedown, Za Za Gabor and Masetto."