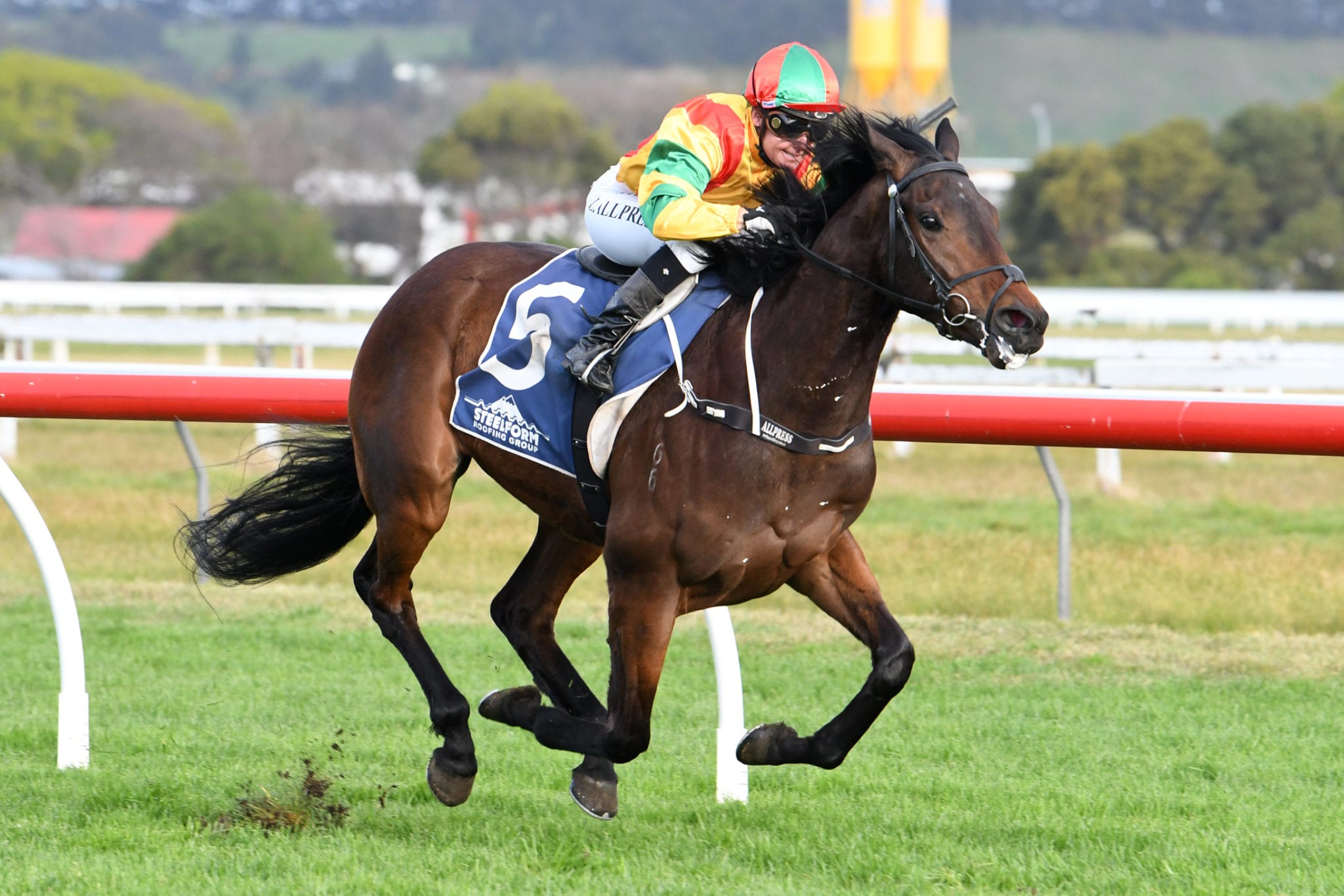 Rahotu couple Philly and Paddy Mullin consider themselves new to the breeding game, and are absolutely delighted to have bred their first stakes winner Cooga Doon.
The three-year-old son of Makfi was an impressive winner in the recent Listed HS Dyke Wanganui Guineas (1350m), beating his nearest rival Sai Fah by nine lengths with a further four lengths back to Blue Rata Eligius, at only his second start. "He's a beauty isn't he? To be honest he looks like he has got bigger things to come," Paddy Mullin said.
Cooga Doon was purchased privately by Gavin O'Dea, after he failed to reach his reserve at the 2018 Karaka Sale and he placed him in the care of Fraser Auret.
He is the second foal from the O'Reilly mare Monachee, who the Mullins purchased as a yearling."I bought the mare as a yearling at Karaka in 2008," Mullin said. "I had a couple of mares, a Volksraad and a Centaine, and I was looking for an O'Reilly mare and went through the pedigrees and she popped up in my scope.
"I liked the look of her, and I got Allan Sharrock to look at her as well and he bought her for me for $135,000 from Avondale Stud. "She was placed in her first two starts and won at her third. She ran out of luck, so I sent her to Karen Parsons in the South Island where she went on to win seven races including the Listed Dunedin God Cup (2400m). "To be honest, she really blitzed them in that race a bit like Cooga Doon did, she left them in her wake.
"Then we started breeding from her. Her first foal was a filly by Reliable Man and known as Sister Monica, I race her with a group of friends and we have sent her to Karen Parsons as well. "Cooga Doon is the second foal, and it was Adrian Stanley from Woburn Farm who talked me into mating her with Makfi. Monachee is not a heavy boned mare, but I like to match up strength and type. "I do study pedigrees and I plug into Goldmine to see how they match up. I think matching the mare in the type and strength is important. Monachee is only 15.2 (hands) but she throws good looking foals. "A wise man once told me an ounce of blood is worth a ton of bone, so I have followed that advice."
Monachee has a Reliable Man colt who is going to the Ready To Run sale in November, through the Woburn Farm draft, and according to Mullin an outstanding Tivaci filly at his farm at Rahotu. She is in-foal to Preferment and due at the end of the month. Now she is the dam of a stakes winner a few stud masters have been in touch. "I will have to decide where I am going to send her very soon, but my thinking has changed a little now she is the dam of a stakes winner," Mullin said.
Currently Monachee is the only broodmare that the Mullins are breeding from after losing their Volksraad mare MacInally who produced Rikki Tikki Tavi, who has won five races and placed in the Listed NZB Finance Sprint (1200m). "Until Cooga Doon came along Rikki Tikki Tavi was the best we had bred, as we are probably quite new to the game," said Mullin whose interest in breeding was nurtured by a couple of Taranaki racing stalwarts.
"I always had an interest in racing, and my great mate and brother-in-law, the late Boof Fleming, was a trainer and we followed his horses. "Early on Philly and I were sharemilkers for Dan Myers and of course he always had horses and encouraged us. Now we have our own dairy farm at Rahotu and space for a good mare or two. "At this stage Philly and I are happy to keep the fillies and sell the colts and build our broodmare band from there and hopefully breed another stakes winner or two." – NZTBA