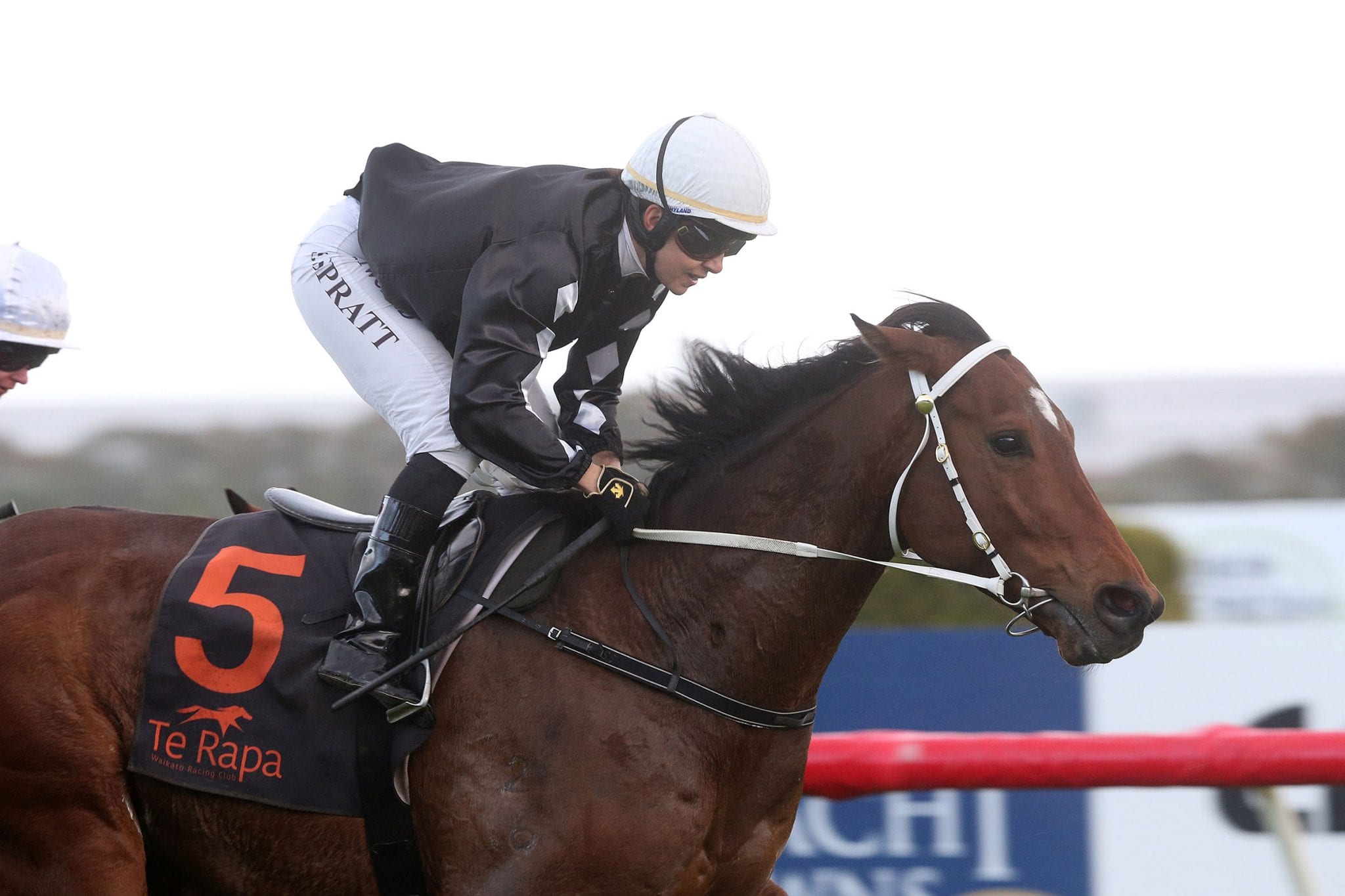 Estimated Reading Time: <1 minutes
The ever-popular northern jockey Sam Spratt kept her recent run of good form going when she produced a heady ride to score aboard the Tony Devcich-trained Pow Wow in the last race on the card at Te Rapa on Saturday.
Spratt had been successful aboard the four-year-old son of Power when he won over 970m on debut on the new Cambridge synthetic track last month and followed that up on the weekend with another impressive performance.
Spratt, who had picked up a winning double at Ruakaka a week ago, bounced Pow Wow away well from an outside barrier before sending him forward to dispute the pace at the 1000m mark.
Left in front rounding the home bend, Pow Wow gamely fought off all challengers down the straight to win by three-quarters of a length in a performance that suggests there is more in store in the coming months.
"It was a really good effort as he was stepping up to 1400m and the way the track was, it was more like a mile," Spratt said.
"He is still learning the game but looks pretty versatile as this time he raced on the speed whereas when he made his debut, he missed the kick and stormed home late.
"He was very tough in the last bit and I still think I had petrol in the tank if something had really got close to him.
"He appeals as the type to handle most tracks, so there are quite a few options for him coming up, although I haven't spoken with Tony about where he would like to take him next."
Spratt is delighted to chalk up some victories as she comes towards the end of a disappointing season that saw injury and suspensions curtail her opportunities.
"I'm looking forward to getting this season over and done with," she said.
"I had a slow start then broke my collarbone badly in a starting gate mishap back in October.
"I didn't think too much about it at the time, but it actually took a lot longer to heal than I expected which slowed me down.
"I then got suspended on my second day back from the injury, so things didn't go so well.
"I finally think I've got some momentum now and the new season always brings opportunities with the younger horses coming through."
Spratt is a regular fixture at trainer Stephen McKee's Ardmore property each morning and is excited by some of the rising two and three-year-olds he has on his books.
"I'm riding work at Stephen's and filling in around the place and like the look of some of his unraced stock," she said.
"Actually, I've told Stephen he can address me as Captain Spratt from now on as I've taken charge of the place.
"He probably thinks I'm mad, but we have a good laugh about it and I really love being there in the mornings."
While Spratt is pleased with her recent form, she is putting race riding on hold for a week as she participates in an annual tradition in the hunting ranks.
"I've made a commitment this week to head down to Taupo with the hunt fraternity," she said.
"A number of the clubs from around the country get together each year and we have a hell of a lot of fun with a hunt, a mock raceday and lots of other activities.
"We're staying in Kinloch so I've packed plenty of warm clothes and can't wait to get down there."