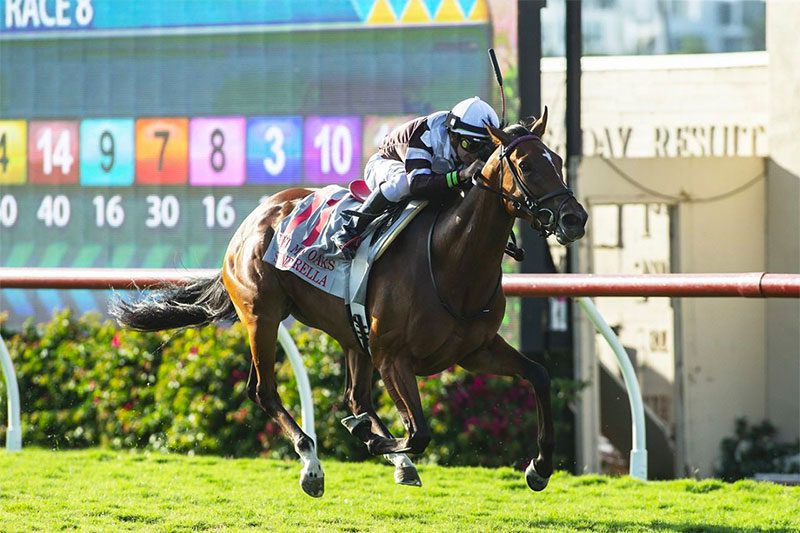 Spendarella loves the limelight of big Grade 1 races so much, it's all just a bit of fun for her.
They were the thoughts of her trainer Graham Motion's daughter Jane after the superstar filly's comfortable 4.5-length win in the USD $300,000 Del Mar Oaks on Saturday.
After finding herself in the perfect third-placed spot, the brilliant three-year-old – who was well ridden by Tyler Gaffalione – angled out and overtook the fading Gracelund Gray.
From there, she easily caught Cairo Memories entering the straight.
She then powered away to win in a very impressive time of 1 minute 47.09 seconds.
With that – after a gallant runner-up effort to Inspiral in the Coronation Stakes at Ascot on June 17 – Spendarella brought up her maiden Grade 1 title.
And Jane Motion believes it could very well be the first of many at the elite level.
"She was great – she's so incredible," she said.
"I think it's fun for her. She goes out and gives it her all every time.
"Even her run at Ascot was so impressive how she got second.
"It's been a journey with her. It's really fun to watch her run."
On the back of her weekend performance and now boasting four wins from five career starts, Motion is daring to dream that Spendarella can deliver the Coronation Stakes title her father covets next year.
"She really did (acquit herself well at Ascot two months ago). That race is so hard to win – any race there is so hard to win," she said.
"It's a dream of my dad's to win a race there. So that was really impressive for him.
"He's just this close. And going with her was so awesome – she's just fun to watch.
"I don't want to speak for my dad – he knows what he's doing. But I know it's his dream to win that race and she's so incredible.
"So hopefully we'll see her run there again, but who's to know?"
Motion is quick to tell anyone she is her father's "biggest fan".
This is not just because of his renowned training ability, with multiple Breeders' Cup titles as well as Kentucky Derby and Dubai World Cup victories among many others on his glittering resume.
It is mainly because of his gentle and caring nature for others while working tirelessly at his Herringswell Stables base at Fair Hill, Maryland.
Born in Cambridge, England, he also received excellent horsemanship grounding from his parents Michael and Jo.
Michael was an international bloodstock agent and North American representative for Tattersalls, the British bloodstock sales company.
Jo rode as an amateur in England before becoming an assistant trainer in the US.
"I might be biased, but he's the best. He gives his all to this sport and he loves it with all of his heart," Motion said of her father.
"I'm just so proud of him.
"Obviously, being a good person accounts for everything in life. But I think his genuine love for his horses is so apparent in everything he does.
"His family, too, growing up – they taught him everything that he needs to know.
"Just how to love a horse and how to train it to get it to where it needs to be.
"That love shows with every horse that hits the track. That's why people love sending horses to him."
Whatever big feature Motion next aims Spendarella at, Jane will be delighted to go along with him on his journey.
"I'm sure he'll put her somewhere where she'll show her best again," she said.
"Any time my dad wins a race it's just awesome for me and my family. And she's such a cool horse.
"It's fun to watch him. He brings my family everywhere, and all the opportunities we've experienced through this sport have been amazing.
"I hope we can keep experiencing them with Spendarella and many more horses.
"I come to the races as much as I can. I love this sport and I love what it's done for my family and my dad.
"I love supporting him – I'm his biggest fan."
Del Mar's current leading trainer Phil D'Amato could only look on and applaud Spendarella's amazing performance in the 2022 Oaks, his star filly Bellabel finishing runner-up.
"We're happy. She ran a valiant second to a very nice superstar filly. What can you say? We ran a good race, but we got out-run," he said.
"She (Spendarella) is just freaky. That final time was smoking for a three-year-old filly."