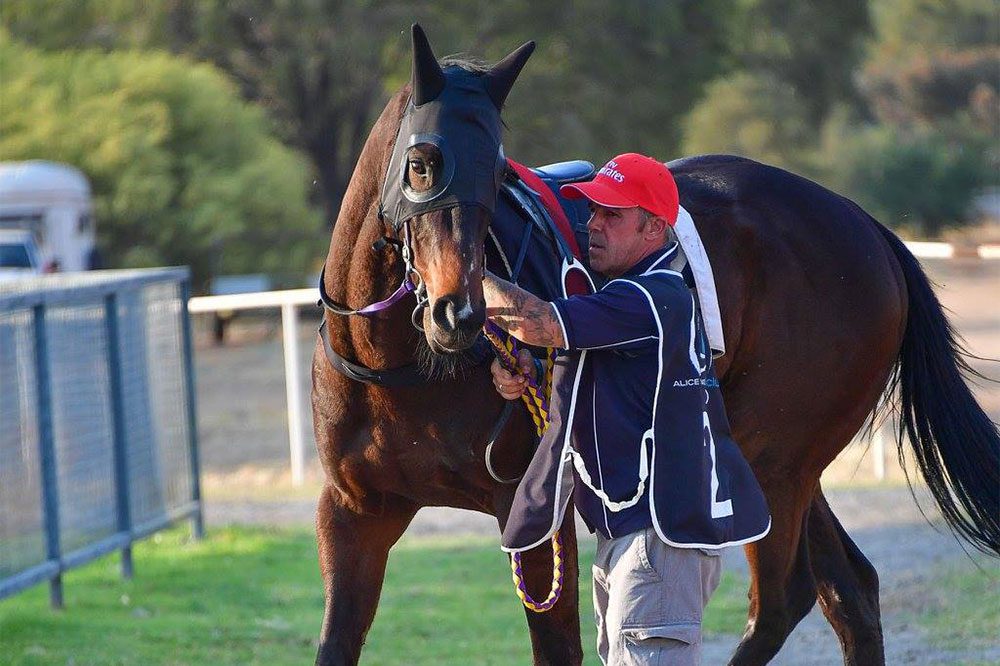 Alice Springs trainer Russell Bell has never had the opportunity to race in Western Australia.
So, early last week, Bell and wife Megan headed off with three horses bound for Broome – the coastal tourist town in the Kimberley region located in the state's north-west.
The Broome Turf Club hosts nine meetings on its dirt track from May to August, culminating with the 2022 Broome Cup (2200m) on August 13.
Despite the Alice Springs Cup Carnival from April to May and Darwin Cup Carnival from July to August, Northern Territory trainers and jockeys have a habit of making their way to Broome every year.
It's only a lazy 2,742km from Alice Springs to Broome when you make the trip via Katherine.
After spending their first night at Tennant Creek, the Bells continued to head north up the Stuart Highway before calling it a day once arriving at Katherine.
It was time to head west and once crossing the NT-WA border it was off to Kununurra along the Victoria Highway.
Finally, it was onwards to Broome along the Great Northern Highway passing through iconic locations such as Halls Creek and Fitzroy Crossing.
"We got here last Thursday – we took our time," Bell said from Broome on Monday.
"We spent four days on the road to get here and the horses travelled well."
Those horses are sprinter Arrogant Miss, middle-distance runner Wayanka and stayer Doon Buggy – none of whom featured prominently during the Alice Springs Cup Carnival.
And Bell has already identified a program for his team, which will most likely start on July 9.
"We'll have a couple of runners then," he said.
"I've sort of book marked certain races that I want to go to and we'll go from there."
Arrogant Miss, a five-year-old mare, has had 20 career starts in Alice Springs for six wins, two seconds and two thirds, and has also had two appearances in Victoria at Moonee Valley and Bendigo.
More than handy against healthy opposition as a filly, Arrogant Miss is still highly competitive and was in decent form before leaving for WA.
Wayanka, an eight-year-old gelding, has had 71 career starts and arrived in Alice Springs in April 2019 after posting five wins for Chris Waller at Flemington, Rosehill and Canterbury.
He has also had seven wins at the Red Centre's Pioneer Park and has been placed 10 times, and although Alice is home these days Wayanka has also made four other appearances at Moonee Valley and Darwin.
Nine-year-old gelding Doon Buggy, who is renowned for his late finishing bursts, debuted in Central Australia in March 2015 as a two-year-old and apart from nine appearances in Victoria has raced 76 times in Alice Springs for 11 wins, 10 seconds and 12 thirds.
"We penciled in the horses we thought would suit Broome," Bell said.
"The three that I have brought, I'm more than happy to bring over because they're seasoned horses on the dirt and consistent horses.
"I didn't run the horses during the Alice carnival because of certain reasons because I wanted to come here.
"If I had one that was absolutely flying then obviously I would have ran it.
"At the same token, for the last six months I've pushed myself to come to Broome.
"So certain horses had certain runs to suit what I wanted to do.
"Arrogant Miss, for argument sake, she only had a couple of runs early leading up to the carnival and through carnival.
"Her whole preparation has sort of been geared to come to Broome.
"Wayanka, he's a great old horse, and his carnival at Alice was also set and so was Doon Buggy's.
"Doon Buggy only had the three runs to get him ready to come to here – and that's about it."
Bell confirmed that racing horses in Broome is something he has always envisaged.
One of those objectives he has highlighted on his "bucket list", and so far he has no cause for complaint.
"I've won races in four different states and territories now," he said.
"I haven't raced a horse in Western Australia, so I thought it would be a good chance to come over and see how we go.
"The track was just beautiful here on Saturday – it was fantastic.
"I rode on it the other morning – it was beautiful to ride on.
"Everybody has been fantastic so far, so all those roads are leading to hopefully just having a nice carnival.
"If we get one winner I will be more than happy.
"I'm not taking anything away from the local horses at all, but my horses are pretty tough.
"I think you need to have those sort of horses when you travel to a place like this coming from where we've come from, so I think they'll all run reasonably well."
Megan heads back to Alice Springs on Tuesday because of work, but will return to WA in the short term.
Apart from mingling with the locals, Bell will also be surrounded by many familiar faces during his Broome sojourn.
"I've got some owners here from WA – they have been long-time owners of mine," he said.
"And I've got some people coming up from Melbourne that will be up here next week as well."
Bell has had his fair share of good fortune as a trainer in Alice Springs and admitted that he is still enjoying life in town.
"Alice is Alice," he said.
"Racing there is pretty good, but it's time to start spreading your wings and having a bit of a trip here and there.
"You can't work every day all day, so Broome was the next stop for us and we'll see what happens after that."