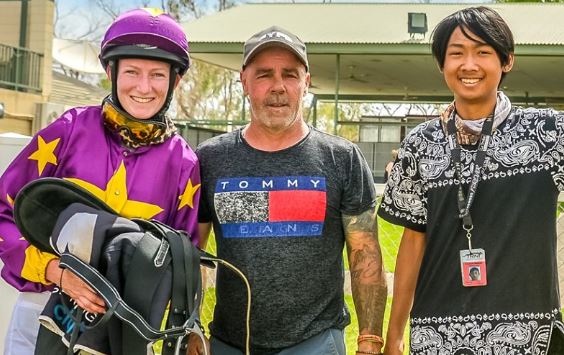 Alice Springs racing will farewell one of its more popular figures of the four-legged variety on Sunday when the diminutive 10-year-old gelding Doon Buggy makes his final appearance.
The son of Husson, who has had 75 starts on the Red Centre's sand and waste oil surface for 11 wins, eight seconds and 11 thirds since making his Pioneer Park debut as a two-year-old in March 2015, lines up in the race named in his honour.
The Enjoy Retirement Doon Buggy Benchmark 54 Handicap (1400m) is the fourth race on the six-event program and for the Russell Bell-trained veteran he will be aiming to go out in style in his 91st career start.
Doon Buggy, who last tasted victory some 20 starts ago when he won over 1600m (0-64) in the Alice in December 2020, was quoted as the $21 outsider on Saturday night in the six-horse field.
Stranger things have happened and it would be fantastic if he could achieve an upset victory, but more importantly the racing fraternity of Central Australia has the chance to farewell pay homage to the horse.
Former Darwin jockey Phillip Crich, who is now based in Murray Bridge in South Australia, is heading home after a riding stint in the Top End and Kununurra in Western Australia and will partner Doon Buggy.
Purchased at the Alice Springs Yearling Sales, Doon Buggy had two starts at Pioneer Park before finishing third in the now defunct Inglis Red Centre 2YO Classic (1200m) during the 2015 Alice Springs Cup Carnival.
He finally won his first race at his seventh start with victory over 1400m (Class B) in February 2016 before finishing fifth in the NT Guineas (1600m) as a three-year-old during the 2016 Alice Springs Cup Carnival.
From October 2016 to February 2017, Doon Buggy raced on nine occasions in Victoria when Bell established a stable after relocating to Colac, located 75km west of Geelong.
Bell, who also kept his Alice Springs stables open, tasted success in Melbourne with the outstanding Sirbible and Doon Buggy was far from disgraced after finishing second and third at Geelong and second at Terang.
In his first start back at Alice Springs in July 2017, Doon Buggy won over 1400m (0-58) – he has only ever win eight races over 1400m and three races over 1600m at Pioneer Park.
Some of his more notable achievements in the Red Centre include – third in the 2018 Cummins Cup (1400m), first in the 2019 St Patrick's Day Cup (1600m), fifth in the 2020 Alice Springs Cup (2000m) and second in the 2021 St Patrick's Day Cup (1600m).
The only time Doon Buggy raced in the Top End was during the 2018 Darwin Cup Carnival on Cup Day (August 6) when he finished eighth in open company over 1600m at Fannie Bay.
In recent times he helped form part of the contingent Bell took to Western Australia where he raced on five occasions in Broome and Kununurra from early July until early September.
"Probably one of my all time favourites – one of the best horses I've ever had," Bell said of Doon Buggy.
"He's done a pretty good job – the little man, he's only a pony.
"It's time to let him retire while he's nice and sound and happy, and go and live another life."
Bell has always warmed to the Husson progeny and Doon Buggy certainly caught his eye back in 2015.
"I liked him – he was a beautiful walker and a beautiful looking animal, and he was just intelligent," he said.
"He's only tiny, but very stocky and he just had that sort of look about him that you thought, ah well, he's a really nice little type."
Doon Buggy is renowned for getting back in his races before producing a big finish – which has left his trainer in awe at times – but initially it took a while before Bell identified the mannerism of the horse.
"That's always been his style," he said.
"In the early days I didn't know whether he was genuine and then one day he missed the kick by about 10 lengths and won by about eight lengths.
"I said, shit, we've been doing the wrong thing and from then on we just let him get out the back and let him do his thing, but sometimes he gets that far back he can't catch them."
And during his long and extinguished career is there one race that stands out from the other 89.
"You've got to say that it was a bit of a highlight when young Lorelle Crow was apprenticed to me on her first day of riding and she won on him," Bell said.
"That was a bit of a highlight for a young girl and her first day ever to win on a horse."
That was in May 2016 with Crow arriving in the Northern Territory from Orford in Victoria.
"With his style every race has been pretty special, you know – he's ran in an Alice Springs Cup, he's never disgraced himself ever in a race," Bell added.
"Because of his style – Alice Springs racing is jump and run, he's had to sort of come around them and do what he's had to do and work hard all the time.
"When it works it works and when it didn't it didn't.
"He ran some bottlers in Victoria.
"Probably should have won one day at Geelong – it was a magnificent run.
"It was one of his first races down there when he ran second – got back and rattled home."
It was after consulting the owners before speaking with Alice Springs Turf Club chief executive Tom Slattery that approval was granted allowing a race to be named after the retiring Doon Buggy.
"Most of the owners said wouldn't it be fitting if we could get a race named in his honour because these people have been with him for seven and a half years," Bell said.
"We've had him since he was a yearling.
"I said that's easy fixed, we'll sponsor the race.
"I spoke to Tom, who's always willing to help anybody out – he gave us good advice and feedback.
"Next thing you know we're sponsoring the race and I'm pretty sure the club was more than happy to have it named after him.
"He's come back from Broome and Kununurra – he has got dapples from one end of him to the other, he looks magnificent.
"It's probably the best I've ever seen him look in his life, so I expect him to run really well on Sunday.
"At the end of the day we'll see what sort of pace is on in the race – if there's enough pace and they start to get tired, don't worry, he'll be coming."
Doon Buggy made little impact in two starts on the Broome dirt before featuring on three occasions over 1800m on the Kununurra grass for a fourth, fifth and a last start third.
Bell and wife Megan enjoyed their time in Broome and Kununurra, but sadly Megan lost her mother while they were on their WA sojourn and hopefully Doon Buggy will bring the Bells plenty of a joy with a competitive performance in his final race.
Then what happens to the horse after Sunday?
"He'll stay with me for the moment," Bell said.
"He's very good at leading other horses and stuff like that, so I'll be educating him a bit as far as doing a bit of clerk of the coursing.
"There's a few riders around here in Alice Springs that would be more than happy to take him to do a bit of pony clubbing and a bit of jumping just to keep him entertained."