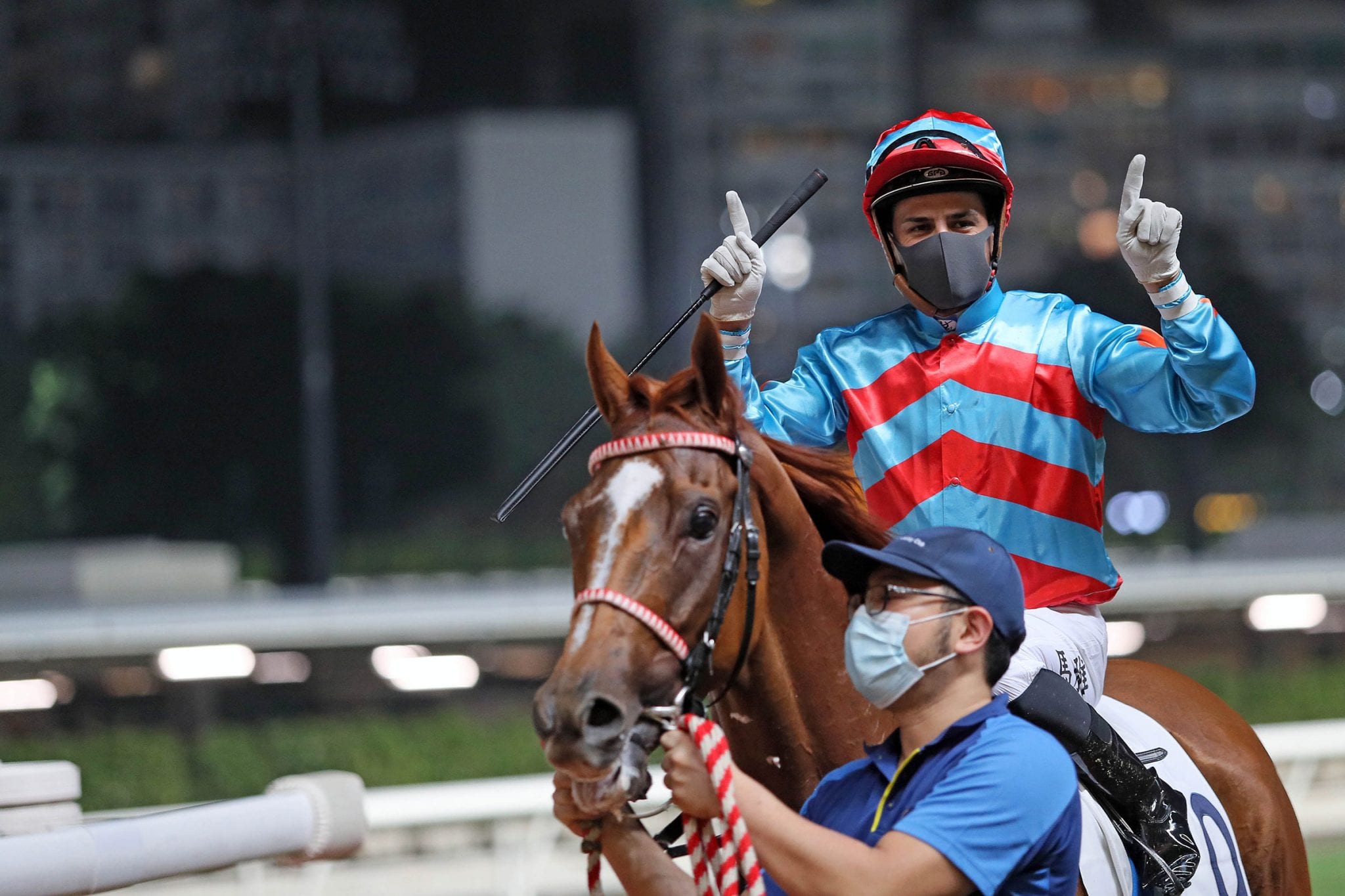 Brazilian jockey success in Hong Kong is overwhelmingly Joao Moreira's domain but at Happy Valley on Wednesday night (24 March), Ruan Maia posted one of the most significant – and relief-laden – victories of his career with a memorable breakthrough triumph.
Eight meetings and 44 rides into his Hong Kong stint, Maia logged his first winner in his new surrounds, driving Bulletproof through narrowing gaps in the home straight to clinch the first section of the Class 4 Lok Fu Handicap (1650m).
Fittingly, the victory was for trainer Ricky Yiu – one of Maia's most ardent backers and a renowned supporter of new jockey arrivals.
"I always supported the new Club jockeys," Yiu said. "Even Zac Purton still says that I gave him a good leg-up when he first arrived."
"Some of the more established jockeys are hard to get, it's easier to get the newer jockeys as they don't have too many rides. As soon as I asked him, he said 'yes'. The other senior jockeys say they have to think about it and 'I'll get back to you'.
"He was a little bit rough around the first bend but he managed to stay midfield one-off the rail. The way he was travelling, I thought he would run in the first three. But the last 150 metres I thought maybe second, but he's a talented little horse with a good heart.
"I said to the owner, even though he hasn't been winning, he hasn't been beaten far – just two or three lengths, he's always trying."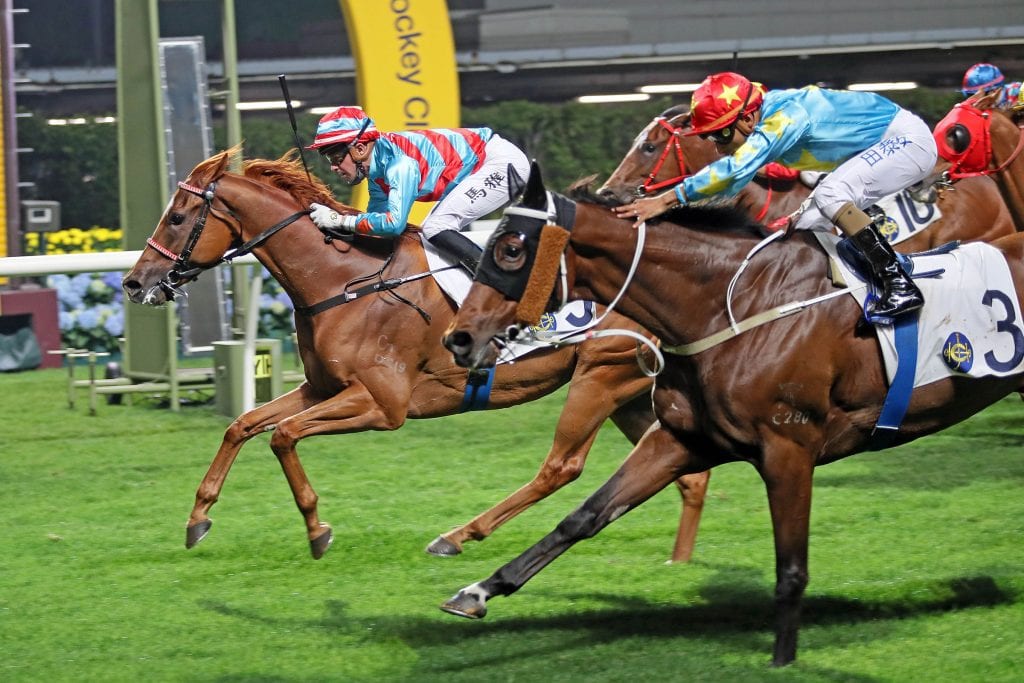 For Maia and Brazilian compatriot Vagner Borges, competing in Hong Kong is daunting with constant reminders of Moreira's astonishing consistency.
Maia, who transferred from Singapore after last year finishing second in the Lion City jockeys' championship to Vlad Duric, has steadfastly maintained faith in his ability despite meagre opportunities.
"After three or four meetings, I felt better, more confident because everything is new for me," he said.
"After that, I got more confidence and I believe I have been riding well. I just needed one horse to give me a winner and tonight, I got my first winner – I'm very happy."
The 32-year-old, twice champion jockey in Macau, conceded he occasionally struggled with motivation because of the lack of opportunities.
"I'm grateful for that win – I'll continue to work hard and hopefully I'll get more support.
"I knew the horse had a good chance – not 100 percent – but I had a bit of luck until the last 300 metres when both horses (inside and outside) moved out and the room closed.
"I waited a little bit and then my horse went go and I got the win.
"I didn't think I got the winner, I thought I might have finished second, but Karis Teetan said 'Well done, brother, winner'."
Maia had registered seven third placings from his first 43 mounts in Hong Kong. He added a second aboard Joyful Union in the evening's penultimate contest.
Yiu notched a race-to-race double when Joyful Win triumphed in the Class 4 Kowloon Tong Handicap (1000m) under Derek Leung before, as fate would have it, Moreira claimed the Class 4 Kowloon Tsai Handicap (1200m) on Fire Ball for Dennis Yip.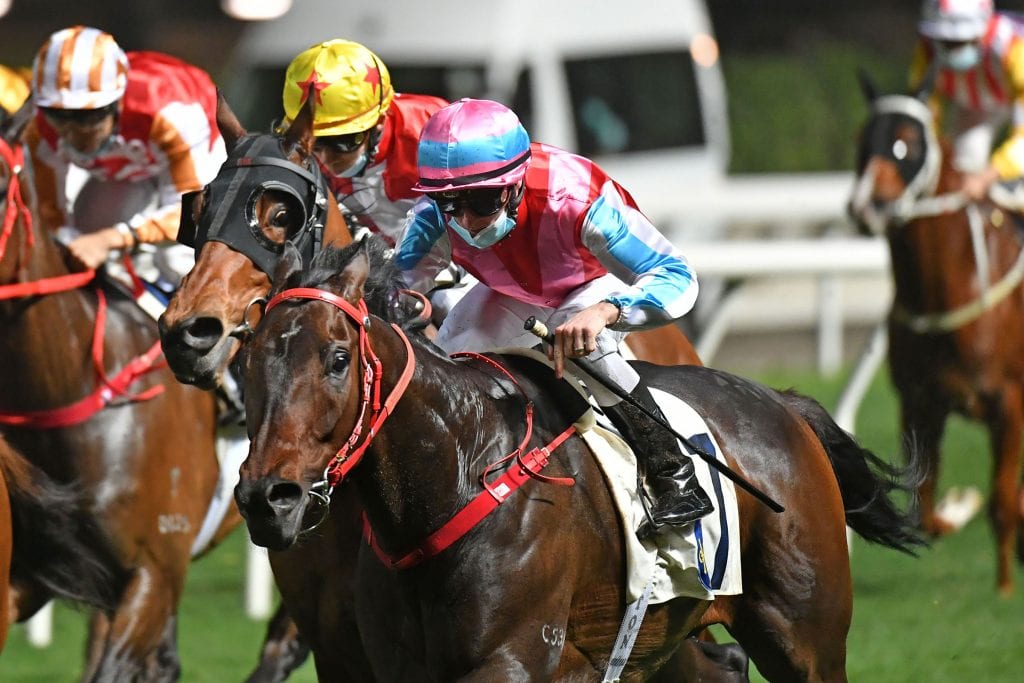 Zac Purton took overall meeting riding honours with a treble to cut Moreira's lead to 20 – 103 to 83.
Purton and Danny Shum united with President Star's success in the Class 5 Wang Tau Hom Handicap (1650m) before the reigning champion jockey brought up a double aboard the Frankie Lor-trained Be Ready in the second section of the Class 3 Fung Mo Handicap (1200m).
Purton and Shum also combined with Harmony N Home in the first section of the Class 3 Fung Mo Handicap (1200m) in the pair's 20th success of the 2020/21 season.
Neil Callan and Tony Cruz prevailed in the second section of the Class 4 Lok Fu Handicap (1650m) with More Than Enough.
Alexis Badel continued his outstanding season with victory on Flying Monkey, an eight-year-old having his 53rd start, in the Class 5 Lung Cheung Handicap (1000m) for Benno Yung before Karis Teetan piloted Farshad to a dashing victory in the finale, the Class 3 Junction Handicap (1650m) for trainer Me Tsui.