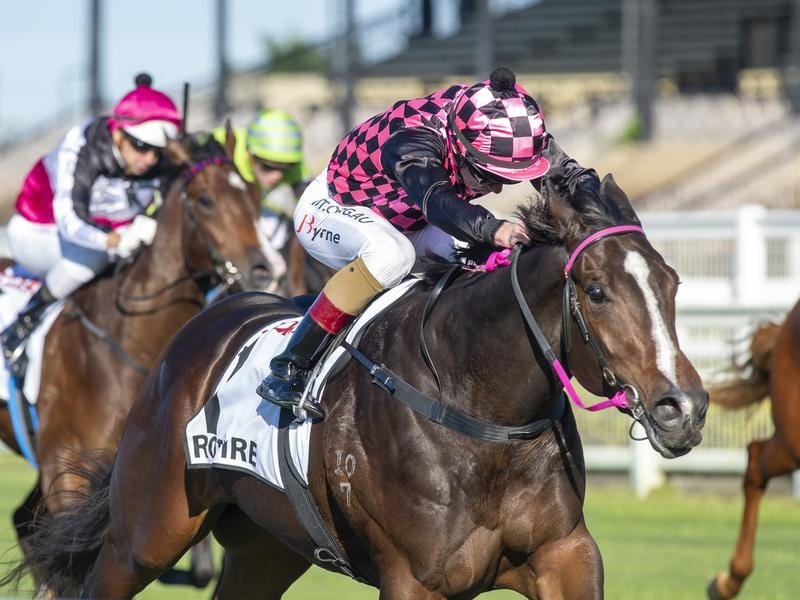 Estimated Reading Time: <1 minutes
Arguably Queensland's best racehorse, Rothfire, is nearing a return to the track, with the star sprinter set to trial publicly next month.
Rob Heathcote spoke with RadioTAB's Steve Hewlett on Thursday morning, saying his three-year-old will "be out to show everyone that he's made a full recovery".
A winner of seven from nine races, the son of Rothesay broke down when an even-money favourite in September's Group 1 Golden Rose and is now on the comeback trail, which included a soft piece of work in late May.
"I'll ensure I've got him somewhere near, certainly a high level of fitness and he'll be out to run some time and show those Everest slot-holders that he's on his way back," Heathcote told RadioTAB.
With The Shorts his likely return race on September 19, Rothfire is set to follow a popular path to The Everest with the Premiere Stakes being his final run before contesting the AU$15,000,000 feature at Rosehill Gardens.
"If he comes back, he is a genuine Group 1 horse," Heathcote said.
"The Run to the Rose he ran a tick outside the track record on what was a Soft 5 earlier in the day, so he's clearly got the ability.
"Admittedly, Farnan did run out at a suicidal pace that day.
"But my thinking is, if he comes back and he's sound and healthy, we'll take them all on.
"We'll go straight to The Shorts, then the Premiere.
"He will need to run first or second in either of those races, and most of The Everest runners will be in either of those races, so we'll definitely know if he's back or not."
With Rothfire having 40 weeks on the sidelines, Heathcote admitted that it would be a miracle if he came back with the "full athletic prowess" he possessed prior to his injury.
"It's been an intensive rehab program that Rothfire's been on," Heathcote said.
"Forty weeks since he suffered that injury, but I did get him up to gallop stage; that was about four weeks ago.
"Just a little bit quicker than three-quarter speed. That was on the Eagle Farm course proper.
"He came through that in good order, Ben Thompson rode him. He said he felt fantastic and really wanted to rip, but he's not ready for that."
Considering all things look on track for the already Group 1 winner, online bookmakers aren't willing to take any chances on Rothfire, who is rated a +2000 chance in The Everest.