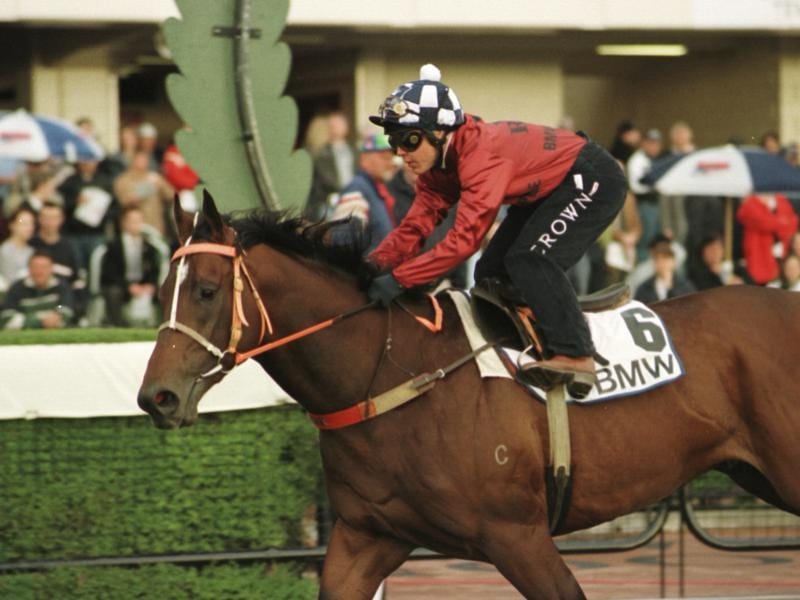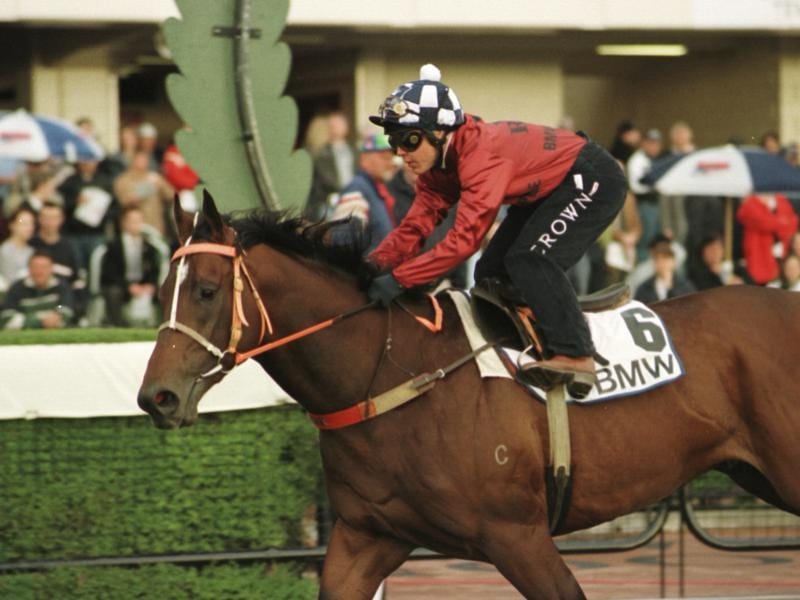 Champion racehorse and breed-shaping sire Redoute's Choice has died aged 22 at Arrowfield Stud in the Hunter Valley.
Arrowfield boss John Messara said Redoute's Choice was humanely euthanised after suffering a traumatic loss of mobility which could not be restored, despite intensive care by the stud's veterinary and stallion teams.
Trained by Rick Hore-Lacy for his breeder Muzaffar Yaseen, Redoute's Choice won the 1999 Blue Diamond Stakes at his second start and as a three-year-old won the Group One Manikato Stakes, Caulfield Guineas and C F Orr Stakes.
Redoute's Choice has sired 34 individual Group One winners, the first Not A Single Doubt who also stands at Arrowfield.
A son of Danehill, Redoute's Choice was out of Yaseen's mare Shantha's Choice who also produced Platinum Scissors and Manhattan Rain.
"Redoute's Choice is such a big part of all our lives, and right now it's hard to imagine Arrowfield without him," Messara said.
"He has given us so much, Arrowfield has been built on his back and he's allowed all of us and many, many other people to fulfil our dreams and ambitions.
"I thank Muzaffar Yaseen for allowing us to buy into Redoute's Choice almost two decades ago. Our partnership has always been amicable and it has achieved all that we could hope for, and more.
"I'm grateful to all my team, past and present, who are part of his story, especially those who have cared for and worked with Redoute's Choice every day, and have ensured that he's had the long and wonderful life he deserved. There are many tears being shed at Arrowfield today."
Redoute's Choice won the general sires' premiership three times and in his hey day stood for $330,000.
The Autumn Sun, the winner of five Group One races including Saturday's Rosehill Guineas, is the best of his stock currently racing.
Champion sire Snitzel, Scissor Kick, Pariah are his other sons to stand at Arrowfield alongside Not A Single Doubt.
Redoute's Choice, who is on his way this season to earning his first title as leading broodmare sire, served 45 mares last season.
"It is a great consolation to me that Redoute's Choice leaves us at the top of his game, having sustained his greatness as a sire from start to finish, across the full span of his career,"Messara said.
"His legacy to Australian breeding and racing is immense, through his sire sons, his broodmare daughters, his final crops still to come and all the people he touched over the past two decades.
"Thank you Redoute's, for everything."
Cups Betting has all the latest horse racing news and betting bonuses.