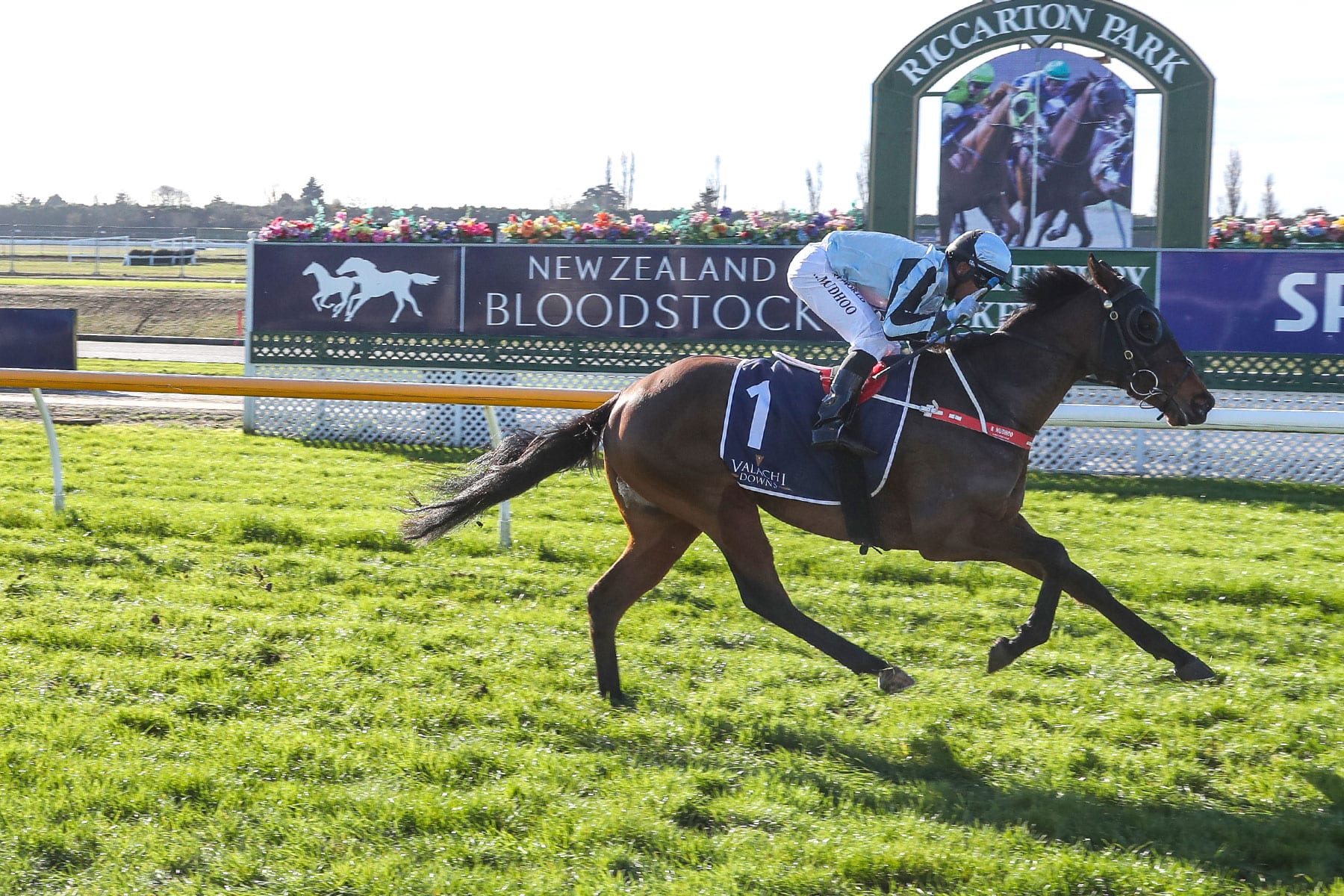 Estimated Reading Time: <1 minutes
New Zealand trainer Sally McKay made the long trip north from her Invercargill base to Riccarton with butterflies in her stomach and a host of doubts as to whether she had done the right thing with her stable runner Palmetto, who was making his raceday debut on Saturday.
The two-year-old son of Ghibellines hadn't sighted a starting gate until last Monday with McKay unable to get a barrier certificate for him due to the unavailability of starting gates at her Ascot Park base at an opportune time.
In desperation McKay turned to Riccarton-based trainer Andrew Carston, sending Palmetto to him ten days ago to try and get him certified to gain a start on raceday.
That task was completed on Monday, so she entered her charge in Saturday's 1000m two-year-old scamper on a Heavy 11 surface with no winning expectations whatsoever.
Palmetto soon showed he had a motor to support his generous frame as he defied the impediment of starting from the outside barrier to storm to the lead at the 300m before racing clear in the hands of Rohan Mudhoo to post an emphatic three length victory.
"I am just stunned," McKay said.
"I had told the syndicate who own him not to expect anything as I said he was very green and would probably just benefit from having a run.
"When he actually jumped away well and got reasonably handy, I was thinking oh my god we could be in this.
"I was just standing there with my mouth open when he hit the front and I'm still trying to take it all in.
"I was just so worried that I had spent all this money sending him up here to do what we did.
"I think my main feeling is relief more than anything, although I'm sure it will all sink in later tonight."
McKay received the leggy youngster from co-breeder Michael Stokes in June 2020 and knew she had something a little above average on her hands after breaking him in.
"Michael normally sends me a few to break in and educate and I generally get to keep one to train," McKay said.
"I gave him a couple of short preps and then tried to get him ready for Riverton, but he went shin sore and we couldn't get a trial into him, so that started all the hassle with his barrier certificate.
"He is a very powerful type that needed a little time to strengthen, but I was just so keen to get him going that we then tried for a run at Wingatui but missed out there as well.
"Sending him up to Riccarton was a real gamble but it looks like it has paid off.
"He has pulled up like he hasn't had a race so I think he can go home now and we will look at running him at Oamaru next month before we put him away for a spell."
McKay shares in the ownership of Palmetto with a large syndicate including a number of first-time owners, who were on-course to take in the thrill of the victory.
"I've got a 20 percent share in him along with a syndicate put together by Chris Smith and a number of his friends," she said.
"There were plenty of them here today and they were just over the moon with how he went, so I'm expecting the celebrations will go on long into the night."