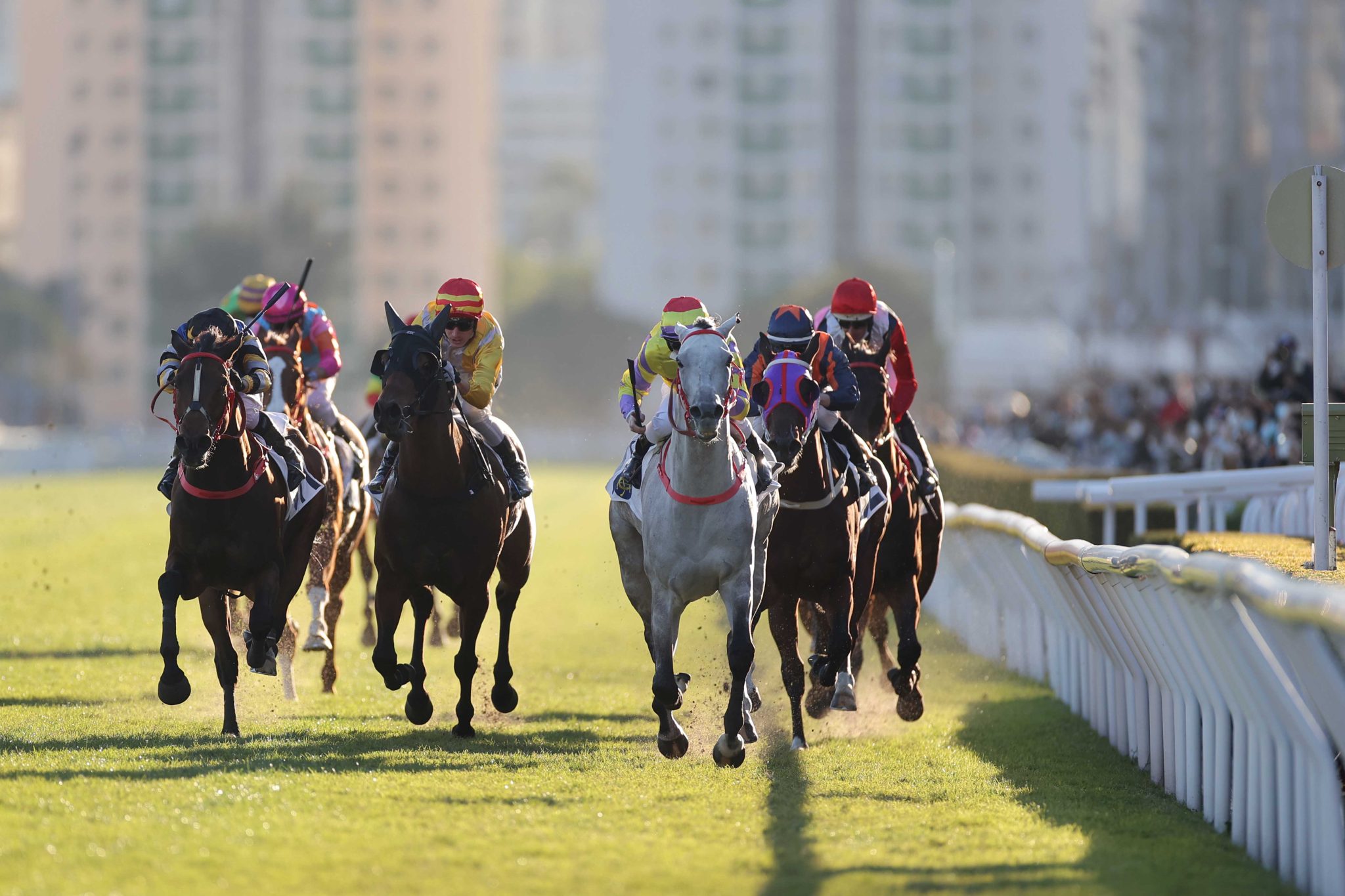 Zac Purton's remarkable 2022/23 season continued with a familiar flourish at Sha Tin on Sunday with a quartet, including victory aboard Ping Hai Galaxy in the Class 2 Lukfook Jewellery Cup Handicap (1000m), as the Australian maintained a relentless pursuit of Joao Moreira's record for the most wins in a single Hong Kong season.
The four-timer propelled the five-time Hong Kong champion jockey to 64 wins for the term and, with 28 of 88 scheduled meetings completed, Purton is on course to potentially surpass Moreira's 2016/17 mark of 170 victories in a season.
Purton, 39, continued a stunning campaign with a third consecutive bag of three or more winners, also striking with David Hall's Joyful Genius, Ricky Yiu's Cheery and Size-trained Shining Fortune before landing the day's feature with a customarily clinical ride on Ping Hai Galaxy.
"It was pretty straight-forward. We drew the right gate (barrier nine) and we had the right horse (Whizz Kid) to follow with the headwind today, it gave us a nice bit of cover, and I just had to bide my time and wait for the right opportunity to press the button – and when I did that, he was good today, very good," Purton said of the grey.
Asked about the four-timer which followed successive trebles, Purton said: "Not bad, I want more (wins) – I need more."
Size was more expansive, noting: "He (Purton) is going very well at the moment. Admittedly, as he says himself, Joao's not here so that probably helps a little bit for him but the fact still remains that he's not making mistakes and he's still riding very well, as good as he's ever done, and he seems to be enjoying it at the moment."
Regarding Ping Hai Galaxy, Size said: "He's very comfortable at high speed. He can gallop and he's got plenty of ability. He's just a little late coming on the scene to do his best but we thought at the start of the season he would do his best work as a seven-year-old. He's a sprinter and there's always races for him in Hong Kong, so he'll be fine and he'll find another race."
Purton's latest spree came as Jye McNeil's persistence was rewarded when Excellent Fighter charged through a narrow gap to land the Class 4 Lukfook Jewellery Diapure Handicap (1000m) for Ricky Yiu.
McNeil's stint in Hong Kong has included a stint on the sidelines with COVID, which forced the Australian out of the LONGINES International Jockeys' Championship at Happy Valley on 7 December and, until today just four minor placings.
But, despite taking 41 mounts to break through, McNeil maintained healthy self-belief.
"It took a lot longer than I was hoping (to win a race) but obviously things aren't easy in Hong Kong and I'm very appreciative to be in the winners' stall today, especially with Ricky Yiu – he's offered me a lot of support in my short stint here in Hong Kong," McNeil said.
"It's been a great learning curve for me, I've met a lot of new people and I've learnt a lot of new things. It's been a great experience overall. I have faced a few challenges along the way – it hasn't been easy but it's made all those challenges go away today."
Bolstering a fine start to the season, Yiu snared a double in tandem when Cheery overpowered his opposition under Purton to clinch the Class 4 Lukfook Jewellery Goldstyle Handicap (1600m). Yiu has 16 wins for the term.
Joyful Genius swept to his maiden Hong Kong victory with an emphatic win in the Class 5 Lukfook Jewellery Hexicon Handicap (1400m) for Purton and Hall. Winless in 17 attempts in Class 4, the Hinchinbrook gelding successfully shouldered 135lb after powering from the rear of the field.
"I think he's capable in Class 4 and getting that win might just give him that confidence that he might get another one (win) fairly quickly," Hall said after posting the stable's 11th success of the season, while Purton's precision and timing on Size's Shining Fortune in the Class 4 Lukfook Jewellery Heirloom Fortune Collection Handicap (1200m, dirt) was the difference between victory and defeat.
Jamie Richards posted his first win at Sha Tin when debutant Holy Power surged strongly to claim the Class 4 Lukfook Jewellery Wedding Collection Handicap (1200m) under Lyle Hewitson.
Midfield behind the strong tempo set by United We Stand, Holy Power gave Richards his fifth victory of the term.
"He won well, he's being going through the motions nicely at home and he was able to get a good run from a good barrier (two) and they went along at a genuine tempo with the tearaway leader probably setting it up for him a little bit," Richards said. "Thrilled to get on the board here at Sha Tin. It's a very difficult place to win a race and hopefully we can build a bit of momentum now with some fresh horses coming up."
Hewitson capped a bountiful afternoon with Danny Shum-trained Lightning Bolt's success in the Class 3 Lukfook Jewellery PT Graceful Collection Handicap (1200m, dirt) to give the South African a double and 16 wins for the season.
Capital Legend secured a HK$1 million PP Bonus for owner Steve Ho with a driving win in the Class 3 Lukfook Jewellery Dear Q Handicap (1200m) for Caspar Fownes and Vincent. A son of Capitalist, the four-year-old was trained in Australia by John Sadler before joining Fownes' stable.
Frankie Lor and Derek Leung closed the meeting in style when Massive Action dictated from the outset to land the Class 3 Lukfook Jewellery Beloved Collection Handicap (1600m) after veteran Kasi Farasi slotted his sixth Hong Kong victory with success in the Class 4 Lukfook Jewellery Love Is Beauty Collection Handicap (1400m) for Dennis Yip and Silvestre de Sousa.
Hong Kong racing continues at Happy Valley on Wednesday night.
More Hong Kong horse racing news