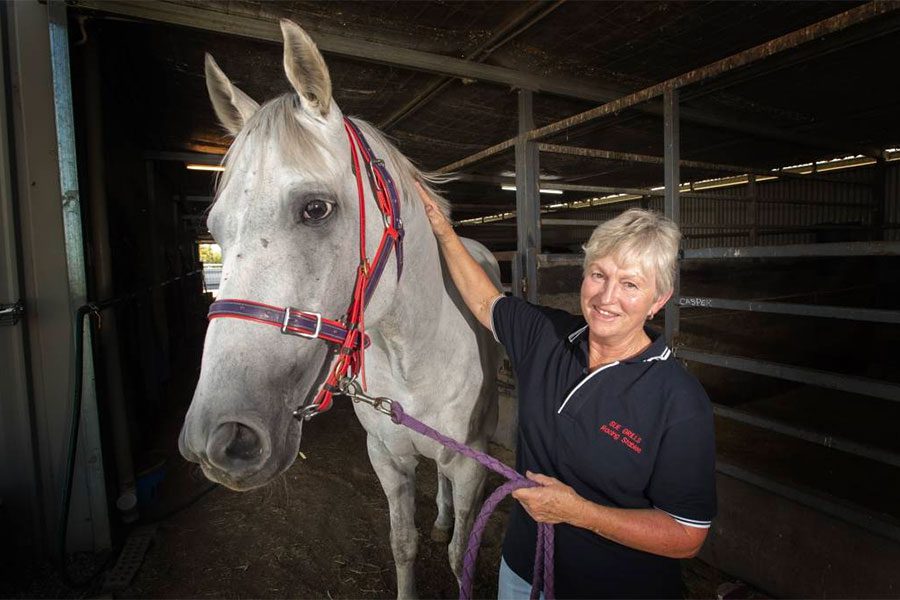 Estimated Reading Time: <1 minutes
There is no greater feeling for a country trainer than to win their hometown cup, but a veteran Tamworth conditioner believes these opportunities are fast dwindling for rural and regional stable personnel.
Indeed, Sue Grills has grave concerns about the future of racing in country NSW because of the amount of quality city and provincial horses who now contest events across the board.
These are the very events which locals once fancied themselves in.
At the top of Grills' concerns is the new Big Dance concept, which Racing NSW announced in February.
Worth a cool AU$2 million, the 1600m race will be conducted at Royal Randwick on Melbourne Cup Day each year.
But to be eligible for The Big Dance, horses must either win or finish second in one of 25 NSW country cups throughout the year.
The problem is these races are now flooded with star city or provincial horses.
The past 10 country cups have seen city or provincial trainers salute while chasing the ultimate financial reward on Melbourne Cup Day.
Grills – a former NSW Trainers Association representative – said this has affected the collective morale of rural and regional conditioners and owners throughout her state.
"You're lucky to see a country horse in some of these races, or a country-trained horse," she told HorseBetting.com.au.
"Nearly all of them are now full of city horses and the country horses can't even get a start, let alone win.
"It's disappointing for your owners, it's disappointing for the trainers and even the local jockey. They don't get any rides, either.
"It's been made out like it (The Big Dance) was made for the country. It was never for the country.
"They were maybe for the country clubs with the extra money on. But it's not doing country trainers or owners any good at all.
"I thought some big trainers would come, but I didn't expect it to get flooded big-time like it has. In the final there will hardly be any country horses at all."
Grills said she emailed Racing NSW with her concerns, but they have not been adequately addressed.
She is just as worried about owners losing interest in country racing meetings because she feels they will look for financial returns elsewhere.
"Everyone's bitterly disappointed," Grills said.
"I emailed them once and I said it's not going to do the country trainers or owners any good.
"If you want to win your own cup, I think in time we'll end up losing more horses because the owners will want to go with someone who can give them a chance of winning one of these big cups.
"Even to just win a country race nowadays is hard when you look at the amount of city trainers hammering country meetings."
Scone – with excellent facilities – has been widely lauded as the fast-emerging epicentre of country racing in NSW because of the impressive prizemoney it now has on offer.
But Grills said it was important to not forget the smaller, hard-working country trainers who want to earn a living there and across NSW.
"Look at Scone now – it's at the stage where it's nearly a provincial venue. So many city trainers go to Scone every meeting," she said.
"It's good to put up the prizemoney, but there should be at least three or four country-only trained races.
"If your horse wins a provincial and you fluke one, it doesn't mean they're that good. Then the benchmark whacks you and it's a career-ending run for the horse.
"It's not good enough to go to town. They bang up the benchmark thinking they'll go to town and fill up their fields, but they're not good enough.
"So you're not going to go from Tamworth to Sydney and think 'gee, I've got a runner in town'.
"You still want to make sure you're competitive."
Grills said the gap in ability between country horses and their new city or provincial opponents was a significant one which has proven to be almost impossible to bridge.
"We've only got $5,000 horses, and they've got $500,000 horses," she said.
"It makes it tough. It doesn't mean paying all that money automatically makes them good, but they've still got much better horses than what we've got.
"There's all this prizemoney available, but it's no good if you can't win it, is it?
"I don't think it (country racing in NSW) is progressing at all. But that's their (Racing NSW's) choice and that's how they do it."
Racing NSW was contacted for comment.