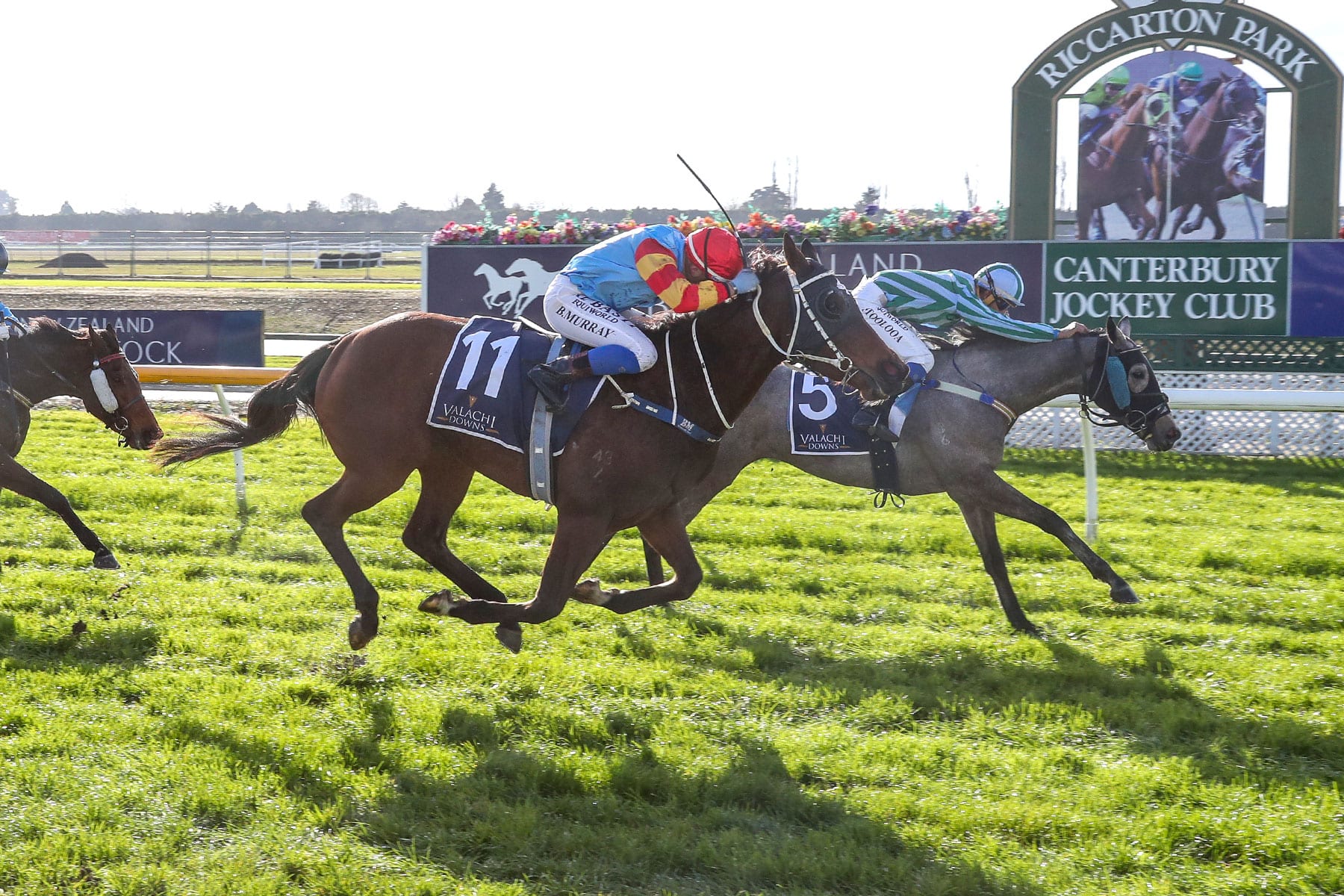 Estimated Reading Time: <1 minutes
A win in the opening event at Riccarton on Saturday with Russian Fable brought up a special milestone for popular local trainer Kevin Hughes.
The win represented Hughes 500th career training victory with the majority of those achieved in partnership with wife Pam.
For the 81-year-old Hughes, the victory was a special moment for a number of reasons.
"It's been a while coming but certainly nice to get it," he said.
"We were lucky in that it was race one and the track was at its best as she is a mare that can handle wet ground but not the really tough, heavy going.
"It was a good win and made special as the owner has been with us for a long time, so it made for a very nice moment."
For the Palmerston North born and bred Hughes a career with horses was always on the cards due to his rural upbringing.
"I grew up in Palmerston North and we always had a horse around on the farm," he said.
"I was actually working for a farmer, milking cows and was dabbling in training a little bit back in the mid 1970's when I started to get more involved.
"There was a rural circuit where a lot of the older racehorses used to compete, so I had a bit of a go with that.
"When the farmer I was working for passed away, the family sold the farm so that sort of put a spanner in the works for a while, but I ended up setting up at another property around 1985.
"I had met and married Pam and she certainly tidied up a few of the skills I was lacking and away we went."
One of those skills was Pam's ability with preparing jumpers, a passion that the pair have enjoyed considerable success with including mentoring one of the legends of the New Zealand jumps scene, Eric The Bee.
"Pam is incredible at teaching horses to jump and we have had some very talented jumpers over the years," Hughes said.
"Old Eric The Bee was probably the best and he ended up taking us around the world.
"He won the Grand National Hurdle and Steeplechase and we ended up taking him to America and Italy for jumping races during his career. He won 12 races with nine of those over fences and was just an amazing horse."
The Hughes' prepared Eric The Bee from what was then their new Riccarton base, having moved south in 1992 to be closer to family and have never looked back since.
Gallopers of the quality of stakes performers French Polish, AussieAussieAussie, the ill-fated Son Of Zac and in more recent times, Group 2 Wellington Guineas (1400m) winner Emily Margaret have flowed from their stable although Hughes admits they are beginning to wind their operation back a little now.
"We've had a lot of good success over the years, but I suppose we are slowing down now," he said.
"We are mainly looking after horses for a very loyal band of owners we have had for such a long time.
"We actually started doing a bit of travelling away from racing a couple of years ago although COVID-19 has put paid to that lately.
"It would be nice to think we can get back to that at some stage, but we have some nice horses around us that will keep us pretty busy for the time being."