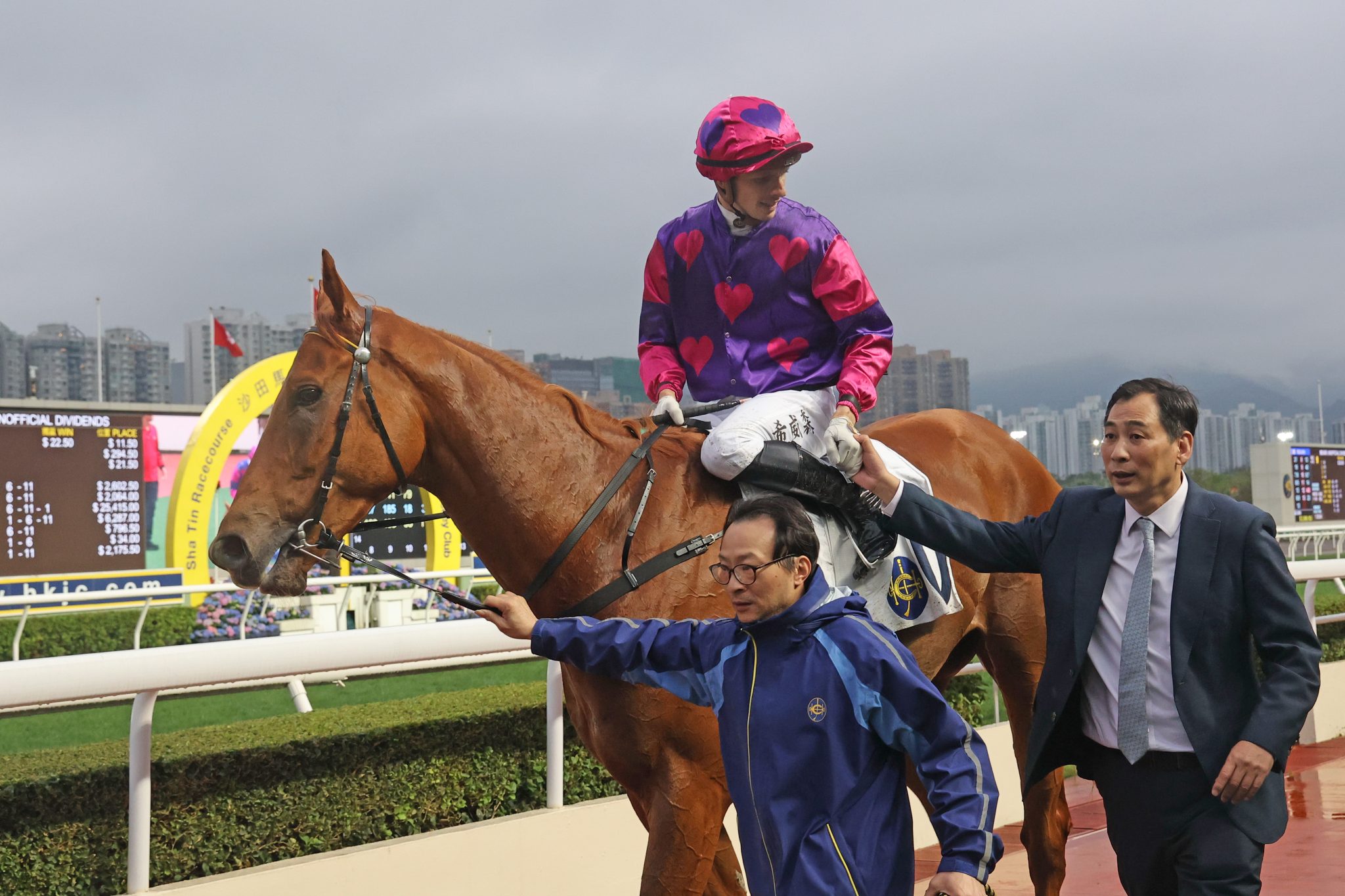 Winding back the clock almost a decade, Michael Chang lodged his first treble in nine years with a crucial three-timer at Sha Tin on Sunday to claim training honours on a stellar afternoon for the veteran.
Marking the first time since 13 April, 2014 when he combined with Olivier Doleuze aboard Sunshine Kid and Prince Of Sunshine and Douglas Whyte on Boy Oh Boy, 61-year-old Chang today led in Lost Child, Forever Folks and Ching with a statement performance.
The first Hong Kong handler to train a winner in the United States in 2014 when Rich Tapestry won the Group 1 Santa Anita Championship, Chang has also tasted success in Dubai, but with only 30 horses currently in his stable, he has struggled since hitting a career-high of 40 wins in the 2012/13 season.
Boosting his tally to 13 wins for the season, Chang was elated with the haul.
"Honestly, before the races I was confident my horses would run well," Chang said. "Lost Child and Ching, I was confident about. I expected them to run well and I got three winners today, so I'm very happy. Some of these horses are young, up-and-coming with some potential.
"It is important (to have a treble) but, honestly, I'm always confident in myself – if I train a good horse, I'm a good trainer. I can win a race in America because the horse was good enough and I am good enough. If the horse is not good enough, what can you do?"
Chang's spree started when Hugh Bowman drove Lost Child to a neck margin over Ariel in the Class 4 New Asia Alumni Handicap (1400m), prompting the trainer to predict rapid development.
"I think this horse has a bit of ability, smart horse – he learns quick," Chang said of the Swiss Ace three-year-old. "Probably, he will improve another one or two lengths.
Chang doubled his haul with Forever Folks' sweeping win in the Class 4 United Alumni Handicap (1600m), providing Hamelin with his first double since January 1 after the Frenchman had earlier succeeded on Richard Gibson's Ernest Feeling, who rallied stoutly to fend off Winwin Thirtythree to clinch the Class 5 Chung Chi Alumni Handicap (1400m).
"It's a really good day, I love the track – it's a bit wet, a bit like in France," Hamelin said. "The horse (Forever Folks) was 100% ready for the race today, he was striving well so I'm very happy."
Drawing rapturous applause from fellow trainers as he returned to the scales area after Ching's success in the Class 3 Wu Yee Sun Alumni Handicap (1600m), Chang sealed a landmark haul in tandem with Lyle Hewitson.
Excellent Fighter enhanced his burgeoning reputation with a gritty win in the Class 3 The CUHK Alumni Cup Handicap (1200m) for Ricky Yiu and Silvestre de Sousa, notching his third win from five starts.
"He's a nice horse. He struggled a little bit on the ground around the bend but when he hit the rising ground close to the winning post, that's when he found his way. He's an improving horse," the Brazilian said referring to the gelding's struggle with Mark The Moment.
Chris So-trained Flying High surged to his third win over Sha Tin straight course by overhauling Cheval Valiant to snare the Class 3 Shaw Alumni Handicap (1000m) in 56.31s under Matthew Chadwick.
Formerly trained by Pat Farrell in Australia when known as One To Remember, Flying High's trio of victories over the speed course have all come in the space of the gelding's past six runs.
David Hayes posted his 25th win of the season when Sight Hero charged through a narrow gap late under Bowman to land the first section of the Class 4 CW Chu And Lee Woo Sing Alumni Handicap (1200m).
"He's missed the start twice at Happy Valley and I thought to bring him to Sha Tin to give him a change and Sha Tin actually suits his racing pattern," Hayes said of the Loves Conquers All gelding, whose two previous Hong Kong wins came at Happy Valley.
"It's nice when a plan comes off."
A four-time winner last season, Dragon Pride ended a 12-start losing streak despite topweight (135lb) and barrier 14 to snare the Class 5 Morningside And S.H. Ho Alumni Handicap (1600m) under Zac Purton for Benno Yung.
Purton and Yung celebrated a race-to-race double when Speedie Smartie, a Satono Aladdin three-year-old, fought back after being headed by Moduleconstruction to claim the second section of the Class 4 Graduate School Alumni Handicap (1200m).
The victory marked Purton's 10th win from 24 rides this season for Yung.
Having flown overnight from Dubai World Cup Night at Meydan Racecourse where he saddled Duke Wai and Glorious Dragon, Pierre Ng celebrated his home-coming with Drombeg Banner's victory in the Class 3 Faculty Of Education Alumni Handicap (1400m) under Angus Chung.