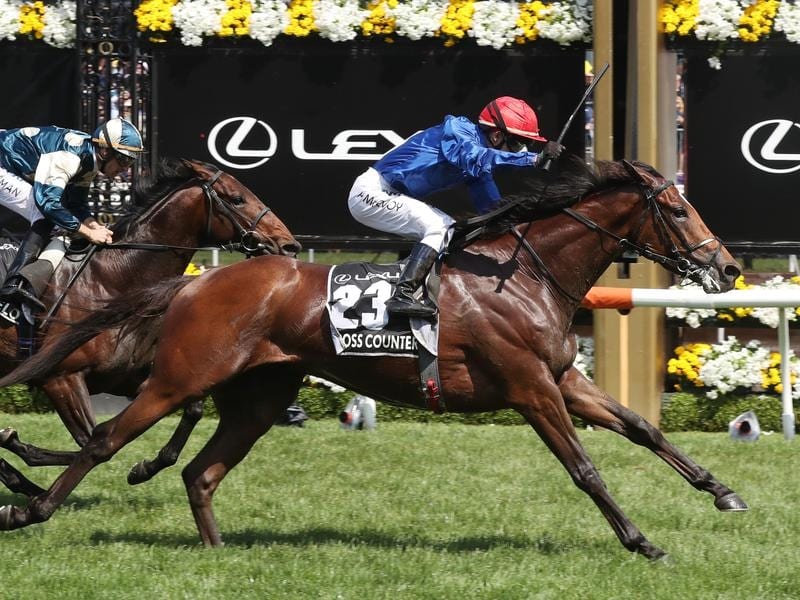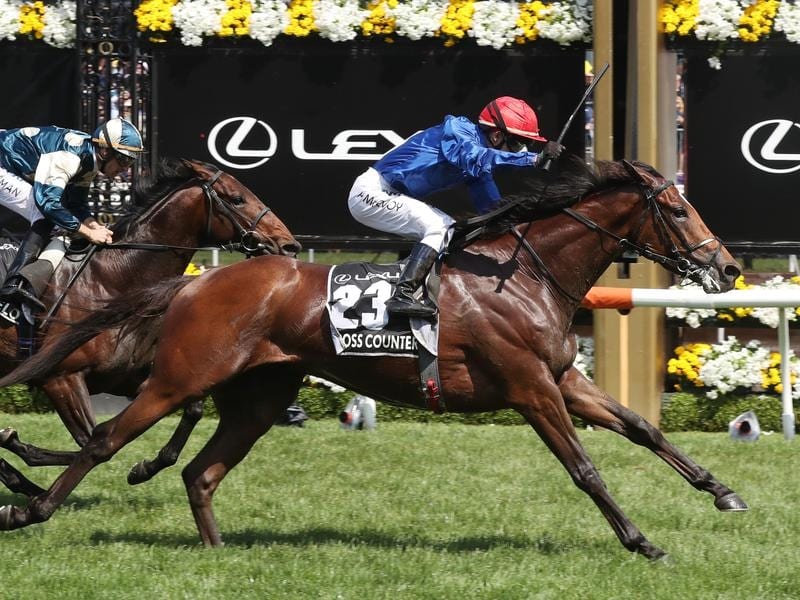 Six months ago, Kerrin McEvoy predicted this would be the year Sheikh Mohammed finally claimed a Melbourne Cup and he wanted to be the jockey to win it.
He was right.
By riding Cross Counter to claim his third Melbourne Cup at a wet and dreary Flemington, McEvoy finally handed the Dubai ruler, and one of the world's richest men, a victory in a race he'd been trying to win for 30 years.
McEvoy had not even committed to a Cup horse when he told his wife Cathy he wanted to win it for Sheikh Mohammed's Godolphin racing powerhouse this year.
"He said to me this year Godolphin are going to win it and I want to be the jockey to ride the winner," Cathy said.
Mind you, McEvoy has been saying each year Godolphin will win a Melbourne Cup one day and he wants to be in their team.
Sheikh Mohammed first tried back in 1988, and through the Godolphin royal blue colours since 1998.
"It's a huge thrill to win Sheikh Mohammed's first Melbourne Cup," McEvoy said.
"I've said to my wife many times they're going to win it one year.
"The third Melbourne Cup is a huge moment in my career. To win three is amazing."
Charlie Appleby was also thrilled to deliver for Sheikh Mohammed, and to become the first British trainer to win the Cup.
"This is everybody's dream.," a delighted Appleby said.
"This is all for His Highness Sheikh Mohammed and the royal family, and Godolphin."
McEvoy was happy to get the big win for Appleby, given the pair's close relationship when Godolphin's then travelling assistant trainer took the young jockey under his wing 15 years ago.
McEvoy remembers long trips together through the north of England and good times on the track when he was riding in the UK.
"All those days have accumulated in us winning a Melbourne Cup together."
The rain-affected track turned out to be ideal for British trainers, delivering a clean sweep for Appleby's Cross Counter, Hughie Morrison's Marmelo and Charlie Fellowes' A Prince of Arran.
But the Cup was again marred by the death of a horse, this time the Irish-trained The Cliffsofmoher who had to be put down after suffering a fractured shoulder.
While the rain cleared for the big race, the 35mm dumped from 9am on Tuesday created havoc at Flemington.
One of the two racecourse station tracks was flooded, umbrellas were the must-have fashion accessory and well-dressed guests had to slosh through water to get to many of the exclusive Birdcage marquees.
Crowd numbers were also down to 83,470, compared to 90,500 last year.
But everyone was spared the sight of the British billionaire and "crazy owner" Dr Marwan Koukash stripping down to his G-string, which he had promised to do if his horse Magic Circle won.
After correctly predicting a Godolphin win in the Cup, McEvoy now owes his family at least a swimming pool and probably a new house.
"I did promise a swimming pool, then Cathy and myself have been looking for a bigger house.
"I said yesterday that if I won I'd buy Cathy a new house, so look out."
Looking for Melbourne Cup guides? Cups Betting has all the 2018 Melbourne Cup guides and news you need right here.