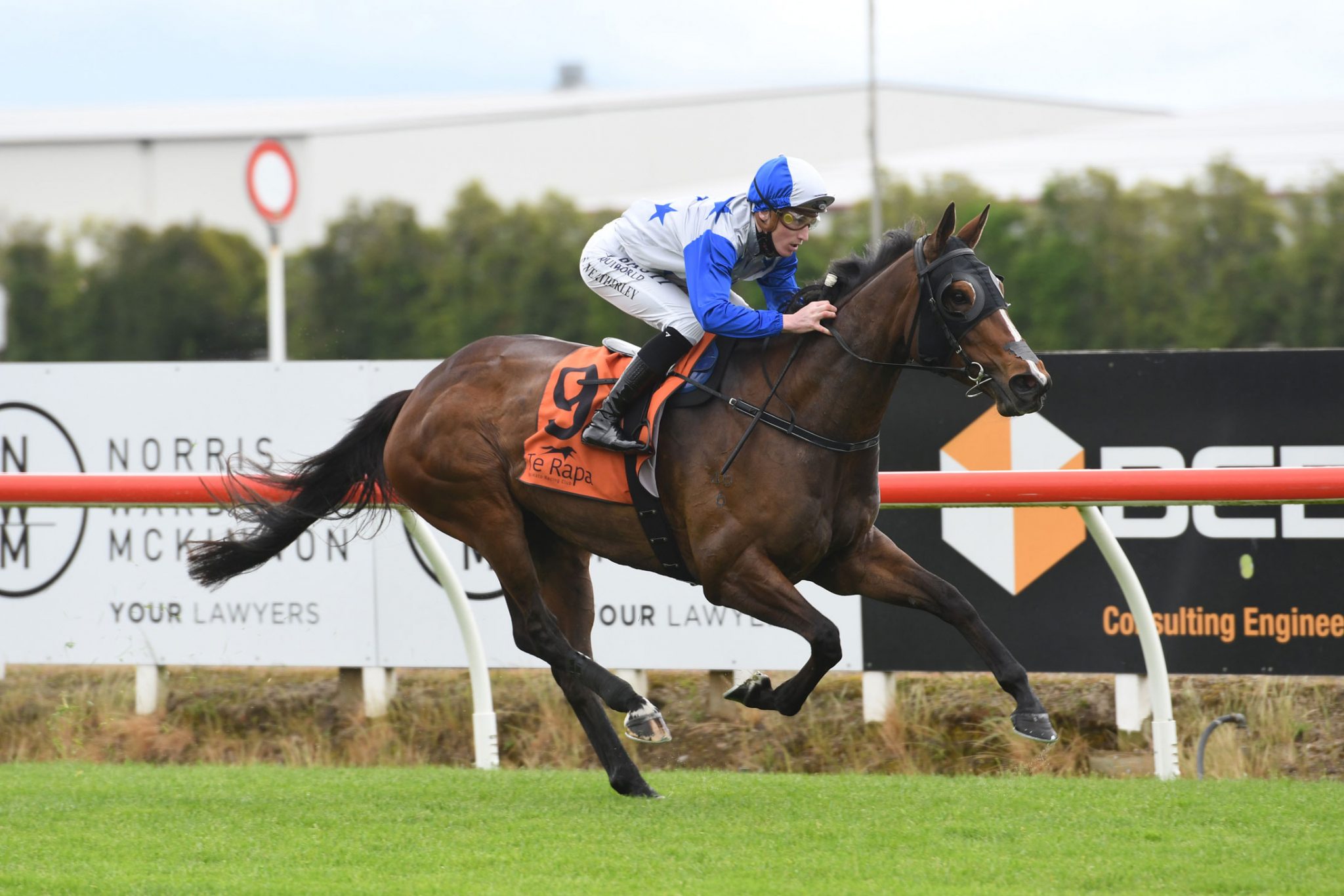 Amy Doran's faith in a mare who bled and then put her leg through a fence has led to her first victory as a trainer.
The Pukekohe horsewoman's mare Five Schillings scored an easy maiden victory at Te Rapa on Monday, leading all the way in the hands of Sam Weatherley to score a 3.25 length victory.
Doran is best-known for her time as the strapper for 10-time Group One winner Mufhasa, and her main role as a pre-trainer for horses raced by Mufhasa's owner, David Archer.
Occasionally, however, she finds herself in a position to train one of Archer's horses. She has had her trainer's license since the 2016-17 season but has had just 18 starts in that time.
Five Schillings was originally trained by Stephen Marsh but bled when tailing a maiden field at New Plymouth in early December, resulting in the mare being sent back to the Archer farm near Auckland with the intention of retiring her.
"She had quite a bad bleed, but credit to Stephen, when she came home she looked amazing," Doran said.
"David was originally going to sell her on gavelhouse or breed from her but we had to wait until the following breeding season.
"She was in the paddock, hooning around, and that's when I said 'can I have a turn training her because we've got until August to decide what to do with her'."
Five Schillings raced three times as a four-year-old in the 2021 autumn for Doran, her best effort a third-place finish at Matamata in mid-May, but she got into more trouble after a midfield finish at Pukekohe on May 27.
"Three days after that start she put her leg through a fence and cut her leg down to the bone. That's why we had to spell her," Doran said.
"We did discuss whether to put her in foal, and we decided to wait until next year. I've always known she had ability and David doesn't like putting his mares in foal too early anyway so it was worth giving her another campaign."
Five Schillings recovered well and returned to the races on October 9 at Matamata, flashing home to run second after having trouble getting clear at the top of the straight.
This effort led to Weatherley deciding to take a more aggressive approach with the mare at Te Rapa.
"I spoke to Sam in the morning because obviously we're stuck in Auckland at the moment, and he'd done his homework – he knew she was one-paced," Doran said.
"I told him 'don't go back and don't get stuck in amongst them, because she won't like that'. I wanted to sit outside the leader, but as it turned out he went to the front. It was a brilliant ride."
Despite setting a strong pace on the Dead5 track – the time was nearly a second and a half quicker than the Rating 65 1600m later in the day – Five Schillings kicked away on the turn and showed no signs of stopping.
Doran is likely to start Five Schillings next in a 1600m contest on the Pukekohe raceday for Auckland horses on November 11 before being stepped up to 2000m, a distance she feels will suit the mare well.
Five Schillings is the only runner Doran is training at present, although she may look to add to that number in the future.
"I only look to train ones that genuinely show a bit and sometimes they just need different scenery," she said. "Some of them just need that mental change."