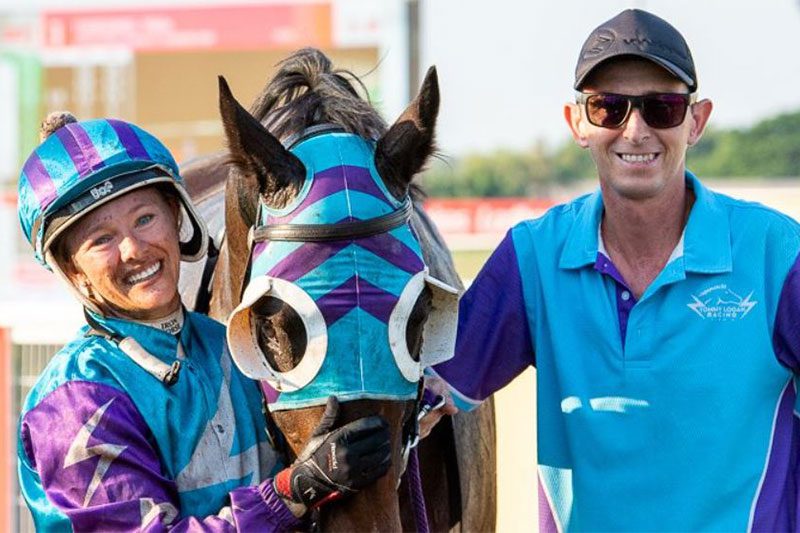 Darwin trainer Tom Logan was reluctant to purchase four-year-old gelding Freddy The Eagle at the 2022 Magic Millions Darwin Select Horse Sale during Cup Carnival on July 28.
But he can thank his cousin for twisting his arm.
The son of Free Eagle had yet to win a race for South Australian trainer David Jolly in 13 starts, although he had finished third on four occasions from 1200-1516m at Strathalbyn, Murray Bridge and Gawler.
Freddy The Eagle made his debut at Fannie Bay on Saturday and in a very open race over 1300m (BM54) proved far too good, winning by two lengths with Logan's partner Sonja Wiseman in the saddle.
Sitting behind the leaders Nokondi (Cecily Eaton) from the Phil Cole stable and Prince Ruban (Adam Nicholls) from the Gary Clarke yard in third place, Freddy The Eagle had stablemate Malibu Edition (Stan Tsaikos) for company in the early stages.
Pushing forward, Malibu Edition sat outside the leaders approaching the home turn with Freddy The Eagle two lengths adrift in fourth place before the five-year-old made his move once turning for home.
Malibu Edition held on for second to make it a quinella for Logan, while Chris Pollard's Brimarvi Rooboy (Casey Hunter) rattled home for third.
"Yeah, it was a very good result for the team," Logan said.
"Both horses had been working well during the week, but I wasn't expecting to pull the quinella off.
"Freddy The Eagle, I thought he was more of a miler, not a 1300m horse.
"It was just good to see him up on the speed – once Sonja pulled him out and gave him one with the whip it was kind of all over.
"He's a very exiting horse for the stable, that's for sure."
Logan, who is a relative newcomer to the Top End training ranks, wasn't all that interested in the horse at first and is thankful his cousin kept pushing the envelope.
"I didn't like much about him, my cousin picked him out – he wanted to buy him," Logan said.
"I bought him because my cousin liked him and he got a fair few of his mates from Casterton involved in him.
"I only had a squizz at the horses that were listed for auction – I don't really go too far in depth with them.
"With Freddy, I kind of had a look at his form and thought, yeah, nah – just skip it.
"Then my cousin said to me if the horse goes for under nine or 10 grand buy him.
"I went back and had a look at his form and he had 13 starts and he'd been in the top four eight times, so I went back and looked at a few of his replays.
"It was just like, well, you know, he comes third or fourth most of the time, only beaten three or four lengths, so he was consistent."
Freddy The Eagle went for AUD $8,500.
Malibu Edition, a four-year-old, who arrived from Victoria late last year from the Phillip Stokes stable, has performed inconsistently in 12 Darwin starts – his only win a 1300m maiden in January.
"We were going to go to the Darwin Guineas because I ride him during work myself and knew he had a lot of ability," Logan said.
"Once he gets that kick back he just doesn't go – he just goes backwards.
"Stan rode him on Saturday, he sat three and four wide out of the kick back which made all the difference and that's why he still loomed up at the top of the straight.
"He was so wide he travelled 1500m.
"Also, the saddle slipped at about the 300m or 400m and that's why Stan sat up in the saddle – it was a really good run.
"He's a horse that needs a little bit more time – another prep he'll be a completely different horse.
"Hopefully he gets used to the kick back a little bit more and when he does he'll win quite a few races up here."
Last Saturday's meeting at Fannie Bay was the first hosted by the Darwin Turf Club in three weeks after repairs were made to the track surface with the wet season imminent.
Logan had a winner that day when Blueberry Boy saluted over 1200m (Class 2) with Wiseman on board, the five-year-old gelding's second win in four starts after saluting on debut over 1100m (BM54) in May.
Blueberry Boy, who is part-owned by the very same cousin who encouraged Logan to secure Freddy The Eagle, finished second in his two other NT starts over 1200m (0-58 and BM54) on Darwin Cup Day on August 1 and then on August 27.
Meanwhile, Logan, who trained his first Top End winner in the opening race on the Melbourne Cup Day program last year when Wiseman – lining up in her first race after being sidelined for months with injury – booted Fromthenevernever home in a 1200m maiden, believes Blueant is the horse to watch from his stable.
The six-year-old gelding won on his Darwin debut over 1200m (0-70) in March and then finished unplaced in his next five starts before running third behind Bad Pad over 1200m (0-58) on Saturday.
"Blueant, he just had a bad virus and is just slowly getting there now," Logan said.
"I honestly think he's the best horse I've got in the stable.
"If he's 100 per cent he could be a Palmerston Sprint horse."