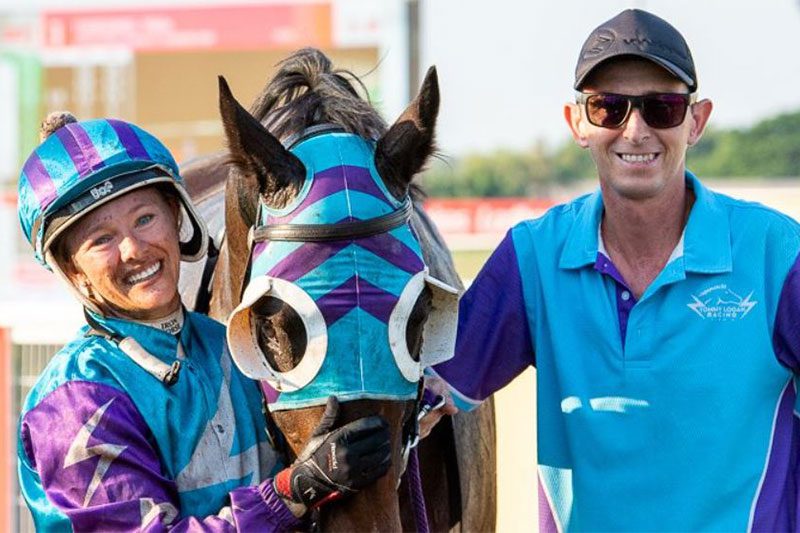 Darwin trainer Tom Logan will be missing a vital cog from his repertoire on Friday when he fronts for the races at Fannie Bay.
Logan's partner, Sonja Wiseman — the leading jockey in the Top End and Red Centre this season — is sidelined after having surgery on her right wrist at Royal Darwin Hospital on Monday.
Wiseman suffered serious injuries following a three-horse fall in July last year during the Darwin Cup Carnival that also claimed fellow riders Wayne Davis and Alice Lindsay.
As for Wiseman, she hit her head on the track after falling from her mount Supreme Times and, apart from having a seizure, her injury was diagnosed as a traumatic brain injury.
All three jockeys, thankfully, returned to the saddle once covering from their injuries.
Out of action for three months, Wiseman — who also injured the wrist in the fall — hit the ground running, and in the past 13 months she has booted home 80 winners in the NT.
She currently leads the Top End (15) and Alice Springs (16) premierships for the 2022/23 season.
Jarrod Todd (14), the champion rider in the tropical north for the past three years, returns on Friday after missing last Saturday's meeting because of suspension and, with five rides on the six-event program, is every chance of overtaking Wiseman.
"Sonja hurt her wrist when she had that fall a couple of (Darwin Cup) Carnivals ago and finally got it done on Monday," Logan said on Wednesday.
"It's only a minor operation on her wrist – hopefully she only misses this one week.
"She has been dealing with it for some 16 months, it has been giving her a lot of grief.
"Just getting everything organised and sorted through work cover and everything else has taken a long time to get approved.
"It's probably a good thing it's getting done during a quiet time of year.
"I'm definitely proud with the way Sonja is going, she's on fire.
"She rides a lot of winners up here and in Alice Springs as well, she's riding in great form."
Jockey numbers are on the light side in Darwin because of injuries and suspensions, so Logan has secured Rockhampton-based jockey Ashley Butler to ride Freddy The Eagle (Race 1), Malibu Edition (Race 2), Virtuous Miss (Race 5) and Euphegenia (Race 6) on Friday.
Fellow Queensland jockey Tessa Townsend, based in Toowoomba, rode for Jason Manning and Dick Leech in Darwin last Saturday and returns to Fannie Bay this week to fulfil five rides for Tayarn Halter.
Apart from Alice Springs-based jockeys Paul Denton, Phillip Crich and Ianish Luximon making the trip for the meeting, Victorian jockey Mark Pegus also has three rides for Chris Nash and Gary Clarke.
Logan, who has trained seven winners this season to sit in equal-third place with Mark Nyhan behind Clarke (19) and Halter (8) in the Top End premiership, has also worked in the racing industry in Alice Springs, Victoria, South Australia and Queensland.
"Sonja is very good friends with Ashley's partner and I had a bit to do with Ashley when I was down there – he's a really good rider, a heavyweight rider," he said.
"When I booked him I had a look at his strike rate – he rode 20 winners out of his last 50 rides.
"Ashley arrives on Thursday to ride the horses and they're all very good chances."
Virtuous Miss will start in the Darwin Racing 0-70 Handicap (1100m) – the feature race (Race 5) – and is a strong hope after a six-length win against Class 2 opposition over 1100m on Melbourne Cup Day.
The Chloe Baxter-trained First Crusade, a first-up winner by seven and a half lengths over 1200m (0-64) on November 19 after a four-month spell, was quoted as a short-priced favourite.
"Virtuous Miss is going really well, yeah, she's super," Logan said.
"We're just spacing her runs – she's quite sound, but she's got her little issues like a lot of horses in Darwin do.
"She's spot on though, but it's a very competitive race, that race, a very good race.
"It's a good challenge for her, so at least we're going to know where she's at after Friday."
Logan also has high hopes for Freddy The Eagle and Malibu Edition, who have been racing well, although they finished fourth and seventh, respectively, last start.
Due to some commotion in the barriers, Freddy The Eagle — who was aiming for three straight wins — blew the start.
"He's a very spooky horse – hence the pacifiers on him – and when a barrier attendant jumped in to help the horse beside Sonja that was playing up he just reared up and missed the kick," Logan said.
According to Logan, Malibu Edition is an honest horse with a bright future and there were excuses when he was shuffled to the rear of the field after being flattened not long after the start.
"You know, I reckon he'll run a really good race – he's had 11 runs this prep," he said.
"He's still really immature and he's slowly, every day, just getting more mature."
And then there's Euphegenia, the only one of the four starters on Friday that has yet to get a win for Logan.
"She's a new horse to the stable, she's come a long way since I got her," Logan added.
"I'm really happy with the way she has been working, so she's a pretty good chance as well I reckon.
"She's drawn barrier two, hopefully get to the front, and just keep going from there."