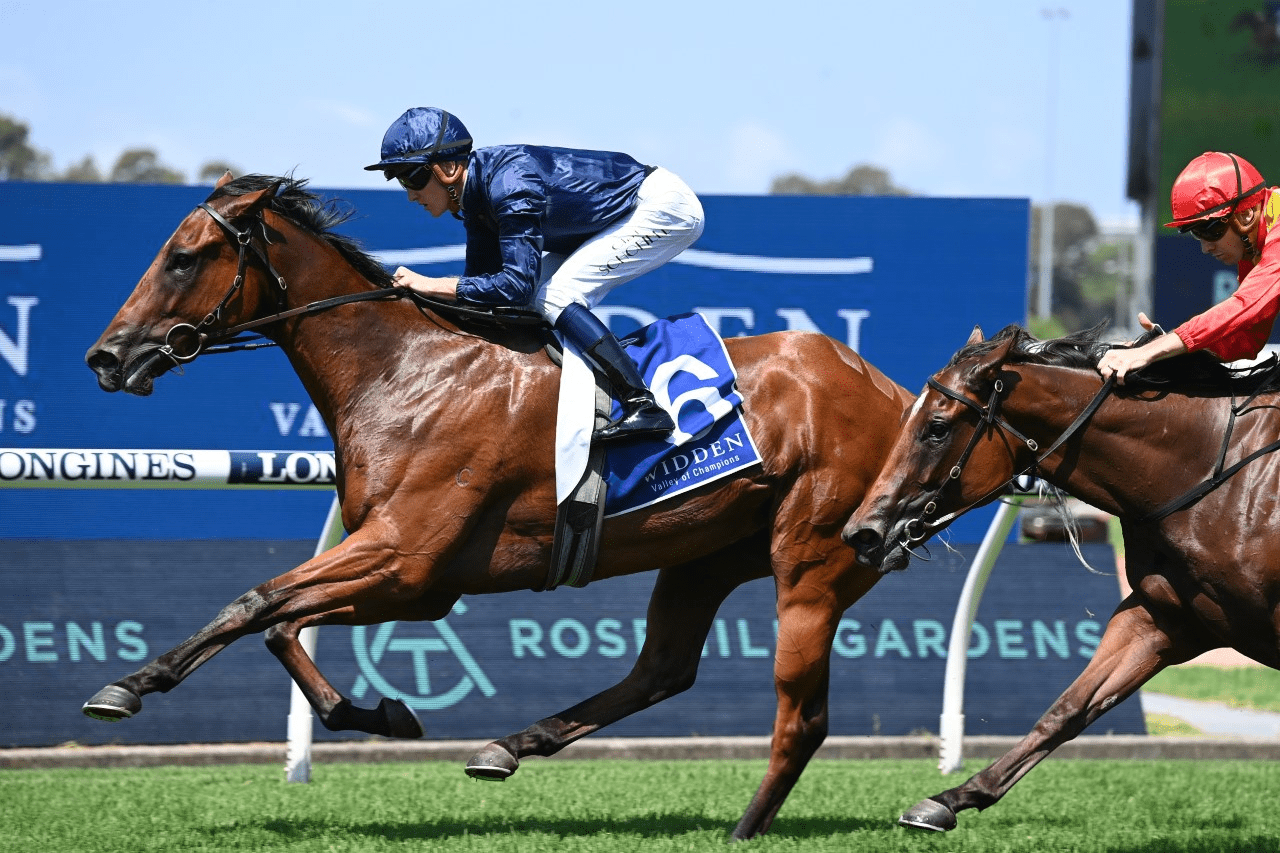 Deciding not to run Learning To Fly in last year's Gimcrack Stakes not only proved a godsend for Annabel Neasham, but that decision now has her equal favourite for the Golden Slipper.
These were the thoughts of James Bester, a bloodstock consultant to Coolmore, after the filly's stunning half-length victory in the Widden Stakes over 1100m at Rosehill on Saturday.
Bester described her debut performance as "extraordinary" and Neasham said she was "special" after the Group 3 sprint.
The precocious two-year-old could have stunned the racing world on debut in the Gimcrack Stakes on October 1 last year, after finishing runner-up to Sicilian in a trial over 850m at Randwick on September 19.
But judging by the way she held off Steel City on the straight in such a gutsy manner, this was proof that her connections made an excellent call.
"She turned up at the first two-year-old trials of the season and showed good acceleration," Bester, also a part-breeder of Learning To Fly, told HorseBetting.com.au.
"She wasn't screwed down the way the winner of that particular trial was.
"And we were quite confident that if she came out in the Gimcrack Stakes, she would turn the tables.
"However, she was growing and showing that if put away for a few months she'd come back bigger and stronger."
And that was exactly what happened.
Learning To Fly presented in superb condition on Saturday.
"She's a big girl anyway, and a very strong girl," Bester said.
"Sometimes with those you just need to let their musculature really catch up with their big frame.
"They just have to mature a little.
"So this second prep when she came back, Annabel started saying things like 'this is probably our best two-year-old and she's definitely a Golden Slipper filly'."
Despite such high praise, there were still unknowns heading into Learning To Fly's debut at Group 3 level.
Those doubts were quickly dispelled.
"We expected to see a lot of ability on Saturday, but because she was making her debut you never know what other factors could've come in," Bester said.
"And the factor of pace could have easily brought her undone.
"But even before the turn she was travelling so comfortably, you got the feeling she would run on with it."
Bester said he saw glimpses of Learning To Fly's talent and tenacity to win in her early months.
But he was still blown away by the way she just kept finding more speed to hold off Steel City for Ciaron Maher and David Eustace inside the final furlong.
"I thought it was an extraordinary win, especially given the leader and third horse who were up on the pace with her faded to finish last (Lizzie's Gem) and second-last (Perfect Proposal) respectively," the top bloodstock consultant said.
"The fact she then kicked on, surged to the lead and then when challenged by fresher horses from the back, she found again.
"And in my opinion she was going away on the line. I thought that was quite extraordinary and indicative of a truly superior cardiovascular system."
Bester also saw the amount of natural talent Learning To Fly possesses from very early on.
"It's hard until they're tested to that extent. Nobody screws them down as two-year-olds like that," he said.
"But she certainly showed extraordinary ability all the way through, even when she was being broken in.
"She wanted to get on with things, so she was ridden at the back of the pack at the Coolmore breaking-in complex.
"And she always just looked like she was doing everything so much more easily than any other horse.
"And then as soon as she went into Annabel's stable and galloping in earnest, again she showed fabulous ability."