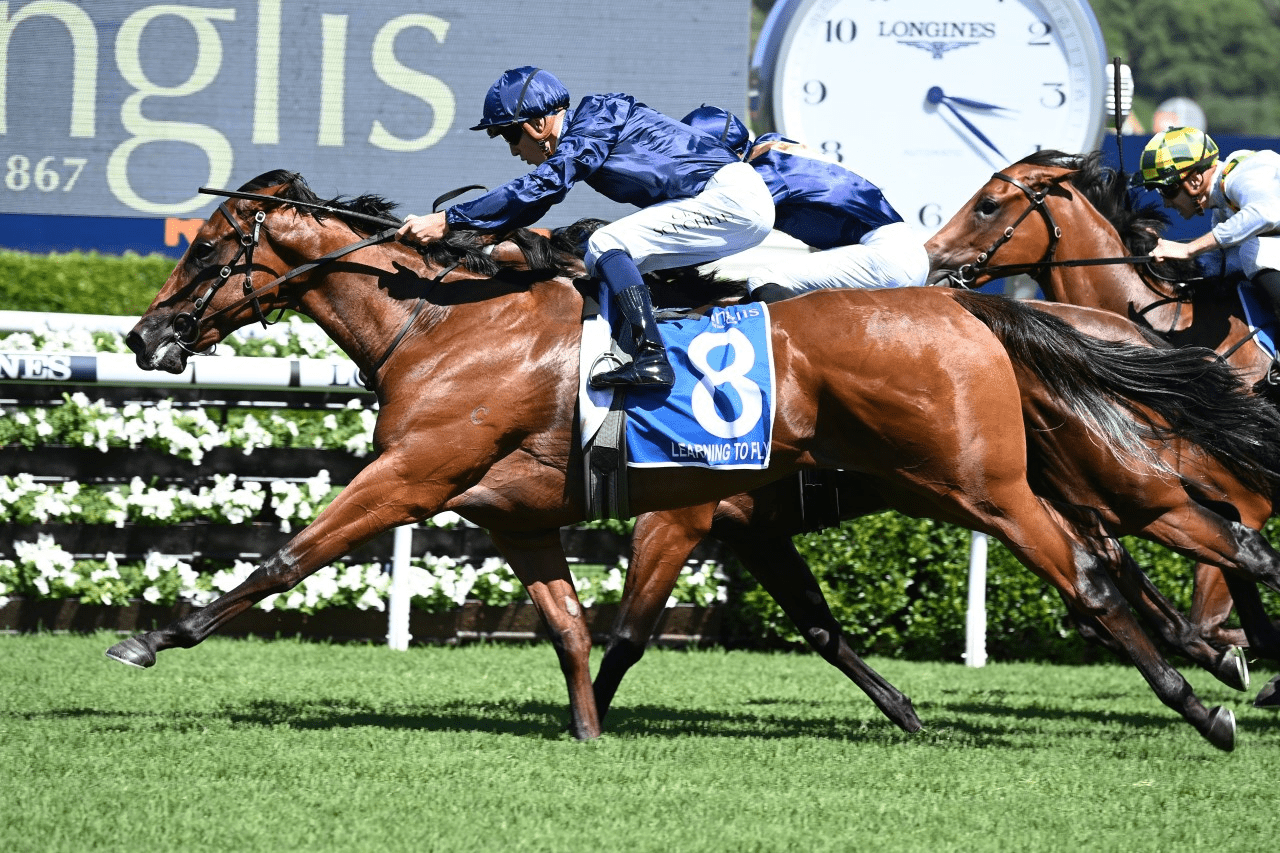 The Annabel Neasham-trained filly Learning To Fly has scored an empathic win in this year's $2,000,000 Inglis Millennium.
The well backed commodity for the Golden Slipper only solidified her favourite status in that race with a dominant win at Randwick on Saturday afternoon.
Jockey Chad Schofield had no choice but to go back from the horror barrier draw; however it was perfect steer to find a three wide line getting the back of well backed filly Blanc De Blanc.
The speed was on early and it showed in what was looking to be a blanket finish as several gallopers made their run as seven horses fanned across the track with 200m to go.
Lazzago was pushing clear, as was Kundalini and Blanc De Blanc, but it was Learning To Fly the widest of them all producing a thunderous turn-of-foot to take home a massive win and possibly a Ferrari for someone at team Coolmore.
2023 Inglis Millennium – Learning To Fly
It wasn't all great news for the Annabel Neasham team however; with stablemate Dorothy Gal suffering a fall back at the 300m marker with Tom Marquand being assessed post-race with Neasham attending to him as well.
"That was pretty awful, he's okay (Marquand), he's sitting up and holding his shoulder, but he's okay," said Neasham on the welfare on jockey Tom Marquand.
"Funny moment, you win a race – but I hope he's okay."
Then it was all about the incredible win by her filly Learning To Fly.
"Yeah, she's very special," said Neasham.
"She obviously had a lot to do from the draw and probably the way the track was playing today the horses were making up ground which made me a little more confident."
"We made that call we'd ride her a little more quieter, but she's got some much gate speed Chad (Schofield) had to restrain her back. But he was oozing confidence before the race."
When discussing her rise in stacher in the training ranks, Neasham spoke very humbly.
"I have to pinch myself a little bit," said Neasham.
"I'm almost speechless really, to win a big race like that In those colours, it's very special."
Neasham also gave some insight as to having one more run prior to the Golden Slipper.
"We'll see how she pulls up, but I'd imagine – It'll be more likely the Reisling (Stakes) and then into the Slipper."
Jockey Chad Schofield has a big opinion of this filly out of Justify as well.
"She's a filly I just loved from the first day I sat on her, I knew she was a top class horse," said Schofield
"I thought at the top of the straight I was going to hit the line and run into third or fourth because I had so much work to do. But she just kept picking up, picking up. She's got a dynamic turn of foot as we saw today."
It's now been confirmed post-race that jockey Tom Marquand has suffered a broken collarbone and has a possible concussion. He's on his way to hospital for further assessment.