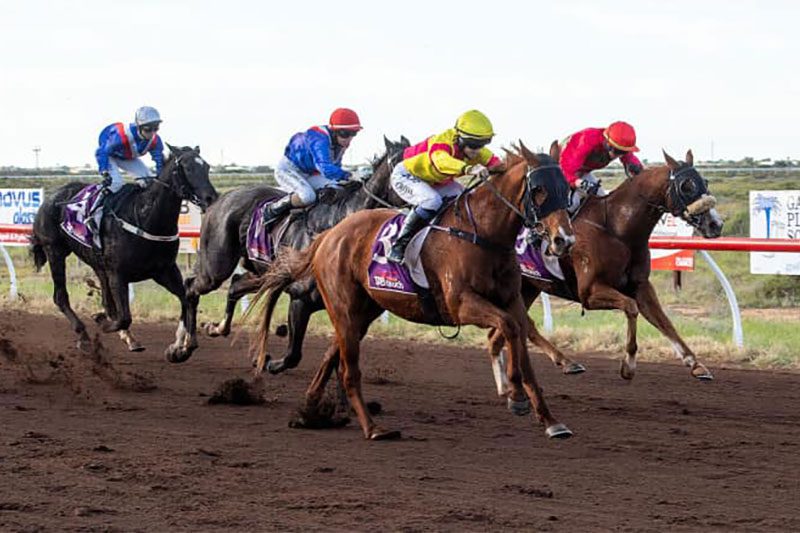 Kayla Cross is happy to be living in Western Australia, but the jockey has travelled far and wide to forge a career in the saddle.
She started her apprenticeship in NSW, rode in Queensland and the Northern Territory, completed her apprenticeship in South Australia, and then relocated to Western Australia.
It has well and truly been a long and winding road.
She even won the 2016 Birdsville Cup in outback Queensland aboard More Alpha for South Australian trainer Heather Lehmann.
It just goes to prove the sacrifices an individual is willing to undertake to make an impact in their chosen sport or profession.
Happily, everything is seemingly falling into place and it's unlikely Cross will be leaving WA anytime soon.
Along her journey, Cross has also endured her fair share of injuries and suffered a certain amount of personal heartbreak.
After leaving Darwin permanently in 2020, Cross was based in Broome.
The 31-year-old now resides in Lark Hill, located about 60km south of Perth, and is quite content to ride on the Western Australian country circuit.
"I don't particularly get a lot of rides around locally, so a lot of it is travelling," she said.
"Get on a charter flight or Qantas or Virgin.
"Did the Esperance season and I'm doing the Kalgoorlie season now.
"There was a country circuit that started when I got to Lark Hill.
"It went for about six to eight weeks before Esperance started.
"All the seasons here means more race meetings.
"I've ridden at a few different tracks including Pinjarra, Albany, Meekatharra, Narrogin, Geraldton and Carnarvon."
An arm injury has curtailed her career.
After her first surgery in 2018, Darwin-based Cross made a return and rode at the Broome Cup Carnival.
She had ridden in Broome previously.
"I had a very successful Carnival and then a lot of trainers were saying I should come and base myself in WA," Cross said.
"So I based myself in WA from the Broome Carnival which I rode up until what would have been another six or seven months – but then I had trouble with my arm again and I needed a second operation.
"Basically, I was up in the NT sort of on and off for five years.
"I then had surgery again on my arm in 2020 – Australia Day – so I had about a year and a half off.
"When I was coming back from my surgery I was asked to go to Broome which I thought was a good place for me to start coming back from the surgery.
"I had a good time and there were more opportunities for me.
"There's a lot more race meetings in WA and I basically stayed because there was more opportunity to get more rides.
"I do love WA itself as well."
Growing up in Hawkesbury in the north-western outskirts of Sydney, Cross started her apprenticeship in Port Macquarie in 2009.
It was then off to Queensland in 2011.
"My boss in Port Macquarie at the time Pat Quinn, he passed away and then that's how I got to Queensland," she said.
"I went to Gympie and then up to Rockhampton.
"I had a bad trackwork fall in Rockhampton and I came back home to Sydney."
From that point, Cross' destiny turned full circle when she elected to return to racing.
"I then got a job with Guy Walter to start trackwork again," she said.
"He offered me an apprenticeship, so I took that and that was probably the best decision I ever made.
"I was with Guy up until he passed away, so I did some of my apprenticeship at his Goulburn base and then at the end of it I was based at Warwick Farm.
"Just before Guy passed away I went and did my first Alice Springs Carnival in 2014.
"I had a really good Carnival up there.
"The day before I returned home Guy passed away.
"So then with the contacts I made in the NT, I ended up going up to Darwin for their Carnival which follows Alice.
"I finished the last six months of my apprenticeship in Adelaide just from my NT and SA connections."
Cross had the opportunity to ride for leading trainer Richard Jolly.
Then it was back to the NT.
"At the time when I was coming out of my time the Darwin Carnival was about to start up again, so I ended up going back to Darwin," she said.
"So I had my first ride as a senior in Darwin.
"I more or less stayed up there for the next couple of years before coming to WA.
"It's a pretty good lifestyle here."
Cross experienced further tragedy when close friend and fellow jockey Melanie Tyndall passed away after falling from her horse during a race meeting at Fannie Bay in August 2019.
However, Darwin and the NT will always be a special place for Cross.
"Lot of good people, it's a really cruisy lifestyle," she said.
"It was always pretty much stress free, which I think is why I loved it so much.
"I came from Sydney to the NT.
"No traffic and everything is five minutes away, and I used to love the weather."