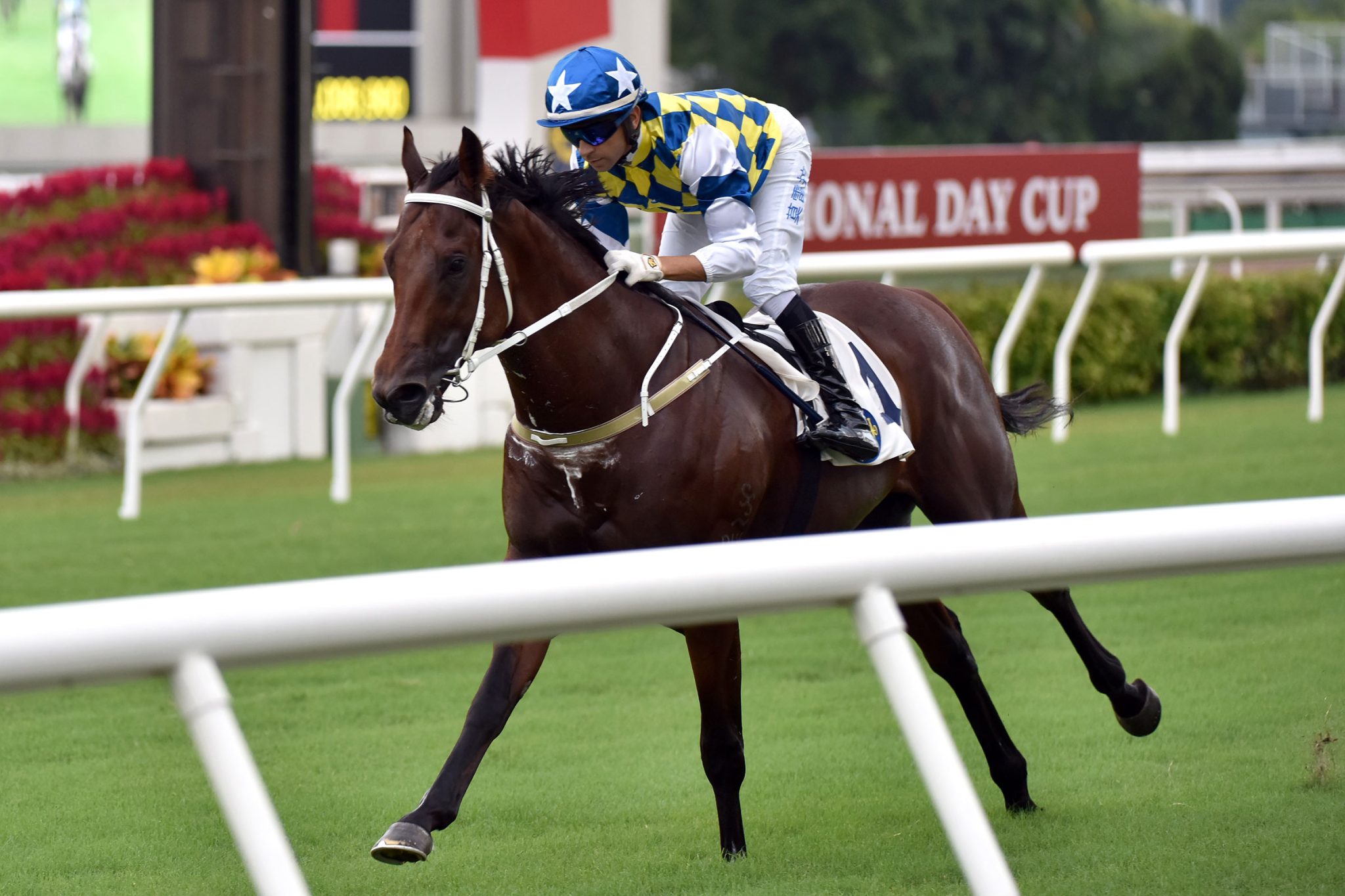 Jimmy Ting stunned Sha Tin last year when Amazing Star landed the Group 2 Sprint Cup (1200m) at odds of +17800 and this Sunday (3 April) the handler is out to do it again, taking aim with Computer Patch – a recent big-name acquisition to the stable who is hunting an overdue win.
A reliable performer who placed at Group 1 level last term, Computer Patch finished a length off winning a hot Class 1 at his first run for Ting earlier this month in a contest which also featured Hot King Prawn, Master Eight, Super Wealthy and Sight Success – an effort the 49-year-old trainer hopes will springboard the bay to lucrative late-season riches.
"This horse is similar to Amazing Star, if he gets a good position then he can run well, I hope I can win it again – fingers crossed," Ting said. "If he runs well, we'll go to the Chairman's Sprint Prize."
Generally, an on-pacer, Ting has employed new tactics for the five-year-old to adhere to, adopting a more conservative approach in the run as he pursues his first win since claiming the Group 3 National Day Cup Handicap (1000m) on 1 October, 2020.
"For me, I don't think he is a leader, I think with a good position he can take a sit and then in the straight sprint fast and keep going, his sprint isn't too strong, but he will keep going," said Ting ahead of this weekend's HKD$4.75 million Sprint Cup at Sha Tin.
Computer Patch has banked HKD$16.65 million for connections, largely due to his close-up second for trainer Tony Cruz and jockey Matthew Chadwick in the 2021 Group 1 Chairman's Sprint Prize (1200m) behind Wellington.
"He just needs to be a bit more relaxed, take a sit and I think he can be better doing that, his form is good, so I hope that he will run well," Ting said.
This weekend, Ting has called on Matthew Chadwick to ignite the bay as he squares off with Wellington, Hot King Prawn, Sky Field, Stronger and Master Eight.
"This time, I'm using Matthew because he knows the horse and Antoine Hamelin is on one of John Size's, so I gave him to Matthew because when the horse was with Tony Cruz he rode the horse well and he ran well, he knows the horse so that's why I want him on," Ting said.
Last year's Sprint Cup win by Amazing Star gave Ting his biggest success as a handler since he was granted a full trainers' licence ahead of the 2018/19 racing season.
"He (Computer Patch) ran well first-up, I think in the mornings at trackwork he has been more calm and more relaxed, so I hope with a good draw he can take a sit and run well," Ting said.
Ting is enjoying a fine season this term with 24 wins, enhancing his overall tally to 128.
"Last time I pushed him hard to drop a bit of weight, so this time I hope his (body) weight has come back up so that he will be much stronger and run even better," he said.
Computer Patch's last declared body weight of 1077lb is the lightest he has raced under.
Prior to this weekend's Group 2 double-header – which also features the HKD$4.75 million Group 2 Chairman's Trophy (1600m) – Ting will saddle five runners on Wednesday (30 March) at Sha Tin's eight-race all-dirt fixture including last-start winner Mission Bravo who challenges the Class 4 Cheung Sha Handicap (1800m, dirt).
"He surprised me with his last win, I hope that this time he can run well like last time, I still don't know how he won, I hope that he will run well because he performs on the dirt.
"He's improved since last time, I hope he's a dirt horse because I'm still confused about his last win," Ting said.
Mission Bravo made all under a confident Luke Ferraris earlier this month on the dirt at +7900.
Later, Ting has Man Star engaged in the Class 3 Pui O Handicap (1200m, dirt) in a bid to recapture his sparkling form from last season which returned three wins on the dirt.
"He's been a little bit disappointing this season, I think last season he was too fit and this season his form has come down, I hope he can run well but maybe it's a bit difficult this time," Ting said.
The Australian bred son of Shooting To Win has returned two placings from eight runs this term.
"Normally, he's much better on the dirt, he's been a little bit disappointing on the turf but in Australia he ran well on the turf but in Hong Kong he just can't handle it, I don't know why, but on the dirt he is a different horse," Ting said.
Man Star (128lb) pairs with Harry Bentley from gate nine against the likes Sunny Boy (132lb), Metro Warrior (131lb), Drops Of God (130lb), Lightning Bolt (121lb), Trader (118lb) and Like That (114lb).
"His form is better than his last few runs, but he's not at his top form, I just hope that he will run well," Ting said.
More Hong Kong horse racing news