Estimated Reading Time: <1 minutes
Nearing the end of a record-breaking first full-season in Hong Kong, apprentice jockey Jerry Chau's exploits in the saddle have encompassed a noteworthy win strike rate of nearly 12%, bettered only by Hong Kong's 'big two' – Joao Moreira and Zac Purton – but the 21-year-old is heading into the season's third-to-last fixture at Happy Valley tomorrow (Wednesday, 7 July) hopeful of boosting the score.
Under the tutelage of the Hong Kong's iconic 13-time champion jockey-turned-trainer, Douglas Whyte, Chau has flourished with 53 wins this term, the most of any apprentice in a single season since Matthew Chadwick struck up 43 triumphs through the 2008/09 season.
"It feels good – thank you to my boss (Douglas Whyte) for giving me the opportunities, teaching me a lot and giving me the confidence which is very important," Chau said.
As far as people to learn off in Hong Kong, Chau has landed on his feet with Whyte's expertise in the saddle readily available at his demand and this season the duo has combined for 19 wins in tandem, including a sizzling 12 since the start of May.
"From my boss, I've learnt to think quicker in races and that everything changes so fast, especially in Hong Kong and if you wait for one second, the position is gone.
"He trusts me and every time after each race he teaches me and lets me know which part of the race I should have done better but he supports me and gives me the confidence – I think that's why I keep doing the right things," Chau said.
Showing no signs of slowing, Chau has slammed in 21 winners since the start of April, a score he puts down to hard work and a 'confidence' instilled in him by the most successful jockey in Hong Kong history, Douglas Whyte.
"At some points results haven't been good but it's just to keep working hard and it's all going better now, me and my boss have had very good seasons – he just gives me confidence.
"He's (Douglas Whyte) like a perfect man, he wants everything to be perfect and there's a little bit of pressure that comes with that but a high standard helps me lift, if I just think a little differently it improves me a lot," Chau said.
Heading to the city circuit tomorrow, Chau takes riding duties on four mounts for his master, including Rainbow Light in the Class 4 Green Lane Handicap (1650m).
"His mind is mature, I rode him at the start of the season a few times and he gave me a good feeling each time – he feels like he's improved with each run," Chau said of the Irish-bred.
Having arrived in Hong Kong as an unraced import, the son of Outstrip has since been tested eight times, finishing inside the placings on three occasions.
"Last start he ran well but I think he has a chance tomorrow evening," Chau said.
Chau's 53 wins are five shy of Vincent Ho's 58, who tops this season's Tony Cruz Award as the leading homegrown rider, while Derek Leung trails them with 38 wins.
Chau will also partner a pair of last-start winners in Sure Win Win and Simply Fluke, as well as Valiant Elegance who stretched his rivals by over two lengths two starts ago.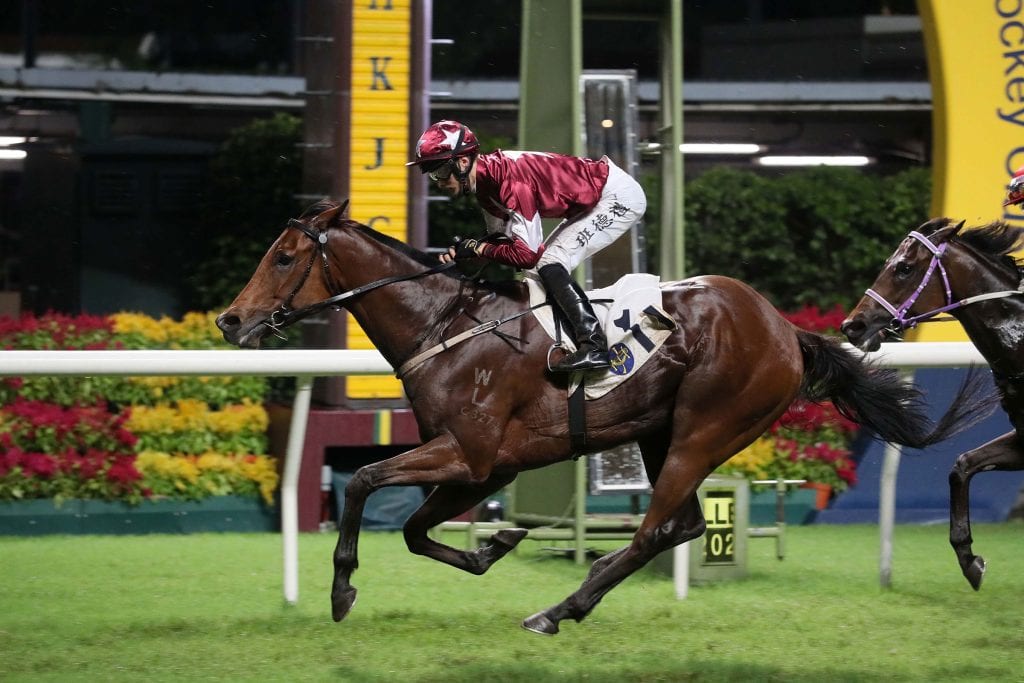 Bentley hopes to build on successful start
Gaining a foothold as a jockey in Hong Kong is not easy, especially as a mid-season recruit but with 113 rides in his wake and three wins to his name, Harry Bentley is looking to further establish himself in the city as he reflects on a productive first three months in the Far East.
"I've really enjoyed it, it's been a steep learning curve – you're thrown in the deep end and it is tough but I've very much enjoyed my time, I've learnt plenty so far so hopefully I can take whatever I've learnt into next season and have a good enough start," Bentley said.
Readying for six rides at tomorrow night's fixture at Happy Valley, Bentley is aiming to guide Classic Posh to back-to-back wins in the second section of the Class 3 Hawthorn Handicap (1200m).
"Things went really smoothly last time, we were able to get a lovely pitch from a good draw and he quickened up nicely, so hopefully he can do much the same," Bentley said.
Breaking from gate two last start, the son of Testa Rossa will instead be tested with gate seven this time around against 11 rivals.
"I'd like to have been as close to the fence as possible as everyone does but he's a horse who can take his time, so if I can just drop him, he has a good turn of foot so he should be fine," the Englishman said.
"I'd imagine the horses on the inside will just go forward and hopefully we can just slot in behind them," he added.
Bentley worked the bay in a gallop on the dirt yesterday morning (5 July), clocking 31.7s for the 400m workout.
"He feels good, we just did a steady bit yesterday but he's in good spirits and I'm hoping for a good run," he said.
Earlier on the card, trainer Benno Yung is hopeful Amazing Rocky can offset a wide gate and top weight and claim the Class 4 Sauternes Cup Handicap (1000m).
"Unfortunately he has draw 11 and he needs to carry top weight, so they're the concerns but his form recently is pretty good," Yung said.
The four-year-old led from pillar-to-post last time out under Zac Purton who again takes the reins.
"He went to Conghua and he enjoys it a lot there, because has a lot of speed at Happy Valley has a short straight so it helps him a bit more, Sha Tin is still ok but the speed helps him a bit more at Happy Valley," Yung said of his charge of who recently shuttled to Conghua following his latest win.