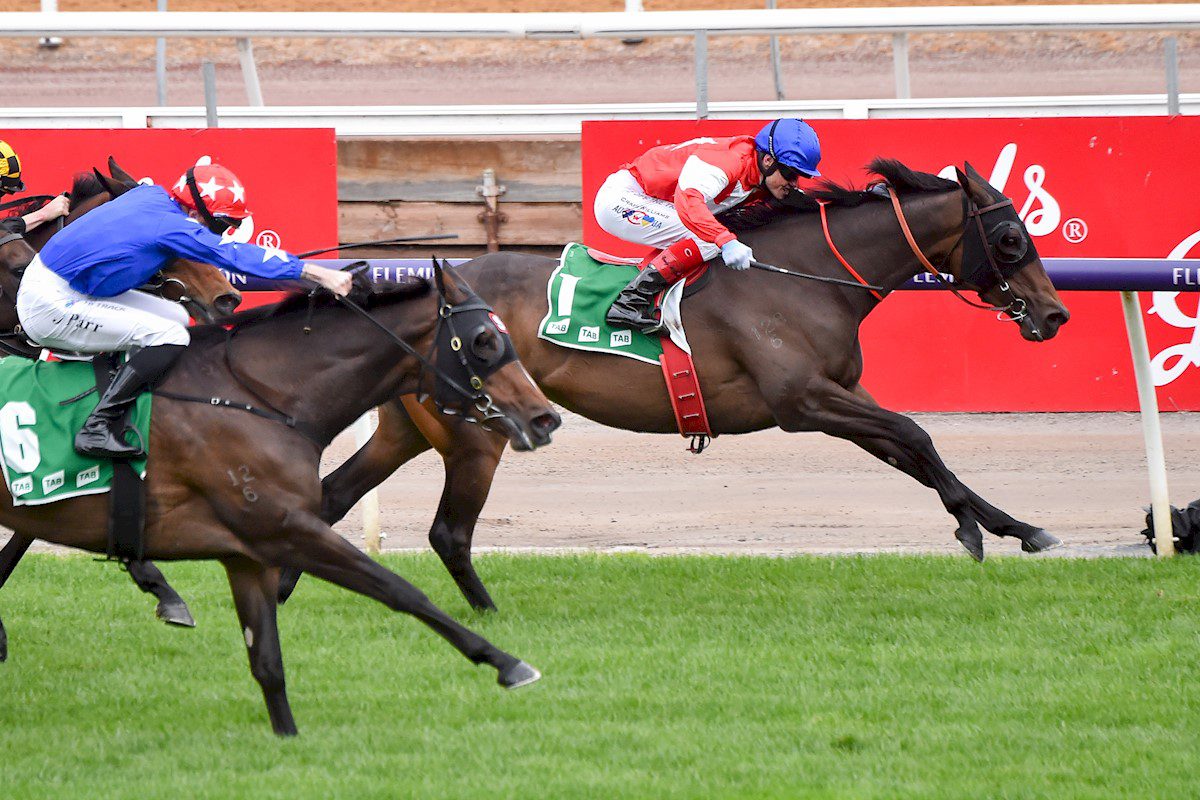 Even champion jockey Craig Williams giving her a kiss post-race and "taking her shopping" could not prevent Icebath from getting a little upset after the Empire Rose Stakes at Flemington.
But who cares? At long last, this gutsy mare is now a Group 1 winner for Brad Widdup.
The six-year-old – with just four triumphs from 37 starts prior to Saturday – showed how much class she still possesses in the way she finished so strongly from barrier three on the inside in the mile feature worth $1 million.
For so long, she has been a bridesmaid in Group 1 races, but Widdup's team knew she was ready to produce the type of performance they saw on Saturday.
It meant Williams could only laugh when asked why he had to run back to get weighed following the race, after Icebath got a little cranky past the finishing post.
"She's an unusual-characteristics girl. They told me about her," he told racing.com.
"So I went there and doled her up, and gave her a credit card and took her shopping.
"She was really good and most importantly she was happy. She got a little bit motivated in the race, which was good.
"But she started to freeze and be a little bit upset after the race. She was going to run backwards and there's nothing worse for a jockey.
"So I thought if I get off her she might be a bit happier.
"But she wasn't. She said she did all the running to get a Group 1, and she made me do all my running home.
"At least I know that I'm fit."
2022 Empire Rose Stakes Race Replay – Icebath
Williams praised Widdup for never losing faith in his stable star.
She ran a very gutsy second to James Cummings' superstar Anamoe in the George Main Stakes on September 17.
But she was slow out of the barriers last start in The Invitation also at Randwick last Saturday, finishing ninth.
"Her trainer, Brad Widdup (deserves praise). He used the same formula last year running second in the Cantala," Williams said.
"Not going back against her own mares. A couple of runs this preparation against Anamoe and Zaaki – the best horses.
"Last time looked a bit plain, but as he said – maybe she had such hard runs on those heavy tracks, so give her some time.
"Down here this horse has really thrived. I used an economical strategy and I had the right horse to carry it out."
Widdup's assistant Andre Rabbett also had plenty of belief Icebath would back up and give Saturday's Group 1 feature a real shake.
"I'm sure he (Widdup) will be happy enough watching it at home. Great thrill for Brad and the whole team," he said.
"This was the right horse to do it with. Her main Group 1 – good day.
"She does race well on a one-week back-up. She's done that a couple of times before.
"Having that (Cantala) trip down here last year, this was always the plan."