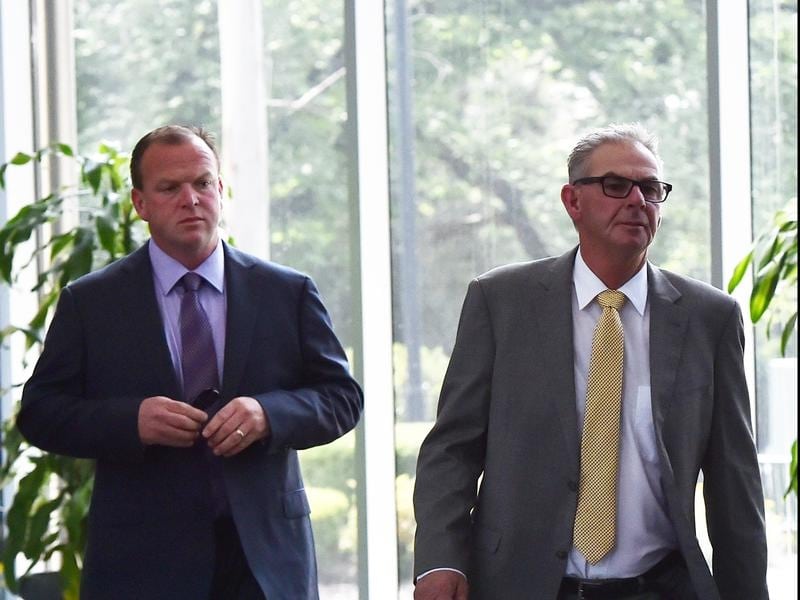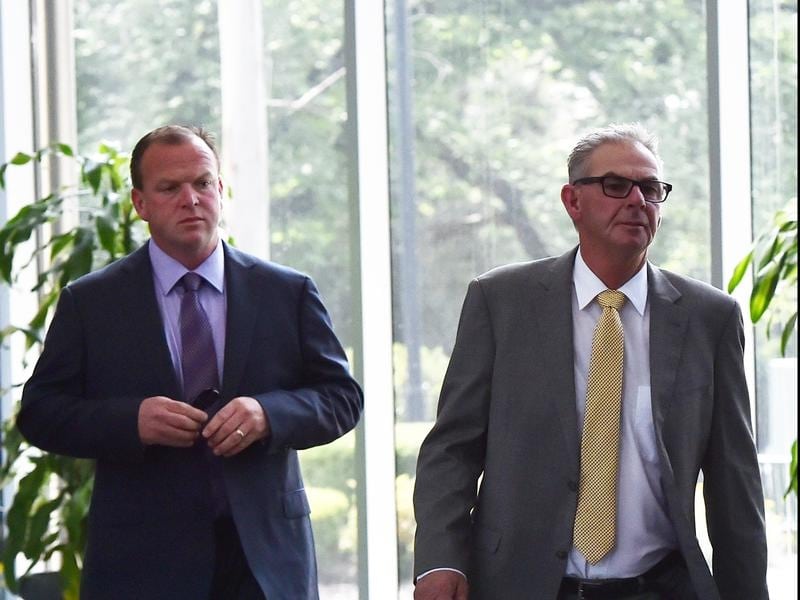 Victorian trainers Lee and Shannon Hope had no reason to cheat and did not give three of their horses cobalt to enhance their performances in races, their barrister says.
The father-and-son training partners have pleaded guilty to a lesser administration charge as they try to overturn their respective three- and five-year disqualifications, blaming their feed and supplements regime for an "inadvertent" breach of the cobalt threshold.
Barrister Rahmin de Kretser said the Hopes did not administer any prohibited substance with the intention of affecting the horses' performance in 2014 races and had no incentive to do so.
"The Hopes had no reason to cheat or to affect the performance of these horses and they simply didn't engage in that activity," he told their appeal hearing on Monday.
"In their combined 70-plus years of being licence holders in this industry, they have not cheated.
"That good character, in my submission, cannot be displaced no matter how excessive the supplement regime was that they administered."
De Kretser said the Hopes' guilty plea to the lesser administration charge adequately dealt with their failings.
"The Hopes are in this situation due to a lack of attention, a lack of care, a lack of education, but not because they cheated," he told the Victorian Civil and Administrative Tribunal.
The Hopes deny giving the horses Windy Citi Bear, Best Suggestion and Choose substances containing cobalt on race days.
De Kretser said even if vitamin B12 or a therapeutic supplement was administered on race day, it was for therapeutic purposes.
"In my submission, it is not possible to infer from the mere fact of race day administration an attempt to affect the performance of a horse in a race as opposed to an intention merely to improve the health of that horse," he said.
Racing Victoria barrister Jeff Gleeson QC rejected the suggestion the administration was just for the horses' wellbeing and maintenance, noting a race-day treatment carried a six-month disqualification.
"There's only one reason why a trainer would risk a six-month disqualification and that is because of his belief that it will enhance the performance of a horse," he said.
Shannon Hope was in charge of the feeding and supplementation regime but Gleeson said his father was intimately involved in all aspects of training horses and there was no meaningful difference in the role the two played in the administration of supplements.
VCAT heard a likely scenario was the horses were given supplements two or three hours before the above-threshold cobalt samples were taken, or before they were put on floats to be transported to race tracks.
Gleeson said Shannon Hope was responsible for loading the horses, but neither trainer had proffered an explanation about how it could be that Shannon knew and Lee did not.
"If your honour finds that there was race-day administration, the only available inference is that these two trainers both knew and intended to enhance the performance of these horses in that way," he told Justice Greg Garde.
Gleeson said the case turned substantially on scientific evidence, but rejected the Hopes' contention that bioaccumulation was responsible for the horses' elevated cobalt readings.
Justice Garde reserved his decision.
Want more racing news? Cups Betting delivers you the latest horse racing news from all the major thoroughbred cups and feature races.