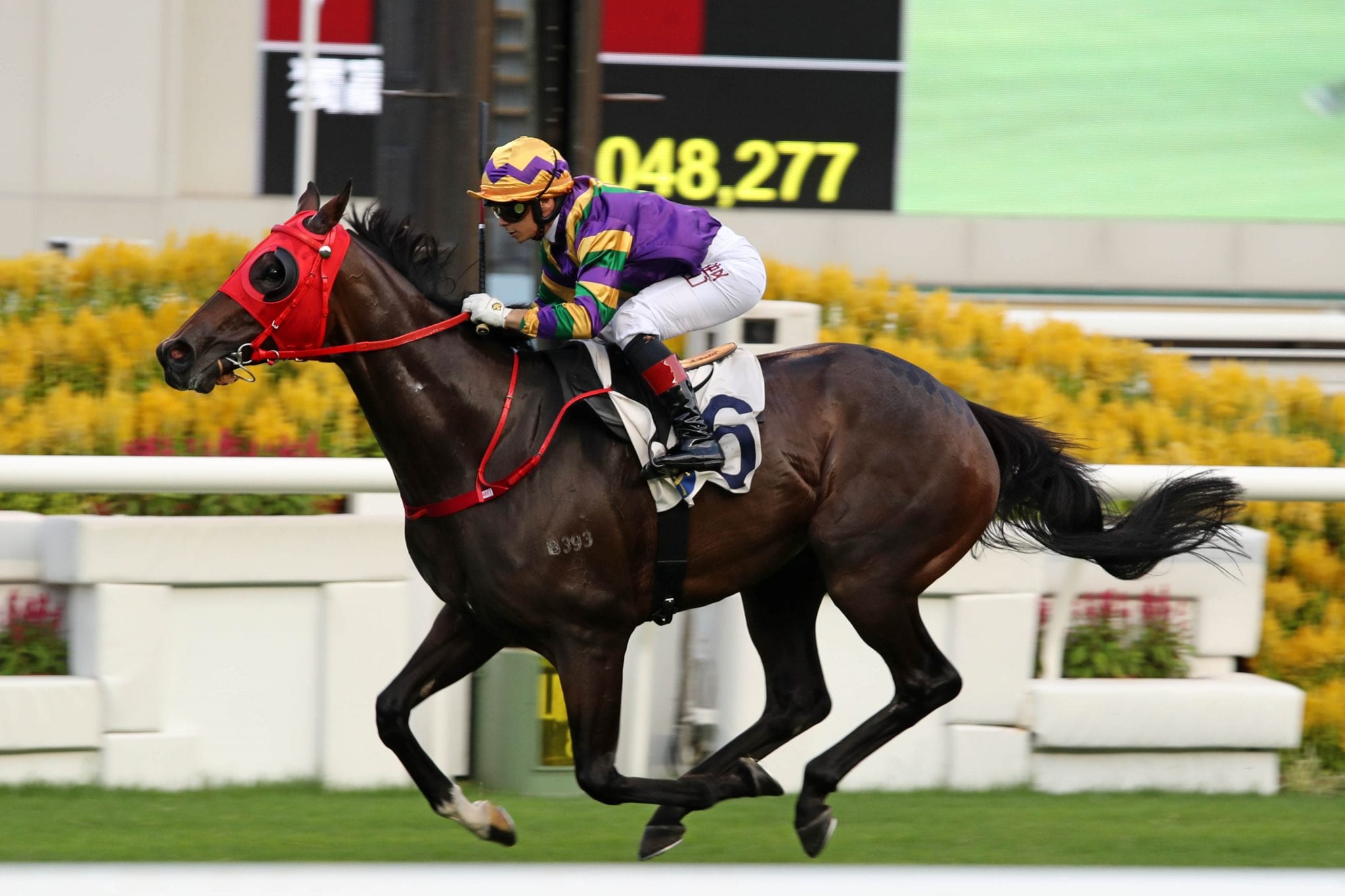 Perfect Match landed the spoils in Sunday's (6 September) Class 1 HKSAR Chief Executive's Cup Handicap (1200m) and did so with plenty in hand and also with December riches in mind, as trainer Danny Shum confirmed the 2020 LONGINES Hong Kong Sprint as his long-term target. "I am aiming him toward December, he will go to the Hong Kong Sprint," Shum said.
The Not A Single Doubt gelding bagged his eighth career win from 16 starts to push his rating (103 for this test) deeper into triple figures, enhancing his claims on the end of year HK$22 million sprint. "I think for me, he is in really good form, he was the best looking horse in the parade ring – so I thought he had a good chance today."
French ace Alexis Badel agreed: "I'm glad for Danny (Shum) because the horse was very good looking today and he was fit and in very good form, he just proved it." The way the five-year-old gelding swept aside his smart rivals in the season's opening day feature by an easy length and a half will have put the sprint division's leading players on alert.
"It's early in the season and because he can handle 1400 (metres) I thought his class might be better than the 1200 (metres) horses today. I did worry when he was three-wide but maybe today it didn't hurt, the outside is the better part of the track," Shum said.
Shum has a knack of producing winners on the first day, the handler has now won four of the last five editions of the season-opening feature and claimed doubles on opening day in three of the previous four years. "I try my best every season, especially the first day. I love to get winners on the first day, as a local I always want to win on the first day," Shum said.
It was the first win of Alexis Badel's 2020/21 season and he acknowledged the importance of striking early. "It's very important in Hong Kong to pick up winners very quickly, it makes people happy and the form is there; you just get confidence and it's even easier to get the good rides, people give you support," Badel said.
"I think his best trip is 1400 (metres)," Badel said of Perfect Match, "so I was quite happy with the draw being a little bit awkward, because I didn't have to put much pressure on him to get his position and to make him travel. Of course I was stuck three-deep but I know my horse doesn't necessarily need cover." "I was expecting the horses in front to stop because of the distance and my horse just relaxed, he was too good, I like this horse – he gave everything,"
CEO pleased with opening day results
Turnover on the 10-race card was a record-high HK$1.376 billion for the season-opening fixture, an increase of 6.83%.
Mr. Winfried Engelbrecht-Bresges, Chief Executive Officer at the Hong Kong Jockey Club, commented on today's season-opening fixture: "We had probably the best start we could hope for into the new season, amazing results. We were able to increase the turnover despite the fact that we had to close our OCBB's for race day.
"Commingling was HK$247 million, an increase of 18%, so from this aspect turnover wise, we are more than delighted. I can only say for all of our team members, to get this season on the road was a lot of hard work, a lot of planning and a lot of things behind the scenes.
"I want to congratulate all of our teams as the hard work from everyone has paid off. We had a good start to the season which is always very important and we look forward to the way that racing continues, so that we can continue to make contributions to the community."
History repeats as David Hayes takes home a debut double
History repeated for trainer David Hayes at Sha Tin as he landed the first win of his Hong Kong return, with his first runner, just as he did 25 years ago when he first arrived. "It was race two and in Class 5, 25 years ago, so it's a long time ago to remember but it's a really big thrill," Hayes said.
Esteemed in 1995 took the Class 5 Ocean Park Handicap over 1200m, and Sunday, it was Moneymore who claimed the Class 5 Kowloon Peak Handicap, also over 1200m.
Sunday was Father's Day in Australia and Hayes paid tribute to his late father, Colin Hayes, "this is really special because it's a new chapter for me, it's Father's Day and I'm wearing my late father's tie to bring me a bit of luck," Hayes said.
Colin Hayes is one of only four inductees to be elevated to "Legend" status in the Australian Racing Hall of Fame, the others: Bart Cummings, George Moore (11 times champion trainer in Hong Kong) and Tommy Smith.
"I'm very excited and especially happy for Keith (Yeung), he's done a lot of work on the horse and he was very confident going into it and rode the horse perfectly." "He lost his balance a little bit upon straightening, he got on the wrong leg as you would say but to Keith's (Yeung) credit he got him back on the right leg and he was very strong over the last 100 metres," Hayes said.
The Reward For Effort gelding broke from gate eight to settle worse than midfield before peeling out to register a gritty half-length success. Hayes suggested that the six-year-old could further lift his rating as the season progresses.
"It's good to see a horse trial well and then run well, it means they're putting their form together, so he might be a horse to follow in the lower grade races in the next month or so," Hayes said.
The gelding was a 22-start maiden in Hong Kong before Sunday's win. He'd earlier raced twice in Australia for one win and after arriving on a rating of 70, his rating figure had slipped to a career-low of 25 before Sunday.
"He works like a horse that if he was home, he would be a midweek city horse in Australia, his trackwork suggests that. "If he had won a race before I would have been a lot more confident but some horses work well and run like pussycats, so I was pleased to see him show a lot of fight and get the job done," Hayes said.
But Hayes wasn't done after race two, the Australian took home a first-day double thanks to a driving finish from Hong Kong's champion jockey Zac Purton on Metro Warrior in the Class 3 Lantau Peak Handicap (1000m). That win secured a double for Purton, who earlier won the first section of the Class 4 Yi Tung Shan Handicap (1200m) aboard Bright Kid.
"I was very pleased to have the champion on in the last 200 metres, he knows how to hit the line Zac (Purton) doesn't he?" Hayes said. "I thought his trial was a bit below par but the blinkers really sharpened him up and the trial brought him on, it was a solid win and hopefully he can get another one of those," the handler said.
Hayes said a stint at Conghua was on the cards. "I hope so, I pushed him pretty hard for this race, so I might send him to Conghua for a bit of a change in environment," he said.
Hayes had trained Metro Warrior in Australia where he was named Viking Warrior and was a two-time winner. "I trained him in Australia and was quite a handy horse, he was very well bought by the syndicate – they got him for a steal," he said.
Today's double takes Hayes to 460 Hong Kong wins and he has four entrants for Wednesday's Happy Valley card.
Winston's Lad secured a hat-trick of wins, taking the second section of the Class 4 Yi Tung Shan Handicap (1200m) for Vincent Ho and Francis Lui.
Karis Teetan and Me Tsui combined in the last with the consistent Mongolian King, who claimed the Class 2 Tai Mo Shan Handicap (1400m), while Joao Moreira bagged a treble to take the outright lead on the premiership table.