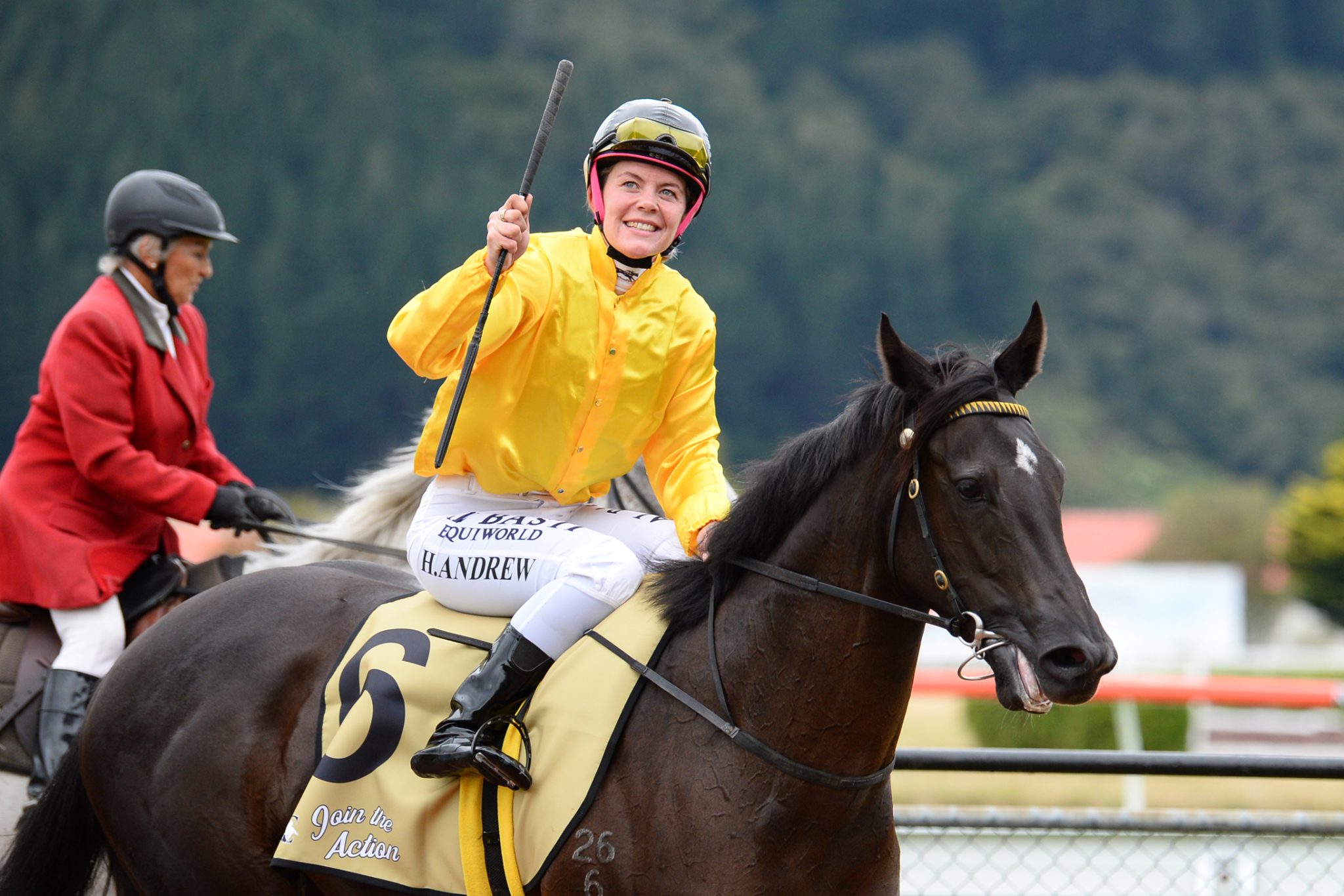 The Central Districts jockey ranks will get a much-needed boost in the coming months with the return of Holly Andrew.
The 31-year-old has spent the last two years away from the track, plying her new trade as a firefighter in the army, but she now feels it is the right time to return to the vocation she loves.
"I have left the army. I missed riding, however, it was a break that I needed to take," Andrew said.
"I kept all of my (riding) gear – I always knew I was going to come back, I just wasn't quite sure of the timeline.
"I wanted to try something else, I had never done anything else, I have always ridden trackwork and been a jockey."
Feeling burnt out after a decade in the saddle, Andrew decided on life as a firefighter, a trade she was drawn to after experiencing the importance of their services first-hand.
"I was in a car crash a few years ago and I found it quite interesting attending the car crashes, and it was something where I would still be active," she said.
"It is quite hard to get into civilian firefighting so that is why I went through the army. I thought that would be a challenge in itself because you learn all of your soldiering skills first before you learn to be a firefighter."
Andrew enjoyed her time in the army, however, life as a soldier did come with plenty of challenges.
"It was hard going into the army after being self-employed, but I did enjoy it because the things you do in the army you would never do any other way," she said.
"The weapons I got to learn and use – machine guns, hand grenades, and I got taught how to make bombs and explosives – is something that I would have never done otherwise."
Andrew's break from racing also gave her time to reflect on life and gain a different perspective, allowing her to build a new foundation to relaunch her riding career.
"I always used to put a lot of pressure on myself. I was never overly relaxed, which I think contributed to me feeling a bit burnt out," she said.
"I took my time in the army to relax and let a few things go. It taught me not to take on as much stress and not to put so much pressure on myself.
"I used to think that I had it tough having to go for a run in some sweat gear.
"The other morning I rode 21 horses and I thought 'man, this is hard', but then I think back to my days in the army where I was out the back of Waiouru in -4 degrees digging a hole in the snow to sleep in under the mountain with just a sleeping bag.
"Then you think 'this is actually not that hard'. It puts things into perspective.
"I have always been mentally tough but being in the army has added to it."
While she learnt a lot of new skills in her time in the military, Andrew admitted to missing the competitive nature of being a professional athlete.
"It (army) was a lot less stressful (than being a jockey), but I believe that is because it is a lot less competitive," she said.
"I thought that would be great, but it actually turned out to being too mundane for me. I missed the competition and the drive I had as a jockey."
Another major adjustment Andrew had to make in her hiatus from riding was her newfound freedom with her diet.
Not having to watch what she ate coupled with strength-based training led to Andrew gaining more than 20kg over her two-year break, a nightmare for many would-be returning jockeys.
"I put on a lot of weight when I was in the army. I was so surprised with how heavy I got; I didn't think I could get that heavy," she said.
"I was eating whatever I liked, I was like a kid who had been let loose in a chocolate factory, I went crazy.
"However, through the training in the army I also built a lot of muscle. I had to be quite strong.
"I am only little and I went in as a firefighter, so I had to be able to drag 100 kilo men out of a building with all of my firefighting gear on.
"They were the requirements to pass, so I had to train differently to when I was a jockey.
"I have always been cardio-based as a jockey and then I went all into weights and eating whatever I wanted.
"I got up to 77kg, so I put on 21 kilos in my time in the army."
While getting back to her riding weight looked to be a daunting task, Andrew said it hasn't been too taxing.
"It has been very easy, it has just fallen off," she said.
"I don't diet because I don't believe that works, I just make sure I burn more calories than I am consuming.
"I do a lot of swimming and running. I ran a half-marathon a couple of months ago."
While she was fit when she left the army, Andrew said she was in for a rude awakening when she returned to riding.
"I didn't do any riding when I was in the army. I didn't have anything to do with horses," she said.
"When I returned, everything felt normal, nothing had changed besides the fitness.
"I thought I was fit when I left the army, but riding is a completely different kind of fitness."
Andrew is taking a steady approach with her return, aiming to be back riding on raceday in late spring.
"I just took my license out a couple of days ago and I am looking to return to raceday riding in October-November. I am not hurrying," she said.
"It is all stress free – I am in a really good headspace, this is the clearest I have ever been, and knowing what I want.
"I have made some changes, so I am taking things in my stride."
Andrew has already appeared at the jumpouts and trials and enjoyed riding in the first set of trials at Awapuni's new synthetic track last week.
"I have been to quite a few jumpouts and trials," she said.
"I rode 11 at the jumpouts last Tuesday and I rode at the trials on the new synthetic track at Awapuni on Thursday.
"I am really looking forward to riding on it. I believe it will suit my style of riding, I like my horses to jump out of the gates and get a nice position in the first few."
Returning to freelance trackwork riding has been a smooth transition for Andrew, who has received plenty of support from local trainers, particularly her former riding master Kevin Gray, who is looking forward to her return nearly as much as she is.
"I go into Awapuni and ride a few for Gary Vile and then I go to Peter Didham's, Mark Oulaghan's, Lydia Pickford brings in a couple for me to ride, and then I head out to Kevin Gray's," Andrew said.
"He has been incredibly loyal and an amazing mentor to me throughout my riding career.
"He is on my case every day, making sure I am eating clean. He has a look through the window of my car to check if there are any milkshake or drink containers in there.
"He is looking forward to me returning and I can't wait to ride another winner for him."