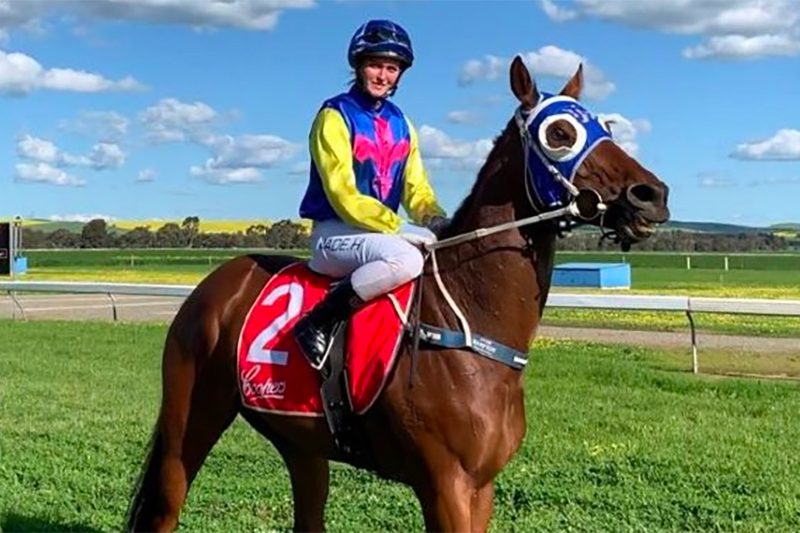 After making serious waves in the Northern Territory, Darwin apprentice Jade Hampson is suddenly making an impact in South Australia.
The 18-year-old, who relocated to Adelaide following the meeting at Fannie Bay on September 10 to take up a three-month loan for Morphettville-based trainers Richard and Chantelle Jolly, had a full book of rides at the six-event meeting on Jamestown Cup Day on Saturday and finished with a treble.
Hampson had her first career ride on April 14 in Darwin, but it's the third time she has picked up three winners for the day.
The teenager achieved the feat for the first time at Alice Springs on July 3 when she saluted on Harbour Express and Zelring for trainer Lisa Whittle, and Debbonaire Boy for trainer Ray Viney.
The next time was at Kununurra in Western Australia on September 3 when she guided Zou Der Zee, Raffalli and Hattan Man to victory for her master Tayarn Halter, one of the leading trainers in the Top End.
In just her second appearance at a South Australian meeting, Hampson made it a memorable day for herself and the Jolly stable with victory aboard Hayzee Fantayzee and Boogie Nights in maidens before sealing victory on Kalamon in the Jamestown Cup (1800m).
Success on Hayzee Fantayzee continued an incredible trend for Hampson – it marked the third occasion where she has won the first race on the program in her first appearance at a racetrack.
When she made her debut at Fannie Bay, Hampson won the first race on Pointo's Pick for Halter.
She did it again on August 9 at Broome – where she lived for five years growing up before her family moved to Darwin – when she kicked Raffalli home for the Halter stable.
Before heading to Jamestown, Hampson had her first South Australian start on September 18 with one ride for the Jollys at the Mindarie-Halidon Racing Club meeting, finishing sixth on Justica's Bonus in a 1000m maiden.
Hampson has only ridden at six racetracks – Darwin, Alice Springs, Broome, Kununurra, Mindarie-Halidon and Jamestown.
Apart from Mindarie-Halidon, Hampson has won on debut at every other racetrack.
She managed a double at Alice Springs on June 19 aboard Sedona (Phil Cole) and Zelring (Whittle) before booting Don't Wait (Halter) home at Kununurra on August 20.
Suffice to say Hampson appears to have that special something, but rest assured she has worked very hard in recent years with track work, jumpouts and trials a constant scenario before kickstarting her apprenticeship.
That also meant making plenty of trips interstate, which included spending time with the Jollys in Adelaide.
So when Hampson made contact with the Jollys after spending three weeks riding for the Halter stable in Kununurra, it wasn't long before she packed up and moved south to commence her three-month loan.
Hampson just wanted to acquire more experience, adding that the Halter stable backed the move – there's every chance she will return to Darwin once the loan period ends.
At the end of the 2021/22 season, Hampson finished with 12 wins after posting six wins in Darwin and six wins in Alice Springs.
It didn't take long for her to achieve five wins and her 4kg claim was reduced to 3kg, accordingly.
She picked up the Champion Apprentice Jockey of the Year award at the 2022 Top End Racing Awards last month, and although recording the same amount of wins as Ianish Luximon in Alice Springs, it was Luximon who was named as the leading apprentice on a countback.
After 108 rides, Hampson has 21 wins on the board – and that also includes 22 seconds and 14 thirds.
Naturally, Hampson couldn't hide her excitement following the Jamestown meeting.
"It was my first Cup, so that was a thrill, definitely my biggest win," she said on Tuesday.
"And yeah, a treble for Richard and Chantelle just made my day.
"Another treble to add to the list."
It's only early days and Hampson has ridden on the grass at Kununurra, but what's the difference between riding on the grass in South Australia compared to riding on the dirt at Darwin, Alice Springs and Broome?
"The kick back – there is none here," she said.
"It's also completely different riding.
"The horses, you go a lot slower than we do up in the Territory – in the middle of races.
"They don't go as hard the whole way."
And Hampson stressed that she has settled in Adelaide since her arrival.
"I've been lucky, the Jollys have been great support," she said.
"Obviously, they've got Jake Toeroek as their senior jockey – he rides all the metro horses and does ride a few of the provincials.
"With my claim – they've been able to use that.
"That's now down to 2kg for the country.
"I'm still 3kg for metro and provincial, but I haven't got my metro ticket yet."
There is plenty of water to pass under the bridge before Hampson inevitably gets her metro ticket, but spending time at apprentice school once a week will only hasten the process.
"We do a lot of work on mechanical horses," she said.
"Everyone has got their own things that they work on and the instructors are really helpful with that.
"They like to help you work on whatever you would like to work on and go through your replays.
"I've learnt heaps just in the short time I've been here.
"In the group I'm in, it's normally two hours on the Tuesday, but it can go for longer.
"If you need extra help, they're always there throughout the week if you need to go and see them or if you want help with something.
"I haven't done any theory as yet, but there is a lot of theory in regards to getting your metro ticket."
Hampson, who broke her ankle after falling from her mount at Fannie Bay on Anzac Day at just her second meeting and was sidelined for almost two months before landing a double at Darwin when she made her return, also places plenty of emphasis on her fitness.
"I think you probably have to be fitter to ride on the dirt – I'm not sure, I reckon maybe it's just because you're riding so hard the whole way," she said.
"My fitness has been pretty good, but it did drop off – I had a few quiet weeks before I really got stuck back into race riding again.
"I go to the gym every day and ride track work every day – apart from Sundays, so my fitness levels don't drop too much.
"With trials, track work, apprentice school, time spent at the gym and now that I'm back getting rides, it's full on."
David Tootell Snr aside, every other jockey at Jamestown was a female apprentice with Hampson competing against Alice Lindsay, Britney Wong and Jade Doyle – who have all spent time riding in the NT.
"It was good riding against girls you know – apart from David, it was a girls day," Hampson said.
"It's exciting to ride against the other apprentices, they're all really nice, and we're all learning.
"It's terrific to get down this end and ride with Alice, Britney and Jade – they've all been up to either Darwin or Alice Springs and ridden.
"Now I'm down here riding with them in their state, so it's great."
Understandably, Hampson has received endless support from friends and racing colleagues from the NT since her big day on Saturday.
"It's been great – everyone up there, they've been so supportive," she said.
"All the jockeys have messaged me, my master Tayarn and her partner Lindsay (Schmidt) have been wonderful – they always call me and tell me how proud they are.
"Yeah, I miss them all, it's hard to leave everyone, but they're very happy for me.
"My mum (Katrina) has been great, yeah, every day on the phone – she's very proud.
"She has relocated from Darwin to Perth and is now working for Racing and Wagering Western Australia (RWWA)."
Hampson isn't sure what lies ahead at the end of her three-month loan with the Jolly stable.
There's every chance she could either remain in Adelaide or return to Darwin.
"It's still only early days, just see how it goes," she said.
"I have no regrets at all, I'm loving it here.
"Obviously, I'd like to become the best jockey I can be and I'll be taking whatever steps I have to do for that to happen."