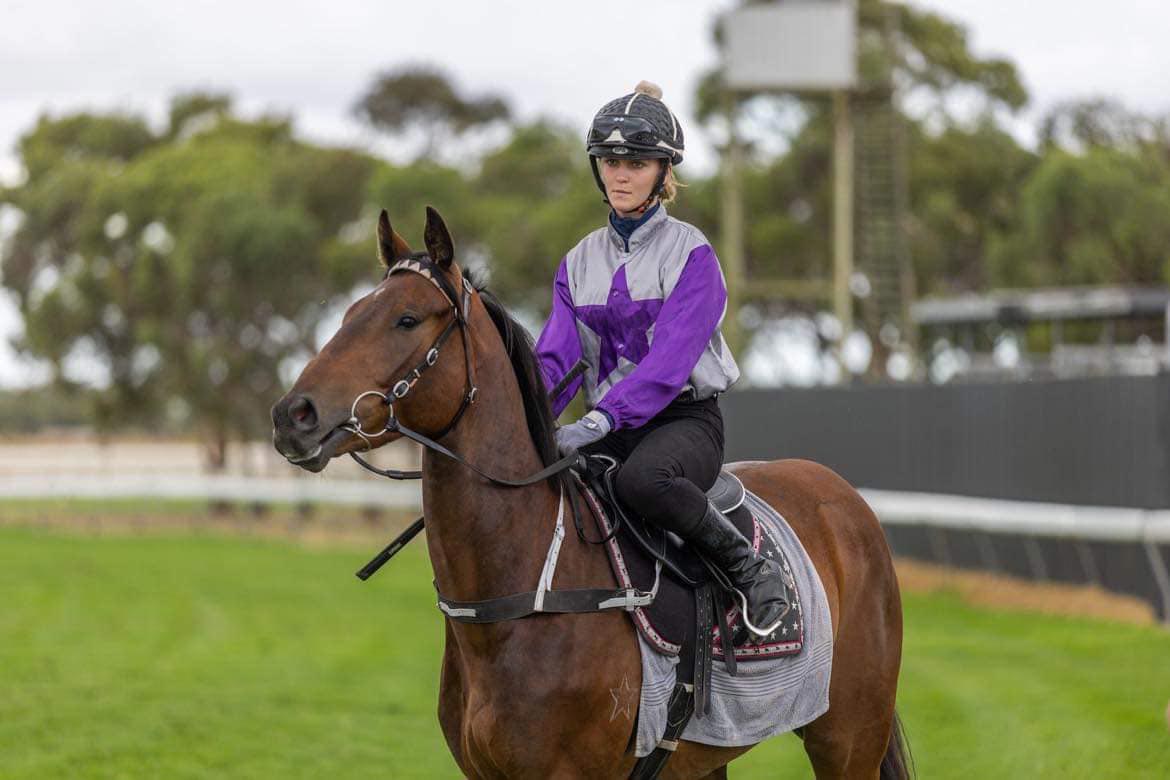 Estimated Reading Time: 5 minutes
To further enhance her riding education, promising Northern Territory apprentice Jade Hampson is spending the next three months with Adelaide trainers Richard and Chantelle Jolly.
Richard and daughter Chantelle are based at Morphettville and they ended up winning the 2021/22 metropolitan training premiership in Adelaide as well as the overall South Australian premiership, which included results from provincial and country meetings.
Hampson made her debut at Darwin on April 14 and incredibly got the cash in her very first race ride when she booted Pointo's Pick home for Top End trainer Tayarn Halter.
The 18-year-old then broke her ankle the next time she appeared at Fannie Bay when she fell from the Peter Stennett-trained Koa during the Darwin Turf Club's Anzac Day meeting.
Sidelined for just under two months, the Top End-based teenager returned to action on June 11 and rode a double at Fannie Bay before posting another winner the following week.
On June 19, she made her first appearance at Pioneer Park in Alice Springs and rode a double which meant that her claim dropped from 4kg to 3kg after achieving five wins.
Returning to the Red Centre a fortnight later on July 3, Hampson rode a treble and understandably she was grabbing plenty of headlines.
The Darwin Cup Carnival was in full swing when Hampson was dislodged from the Halter-trained Ima Puppet on July 13, but thankfully she escaped injury.
Hampson ended the 2021/22 season with 12 wins after posting six wins at Fannie Bay and six wins at Pioneer Park.
She picked up the Champion Apprentice Jockey of the Year title at the 2022 Top End Racing Awards at the Darwin Turf Club last Friday, and although recording the same amount of wins as Ianish Luximon in Alice Springs, it was Luximon who was named as the leading apprentice based on a countback.
It was following the Darwin Cup Carnival in early August that Hampson accompanied the Halter and Lindsay Schmidt stable to Western Australia, where they raced a team at Broome and Kununurra.
Hampson, who once lived in Broome before relocating to Darwin, won her first race at the track in the opening event on the program on August 9 when she piloted Raffalli to victory.
"That was a great thrill, just because it was my home town for five years before I was up in Darwin," she said from Adelaide on Monday.
"It was my first ride there, so that was great – and especially for the team."
There was one more meeting at Broome on the north-west WA coast before the Halter team raced at Kununurra on three successive Saturdays from August 20.
Halter and Hampson had four wins at the remote WA grassed racetrack, with Halter finishing second behind fellow Darwin trainer Dick Leech (9) and Hampson becoming the leading rider after landing a treble on day three.
Remarkably, Hampson won another race in her first appearance at a new location when Don't Wait prevailed on day one.
It could have been five wins for Halter and Hampson at Kununurra had Raffalli not been disqualified on day two following a discrepancy with Hampson's weight.
Raffalli was allotted 59.5kg, and with Hampson's 3kg claim he was due to carry 56.5kg, but when she returned to scale she was 2kg too light.
There was an element of confusion, but in the end it was an error by Hampson and the clerk of the scales.
Halter and Hampson also teamed up for a few minor placings over the three days, and it was during that stint in north-eastern WA that the young hoop started to weigh up her future.
"I was in Kununurra actually, I made some phone calls and Richard Jolly asked me when I could get down to Adelaide," Hampson said.
"I had a week in Darwin when we got back from WA and then packed up everything and left on the Sunday after the Saturday meeting in Darwin (September 10).
"I'm on three months loan with Richard and Chantelle.
"It's something I have considered – it has always been on the cards.
"I just wanted to get more experience, so when Richard said he could take me on loan I was happy to grab that opportunity.
"Just learn a few things, learn to ride a race on the grass and also hopefully get my metropolitan ticket to ride in the city.
"I will also get to go through the apprentice school, which starts this week.
"I came to Adelaide probably four times before I started race riding and did a few trials down here.
"Richard was most supportive – I rocked up, rode track work for him and that was how I've kept a connection with him."
Hampson, who rode Mr Boomjangles to victory for Halter back at Darwin on September 10 after the WA sojourn, said it wasn't all that easy telling her boss that she wanted to go to Adelaide.
"It was upsetting, obviously – I've been working for the Halter stable for five years," she said.
"Nothing against Tayarn and Lindsay at all – I'm still in contact with them as they've done a lot for me.
"They have been very supportive and have really helped me out.
"They're very keen for me to actually get back, so we'll see what happens after I finish my three months in Adelaide.
"Not sure what I will do after that as this stage, we'll just play it by ear."
Halter has confirmed that she agreed to allow Hampson to link up with the Jollys, adding that Jade had the full support of the stable.
Hampson had her first start for the Jolly stable on Sunday at the Mindarie-Halidon Racing Club meeting, where she finished sixth aboard Justica's Bonus in her one and only ride for the day.
It also broke the sequence of winning a race when riding at a different racecourse for the first time.
For Hampson, it has been a whirlwind period since making her riding debut in April.
"It's been hectic," she said.
"Had the injuries, had the ups and downs, and made the trip over to WA with the Halter team which was a great experience as well.
"Then as soon as we got back from that I was down in Adelaide, so now I'm in the cold weather which is a bit of a change."
There have also been plenty of highlights in such a short period of time.
"Definitely my first winner over Carnival in Darwin on Fragore for Tayarn," Hampson said.
"I was just happy to be riding over Carnival, but then to ride my first winner was nice.
"I got a winner on (Palmerston) Sprint day as well for David Bates on Umfana, so that was rewarding.
"For my first season of riding it was great to win the Apprentice of the Year award on Friday night."
Finally, what of that episode at Kununurra when Raffalli was disqualified.
"I was at fault, but it won't happen again," Hampson said.
"There were two parties who sort of played a role in the outcome at the end of the day.
"Anywhere else it probably would not have occurred, but that's country racing – it happens.
"All I can say is that the last meeting was a bit of redemption."